Football Manager 2013 Screenshots
All FM 2013 screenshots in one place - 56 pictures as of 8 September 2012.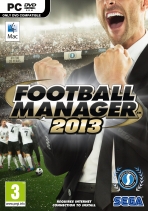 We were the first to publish the official
Football Manager 2013 video announcement
in text. Now it's time to reveal some
Football Manager 2013 screenshots
which have also been made public today on the official Sports Interactive forums.
Updated:
8 Sep 2012
We will keep updating this page with new screenshots as they become available.
Click on the thumbnails for the full size pictures.
8 September 2012
(35 screenshots)
6 September 2012
(21 screenshots)
Similar articles
•
Football Manager 2013 New Features Revealed
•
Football Manager 2013 Podcast
•
Football Manager 2013 will have Turkish language
•
Football Manager 2013 Feature Requests
•
Football Manager 2013 System Requirements
Related topics
•
Football Manager 2013 Release Date
•
Football Manager 2013 Demo
•
Football Manager 2013 Possible Wonderkids
•
What team to be on Football Manager 2013
•
Be the first to try Football Manager 2013
---
•
Football Manager Handheld 2013
---