Our scope style facepack includes
over 92,700 faces
of players, staff and referees for all playable leagues on Football Manager 2017.
It's a sleek and modern circular portrait style in standard size of 180x180 pixels.
It is intended for use with FM 2017, but it will work with all versions of the game from FM09 onward.
This megapack was made possible in association with the amazing people who produce the DF11 facepacks. THANKS to necjeff for granting his permission to use their top notch collection as base for this megapack.
Scope style is originally created by fmscout.com and its production started in February 2012. The Scope faces collection has been repacked as one megapack and first became available on October 26th, 2016.
Scope Faces Megapack 2017 base pack contains a total of 85,690 faces and takes up 4,18 GB of space.
With the monthly update packs, the collection extends to 92,771 faces and takes up 4,50 GB of space
Redistribution Policy
You are welcome to share this pack on other sites.
All we ask is to add link credit to this official page.
Download Options
Currently the "Download Now" big red button points to a mega.nz mirror. However, they have recently introduced some strange limits with downloads to certain countries, so it might not work well for everyone.
If you're not familiar with torrents, it's best to avoid it.
But if you really want to get this pack via torrent AND help others get it as well, you need a torrent client. I personally recomment
qBittorrent
.
Please be kind enough to help with seeding once you download the pack, so that more people will be able to download it fast.
How to add the Scope Facepack to FM17
Download the .zip archive and use a tool such as 7-zip for Windows or The Unarchiver for MacOSX to extract its contents.


Move the extracted folder "Scope Faces Megapack 2017" to:


Regular FM:


\Documents\Sports Interactive\Football Manager 2017\graphics\faces\


FM Touch:


\Documents\Sports Interactive\Football Manager Touch 2017\graphics\faces\
Create the folders "graphics" and "faces" if they don't exist.


Open Football Manager 2017 (or Touch) and go to Preferences > Interface.
Click the "Clear Cache" button. Return to the same screen.
Enable "Reload skin when confirming changes in Preferences".
Click the "Reload Skin" button.
There should be a box that pops up saying 'loading image data for the new skin'. Once this is done scope facepack should be working within the game.
Download the Update Packs
For our update packs we'll be following the DF11 release schedule, so you can expect us to have an update pack ready shortly after DF11 publish their own. The updates between the 2 styles will include the same pictures, but we'll make sure to include some extras with every new pack.
The 1st update pack contains over 2760 faces of players and staff. Most of them are updated pics from the current season of people who already exist in the core megapack. DF11 October's update, plus around 600 extras thanks to pochi.
The 2nd update pack contains over 3350 faces of players and staff. Contains DF11 November's update, plus around 900 extras thanks to pochi.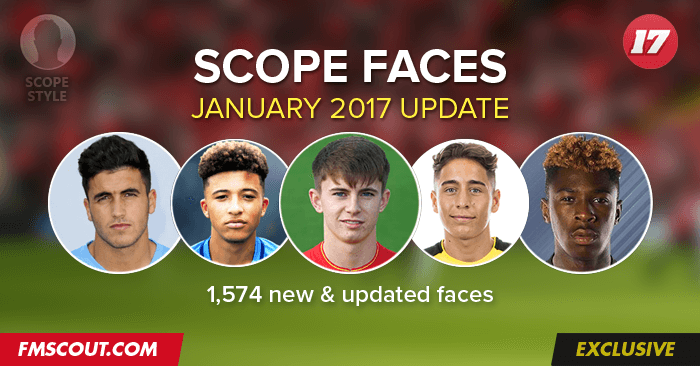 The 3rd update pack contains over 1570 faces of players and staff. Contains DF11 December's update, plus around 30 extras.
The 4th update pack contains over 2850 faces of players and staff. Contains DF11 January's and February's updates, plus around 40 extras.
The 5th update pack contains over 2470 faces of players and staff. Contains DF11 March update.
The 6th update pack contains over 1990 faces of players and staff. Contains DF11 April update.
The 7th update pack contains over 2620 faces of players and staff. Contains DF11 June update.
How to install the update packs
To install November's update, extract the .zip file you downloaded and move all files inside the "Scope Faces - 2016 November Update" folder to your "Scope Faces Megapack 2017" folder. Overwrite the files it's asking you to, including the config.xml file (especially this one).
Then clear cache and reload skin from FM17 preferences as usual.
Repeat this process for all update packs.
How to make requests
I no longer have the luxury of time to be searching and converting pictures myself. So if you have a request, please find the pictures on your own, crop them in square shape of at least 178x178 pixels and name them after their unique IDs in-game. Then send me the files either via email or via private message. The pics that pass my criteria will get included in the next update pack.
Credits
Scope style is created by
Stam
from
fmscout.com
but this megapack wouldn't be possible without the help from
necjeff
and his amazing team at
DF11 Facepacks
. Thank you Jeff!!
Respect to all contributors of DF11 Facepacks!
Join them on FB for facepack related help & new updates!