FM Genie Scout
Official GS Home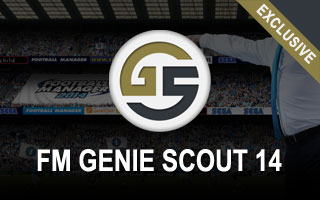 FM Genie Scout 14 is here! World's most popular scout utility is updated for Football Manager 2014.
As usual, we're exclusively releasing the most anticipated utility for FM 2014.
Message from Eugene
Welcome to the official FM Genie Scout homepage.

I'm very grateful and appreciate all donations, because without support this project will die. I hope that people will understand my decision to use adverts on the public version.

Genie Scout comes in two versions. Public version has 2 banners, when the limited version doesn't have any ads.
I will provide the download link for the free of adverts version to people after the donation of $3 or higher.
Donate
Donate to Eugene
And get the "g" edition with no ads & extra features.
---
► Genie Scout 15g FAQ NEW
► Genie Scout 14g for 14.3
► Genie Scout 14g FAQ
Follow Eugene
Don't forget you have the ability to search within current shortlist. This makes it very easy for you to look for all good players interested in your club. You have to do this:
1. find all players that satisfy your minimal requirements (for ex. age < 30, best rating 60+, sale value < 3 m)
2. then you should save shortlist and import it to FM
3. in FM you should 'Ask assistant to filter out unrealistic targets' via filter menu
4. then import all interested players into a new shortlist in FM
5. and the last: export this "interested" shortlist and open it in the scout
In addition, you can use any detail level filter in the scout within this list of interested in your club people. You don't have to import and apply 'unrealistic targets' filter in the FM many times anymore.