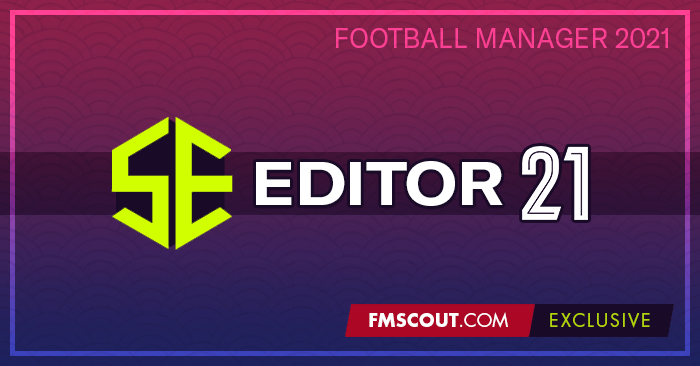 FM Scout Editor 2021 (FMSE21 for short) is a utility with powerful real time editing capabilities and some basic scouting features for Football Manager 2021. It currently works with Windows 7+ and the latest 21.4.0 Steam & Epic Games versions of FM 2021 and FM21 Touch, as well as 21.4.0 of Xbox Game Pass.
Exclusively available from fmscout.com
.
Released
: 14 November - v4.0.0
Updated: 9 June
- 4.8.4 (Added support for 21.4.0 June's secret Gamepass patch)
Redistribution Policy
People who want to put FM Scout Editor on other sites, you may link back here but you

cannot

host any files yourselves. Thank you!
---
FMSE Features
FMSE21 is packed with a plethora of options and running lightning fast. The focus is on the editing side of things. The scouting capabilities are limited. For more advanced scouting, it's recommended to try
Genie Scout 21
.
Whenever there's a new official patch out, we'll make an effort to
update FMSE within a couple of hours
. And while update time is dependent on external factors (such as patch complexity or other unpredictable situations), we'll do our best to deliver updates faster than other editing tools out there.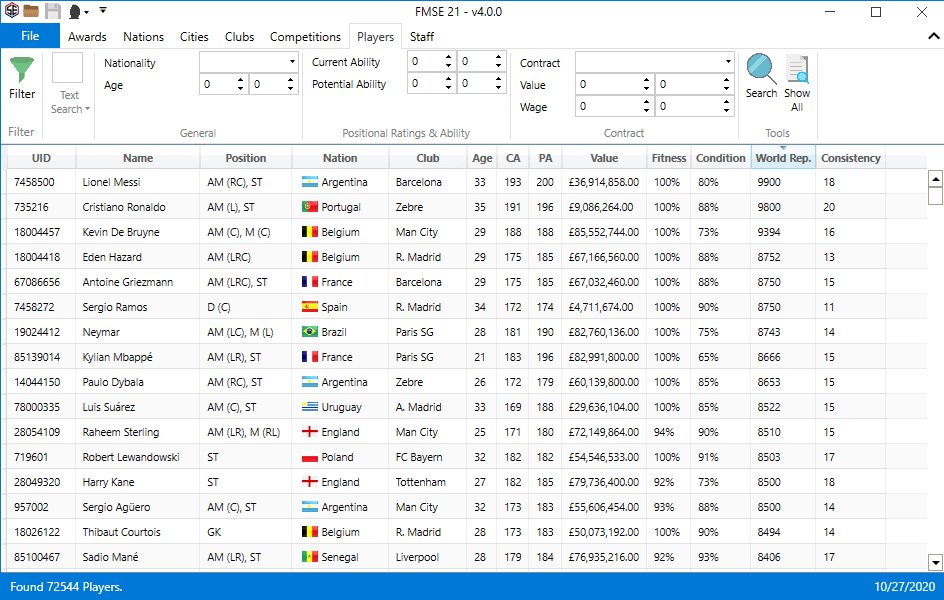 Important: The FMS Editor is free to download, install, use the scouting features and explore all the editing options. You will need a paid license in order to be able to save your edits.
Here's an overview of the currently available key features...
Unsackable
Become unsackable! No matter what happens, the board will never fire you. Have no fear of getting sacked ever again!

Nation Editing
Edit Nation general data, teams, Kits and Agreements. For example, you can disable Brexit by adding England back to EU.

In-Game Assistant
See hidden player attributes, CA/PA & actual left/right foot values right in the game (attributes screen). This is an exclusive feature no other tool for Windows is offering!

Edit Club Finances
Edit all kinds of club finances, such as budgets, ticket prices, sugar daddy, sponsors, debts and more.

Edit Club Info
Fiddle with year founded, facilities, youth recruitment, morale, attendances.

Edit Players
A vast amount of player details can be edited, including value, all attributes, abilities, contract data, reputation, positions, preferred moves and so on. You can also heal injuries, destroy a player (fitness to 1%) and remove bans.

Freeze Player Attributes
You can now freeze attributes so they remain unaffected by CA, PA or training.

Edit Competitions
Extensive editing for competition, with more editable data than other real-time editor.

Edit Staff
Scout for and Edit Non-Playing staff like Coaches, Assistant Managers, etc.

Mass Edit Teams
Quick-actions to Heal Team, Remove Unhappy, Remove Bans and Destroy Team.

Edit Club Kits
Change kit style and colours every new season and see these changes apply to the 3D match as well!

Edit Awards
In-depth editing of awards is possible for all sorts of award details. The most advanced FM Award Editor is here!

Edit Cities
Edit city details such as coordinates, attraction, altitude and amount of inhabitants.

Mass Edit Players, Staff, Clubs, Awards & Cities
Advanced Mass Edit dedicated panel you can access after selecting 2 or more entities in search results. Multi-select entities using Shift-click, Ctrl-click or click-drag.
---
How to use FMS Editor 21
Current version 4.8.4 is compatible with Steam, Epic Games and Xbox Game Pass for PC, Windows editions only.
Unzip and install by running the .exe file.

Open Football Manager 2021 and load your saved game.

Open FMSE 2021.

Click on the load icon (small folder, top left).

Search for awards, cities, clubs, players...

Double-click on an item from the results.

A new window will pop-up and you can edit data there.

Once done editing click on the save icon (small disk, top left) for the changes to take effect.

---
Support FM Scout Editor
You can support the development of this tool by purchasing
a license
which
unlocks the ability to save your edits
for the 2021 version. This is an one time upgrade which costs £5.99 / €5.99 / $5.99 (VAT is included!).
Buy License via FastSpring
Software licenses issued for FMSE21 are NON-refundable. Please make sure the app and the features provided are what you are looking for, before purchasing. If you have any questions about purchasing a license, you can contact
[email protected]
prior to your purchase.
---
Features Pending
There are 2 features missing, which will be added soon.
---
Feature Requests
You can always request a feature that you want that will make this tool better! Just leave a message in the
official FMSE forum
! Any doable feature requested will make it in one of our next releases.
---
Bug Reports
If you encounter any bugs, report them in the
official FMSE forum
.
**PLEASE NOTE THAT THIS IS A BETA RELEASE. USE AT YOUR OWN RISK.**
Please keep a backup of your save game before using FMSE 21 to edit your game's data. AppCake Ltd and FMScout.com cannot be held liable for any corrupt game files, or any other issue caused by the use of FMSE 21. A backup will make sure that whatever happens, you will still have your saved game.
---
Support
For support queries regarding licenses, please contact
[email protected]
. For any other support queries, please contact
[email protected]
.
---
Version History