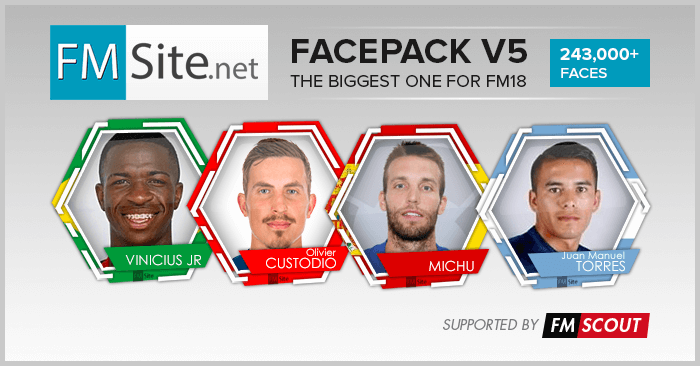 The
largest facepack for Football Manager 2018
made by the Spanish community of
FMSite.net
. The creative team behind this facepack aims to create a beautiful style and combine the speed of production with accessibility for the general public.
This pack includes more than
244,500 faces
in unique hexagon style.
It is intended for use with FM18, but it will work with all versions of the game from FM08 onward.
Last updated
: 21 February 2018 (v5 update #4)
FMSite Facepack Contents
This facepack includes pictures of all the players and staff created so far, that exceed 243,000. All these faces are inside a folder named "Player".
You may also find 3 other folders:
Alt: This is short for Alternative; inside this folder you will find alternative pictures of those most famous players. Its use is simple; if you prefer the alternative pictures, simply move them inside the "Player" folder and overwrite.
Extras: This folder may be a quick guide for installation, FM Graphics Configurator for creating XML files and a default version of the basic faces.
How to download the FMSite.net Facepack
Currently the "Download Now" big red button points to the torrent file that include all 10 base parts as 1 file.
If you're not familiar with torrents, it's best to avoid it.
But if you really want to get this pack via torrent AND help others get it as well, you need a torrent client. I personally recomment
qBittorrent
.
Please be kind enough to help with seeding once you download the pack, so that more people will be able to download it fast.
Base Parts (10.75 GB)
There are 10 base parts, each of them is 1.1 GB except the last (10th) that is 768 MB.
Part 01
Part 02
Part 03
Part 04
Part 05
Part 06
Part 07
Part 08
Part 09
Part 10
Icon Megapack (1.06 GB)
Download
Regen Pack (26 MB)
Download
Updates (1.9 GB)
There are 3 update packs.
Update 1 (110 MB)
Update 2 (199 MB)
Update 3 (77 MB)
Update 4 (92 MB)
Update 5 (196 MB)
How to add the FMSite.net Facepack to FM18
Download either the torrent + updates, or all 10+4 parts which are in .rar archive format and use a tool such as 7-zip for Windows or The Unarchiver for MacOSX to extract their contents.
First extract the base pack (or its parts 1-10), then move to the updates but do it in order (1-4). Every time you extract an update, overwrite the files and folders it asks you to.


Move the folder "Player" to:
\Documents\Sports Interactive\Football Manager 2018\graphics\
Create the folder "graphics" if it doesn't exist.


Open Football Manager 2018 and go to Preferences > Interface.
Click the "Clear Cache" button.
Enable "Reload skin when confirming changes in Preferences".
Click the "Reload Skin" button.
There should be a box that pops up saying 'loading image data for the new skin'. Once this is done your graphics should be working within the game.
Credits
Hexagon facepack style is created by the creative team at
FMSite.net
!
Original FMSite Faces download page in Spanish
.