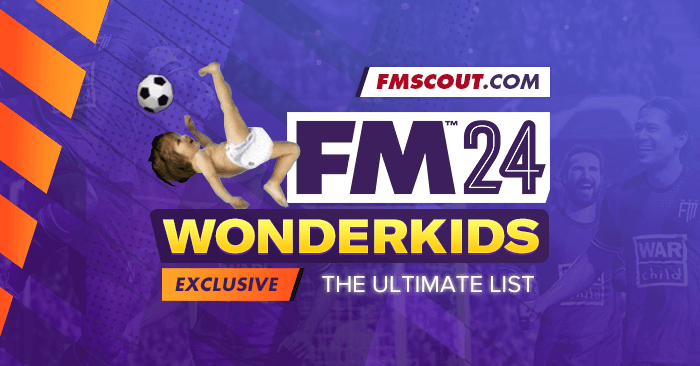 Welcome to the complete list of Football Manager 2024 wonderkids by FMSCOUT.com.
Football Manager 2024 wonderkids advanced guide
When it comes to wonderkid lists, you already know FM Scout is the go-to place for maximum accuracy and detail.
This will, as always, be the most informed and comprehensive list of Football Manager 2024 wonderkids you will ever find. Football Manager enthusiasts trust this list to discover all FM 2024 wonderkids.
As you have learnt to expect from us, you will also find the usual unique features that add unparalleled depth, insight and functionality.
Approximately 754 FM2024 wonderkids are included after the third revision.
This is the successor of our world-renowned list of FM 2023 wonderkids.
Date of first publication: 19 October 2023 (GK)
Updated: 14 November - Revision 3 (now reflects 24.1.1 data changes)
What are wonderkids?
Wonderkids can be classified players with high potential ability (having at least a PA of 150) who are not older than 20 years old by July 3rd, 2023 (early pre-season in England), in-game.
This list features the best young players in FM24. Some of them will already be labelled as wonderkids, others should be pretty close to getting there, and others will struggle to live up to their potential before they turn 21 years old (late bloomers).
My rating (R) explained
This is my personal recommendation system for your convenience. It's my own assessment of the potential development of the young players listed below. For fairness, my rating reflects the player's average PA in case of range or the max PA in case it's fixed.
I'm using a 1-100 scale based on English divisions.
81+ all-time elite player
78-80 great player for premiership
75-77 solid backup for premiership
72-74 top player for championship
71- top player for league one
Wonderkids Potential Ability color hint
Most players have PA of -8 which means they won't always have 150+ in your savegame. There are players with PA of -85, -9, -95 or fixed at 150+ (guaranteed wonderkid potential), and some others with PA fixed slightly below 150 who have impressive quality. There seems to be only one PA -10 player in the FM23 database. There are 6 classes of wonderkids, color-marked for your convenience.
PA <=149 (fixed) : light purple
PA -8 : light gray white
PA -85 (140-170) or 150-159 (fixed) : light blue
PA -9 (150-180) or 160-169 (fixed) : light green
PA -95 (160-190) or 170-179 (fixed) : light gold
PA -10 (170-200) or 180+ (fixed) : gold
Players with fixed potential ability >=150 have their rating cell marked with a red color.
FM 2024 Wonderkids by position
---
Click on the table headers (name, age, etc) for easy sorting.
Press and hold Shift while clicking the headers to sort by multiple columns.
FM24 Wonderkids Live Search
You can filter players by any data you like from all tables below, such as ratings, names, nations, clubs and wages. Start typing and matching results will be shown in real-time. For example, typing "Brazil" will show you all Brazilian wonderkids.
FAQ
I can't find all players of this list on my savegame. Why?
I loaded all players (476k+) in-game to produce this list of FM24 wonderkids. Your savegame probably has less players loaded.
How do you create this list?
As we don't have access to the pre-game editor until Nov 8th, I've created multiple savegames to filter all players that match the criteria of being or becoming Football Manager 2024 wonderkids. I keep the players attributes unmasked in my saves and holiday a few seasons to check on their development. Then I assess every player based on his best role(s) and give him my personal recommendation rating.
Where is the downloadable shortlist to import in-game?
Sorry, I don't have one. I used to share shortlists before, but people would steal them and post on other sites without my consent. However, I will release a few shortlists with my favorite players.