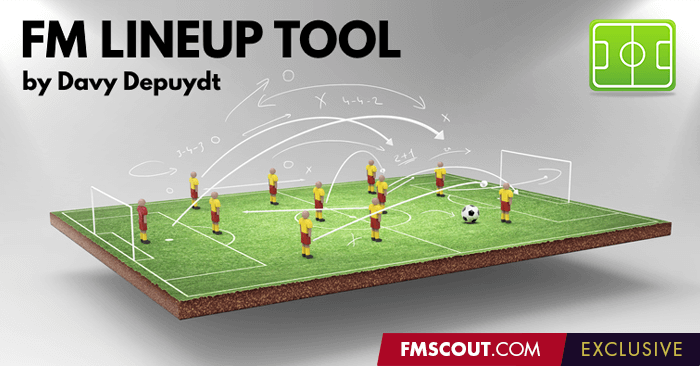 Welcome to the official download page of FM Lineup Tool.
I've created this tool - mostly for the FM Players who are short on time - where you can see a lot of information about your team, and the perfect lineup for your tactic (based on player attributes) from a single export file that you make in FM.
Exclusively available from fmscout.com
.
Redistribution Policy

People who want to put FM Lineup Tool on other sites, you may link back here but you

cannot

host any files yourselves. Thank you!
The story behind FM Lineup Tool
If you are like me and struggling when you are new to a team, your assistant rates half your team 3 stars, you go over the players to see their attributes, but one hour later you have lost track of how good someone was and you still don't know which player is actually the best in which position... and you actually don't have the time to study your players, because life has limited your FM gametime... and another evening is gone without playing a single match because you were lost doing things you don't want to spend time on...
Or when you change teams during a career, and the minute after you changed teams you feel your save is ruined, because all the players you are familiar with are gone, and you don't know anyone in the new team, how will you ever familiarize yourself with all the new players and sort out this new squad....
Well for that I've made this tool for myself (and am now opening it up to anyone). It uses no hidden features or data, everything the tool uses is available in FM itself.
It provides you a quick, and easy to understand lineup and information on your team so you can familiarize yourself very easily with new teams. It also makes a lineup for you based on the player attributes and what the game tells is important for the role/position,
it actually replaces the manual steps that some people do of making excels or doing the attribute math in your head
- because of course if your assistant rates 5 players the same number of stars in the same role, you want to use the attributes that are at your disposal)
Like the quote of my tool says, for me it's the tool "
to get to know your squad, best lineup and scouted players in the blink of an eye
" and no longer a process that takes to much time (for the way I play the game and for where I want to spend time on... )
FM Lineup Tool Features
There are
two different modes the tool supports
and shows different info for, normal Club Manager mode and International manager.
Club Manager
From a single export of your squad screen (with a view that comes with the tool) you can see all important information of your team, and the best lineup and subs for the tactic you are using.

See detail popup of individual players.

Filter per position or your entire squad on easy preset filters, and see ranking per position/role.

Make an export of your "Player Search" screen (with a view that comes with the tool) and you can see which players will be interesting to sign - also easy to filter with the same filter as in your squad view.

International Manager
From a single export of your squad screen (same view that can be used as for club manager) you can see all important information of your national team's selection and the best lineup + subs for the tactic you are using.

See detail popup of individual players.

Same as for club manager mode, filter per position or filter your entire squad.

Make an export of your National Pool or Player search screen to see which player you can consider to call up to the national squad (easy to filter as your own squad).

Or even easier, go to the "Selection Changes" page where based on your current squad + national pool export the tool says which players you better remove from your selection and which you should call up. (this is done by making 2 times a best eleven + 3rd best GK = proposal of 23 players to be called up).

Other features
You can configure your FM Graphics folder, this will allow the tool to load & show player faces and team logos.

You can add your own tactics or position definitions via the Configurator -> Tactics or Positions menu link on top of the tool.

The tool comes with view both for Full Fat FM21 and FM21 Touch.

It comes with an auto-updater
Important to know
For now the tool only works when the FM language is set to English (UK, not US) or Dutch.

Only Euro, Pound and Dollar is supported as currency setting of FM.

Check the date format used in the FM exports, you can configure the correct date format in the FM Lineup Tool (by default d/m/yyyy is configured, meaning dates are like 2/12/2003 or 26/4/2005).

How to use the FM Lineup Tool
This how to is also shown on startup (when you open the tool) and can be accessed via Help -> How To. It contains a lot of useful information on how to use the FM Lineup tool.
---
Donate via PayPal
If you enjoy using this tool, consider donating. Any contribution would be much appreciated. It's totally optional of course.