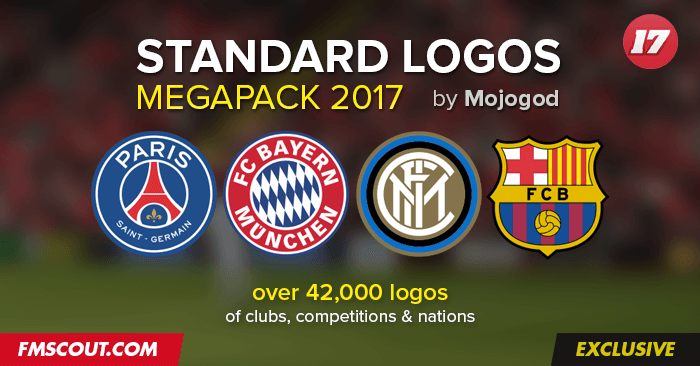 This is my standard logo pack for Football Manager 2017.
Standard means the logos have no effects on them, as this is the way I prefer them.
Standard Logo Pack Contents
Included are now over 42000 logos for clubs and competitions.
Here are some stats:
Africa
: 1928 logos
Asia
: 4662 logos
Europe
: 25683 logos
North America
: 2408logos
Oceania
: 328logos
South America
: 3382 logos
Competitions
: 3244logos
Nations
: 240 logos
Redistribution Policy
Want to share this pack on other sites? Please point the download link to this very page. You cannot host any files yourself.
Standard Logos Football Manager Preview
How to add standard logos megapack on Football Manager 2017


Download the .rar file and use a tool such as 7-zip for Windows or The Unarchiver for MacOSX to extract their contents.


Move the extracted contents to your graphics folder:
\Documents\Sports Interactive\Football Manager 2017\graphics\logos\
Create folders "graphics" and "logos" if they don't exist already.


Run Football Manager 2017 and go to Preferences > Interface:
Hit the Clear Cache button. Return to this screen.
Enable Reload Skin when confirming changes in preferences.
Hit the Confirm button.
Work In Progress
If you notice some club logos that were already out of date when this pack was released or know of some missing logos or found a logo in significantly better quality than in this pack feel free to contact me.
I'm regularly checking all the big logo sites, so you don't need to link me there, but I don't have the time to constantly check logos for England level 9 or Ireland level 4.
Download Links
I uploaded some new download links for those of you that can't download the single file download (big red "Download Now" button at the top and bottom).
This 2-part archive contains Update 1.
Updates
| | |
| --- | --- |
| December 17th, 2016 | March 10th, 2017 |