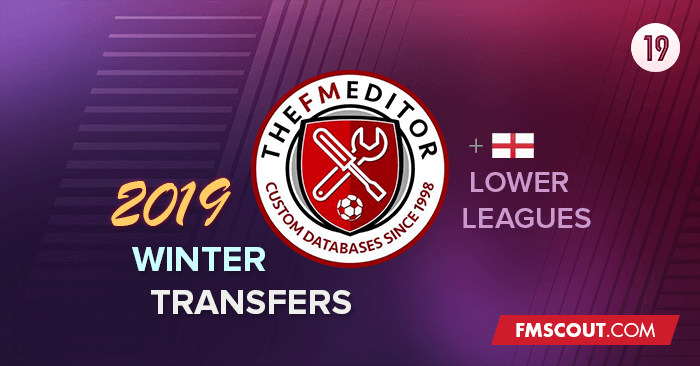 Changes all around the world.
2019-2020 Champions League and Europa League
League
Managers
All other staff
Transfers
Free Transfers
Contracts
Loans.
Club balance/transfer budgets
Level 10 England
1145 non league changes in the UK
40 Non league UK players/staff created
8 Created youth players around the world
220 Youth players home/world rep raised
Thank you for the support. Any problems or anything i have missed please let me know.
Follow me on Twitter
https://twitter.com/TheFMEditor85
How to add TheFMEditor Updates in FM19
Move the downloaded .fmf file to:
\Documents\Sports Interactive\Football Manager 2019\editor data\
Create folder "editor data" if it doesn't exist already.

Run Football Manager 2019 and start new save with this database enabled.


If you want to play in the English lower leagues, it's highly recommended to disable "Do not Add Key Staff" and enable "Add Players to Playable Teams" in advanced options. And also load all players from England using the Advanced... Database Size options.