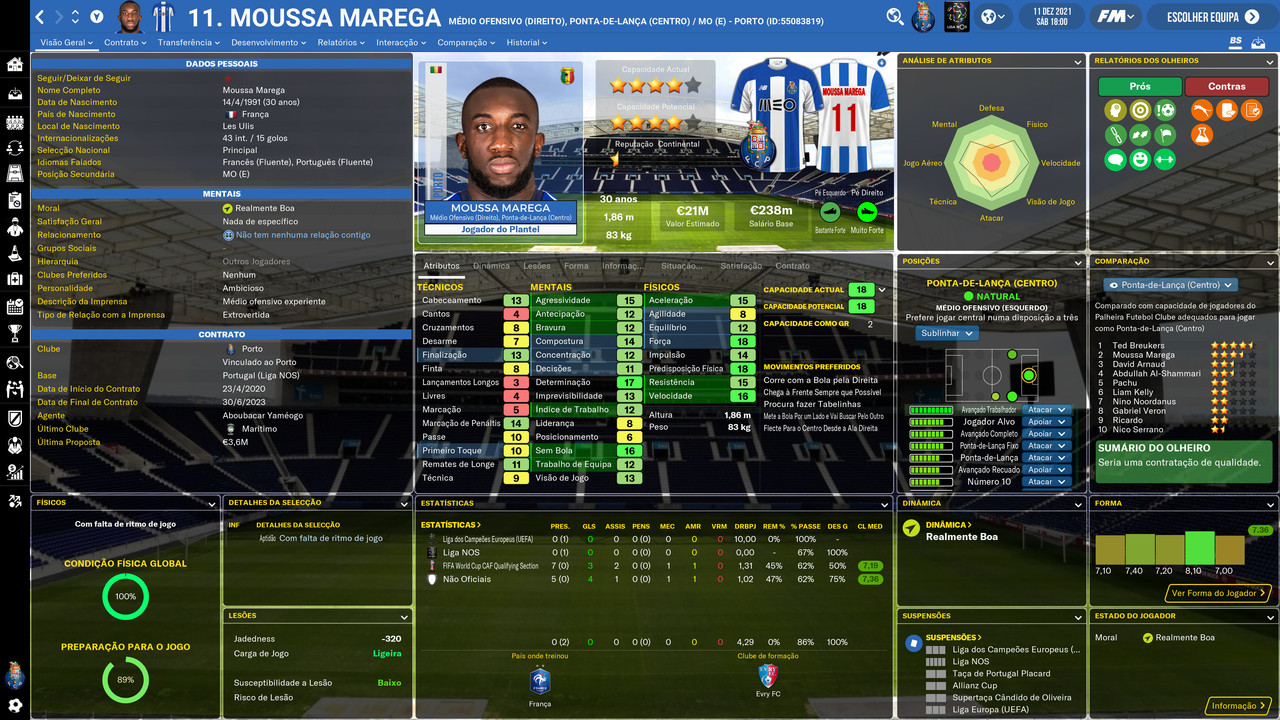 FM 2020 FLUT skin dark - Version 2.2
Skin for FM 2020 regular career mode and widescreen (1920x1080).
This is the FLUT Skin ("dark" version) for FM20. As usual, the Flut skin is completely full of changes when you compare with the default skin.
For many years I keep trying to edit a skin who can help FM Fans to better enjoy our game.
With the direct or indirect help of many FM players and FM skinners (thank you all) I created many stuff (such as the citypics, the rotating images of stadiums in club overview panel or the back and front kits displayed in player overview panel, just to mention some of the ones I consider most relevant).
Therefore,
now, in FLUT Skin you can find
the instant result option, the background/opacity selector, compatibility of player picture (in player overview panel) with DF11 and Scope facepacks styles, the animated intro match, front and back kits displaying in player overview panel, compatibilty with citypics and much…much more!!!
And now you can personalize FlutSkin more than ever!!
I included
14 alt folders in this pack.
You just need to read the
read me file
in order to know how you can use them:
1.
Alt. for sidebar - alt FM20 FlutSkin sidebar matching club colour (works only with the no hidden sidebar)
This folder is for those who want to use a coloured sidebar according each club colour.
2.
Seven alts. for club overview panel - club overview alt1, 2, 3, 4, 5, 6 and 7
Seven different layout for the club overview panel
3.
Alt. for player overview panel layout - player overview alt - flutskin 18
Files for return to the player overview layout I used in FlusSkin 1.8
4.
Alt for attributes panel - alt for player overview without background boxes as default and for player profile and player popup without background boxes
5.
Alt for player overview panel without CA and PA values
6.
Skin without background pictures
An alt client object browser.xml file for those who prefer playing the game with a solid background instead of pictures backgrounds (stadiums, cities, players, etc)
7.
Alts for No Hidden Sidebar (the default sidebar) - for light and dark skin
8.
Alt for playing with the tactics panel as in the 2.1 version (only displaying the back kit)
The Skin pack also includes:
1. "Round country flags", "round continents logos" and default logos specially made in metallic style by
BRIAN-Q
from sourtitoutsi. Those graphics will be displayed in the title bar.
2. Background maps for confederations, also made by
brian-q
. Thank you brian by your great work and for your collaboration!!!
You can download the 2D packs prepared for Flutskin (titlebar and player overview panel). For that you should search for that kits pack elsewhere since the download link in FMScout is down due copyright issues.
However, if you prefer edit your own kits, I also included in the pack a .pdf file explaining how you can edit the kits for Flutskin.
You also can download the
stadiums megapack
and the
citypics
released by DAZS8
(thank you, my friend)
HERE
,
HERE
and
HERE
Main changes in 2.2 version
- Tactics overview panel (front kits included; position colours changed)
- Instant result in match included
- Text font
- Hidden sidebar
- New alts.
- Tweaks here and there
Once again I would like to thank you to all FM Fans who support my work and also to all skin makers. A special thank you to
PATRES10
from
fmslovakia
for the 2D default kits (especially tailor-made for FlutSkin).
As always FlutSkin is completely free to download and I hope you enjoy it. However, if you want, you can reward my work donating whatever amount you wish. Any small amount is really appreciated.

You can do so by clicking the button down below:
Resolution requirements:
This skin was made to work properly in 1920x1080 (1080p) full screen mode, sidebar icons only. As a result, some panels won't work properly in other resolutions (and also in 1920x1080 windowed mode).
. If you use a 4K screen with 3840x2160 you can use it in 200% zoom and the skin will works perfectly!!
How to add Flut Skin in FM20
Download and extract the .rar file (using either 7-Zip for Windows or The Unarchiver for Mac).
Place the "fm2020flutskin_dark" folder here:
Documents\Sports Interactive\Football Manager 2020\skins
Create the folder "skins" if it doesn't exist.
Start FM20 and go to Preferences screen and then into the Interface tab.
You should see FM 2020 Flut Skin dark - Version 2.2 as an option in the skin drop down of the Overview box.
Hit the Confirm button.
Please note this skin is provided as is. It has nothing to do with Sports Interactive or SEGA and won't be supported by them.