Ghana takes charge
It has been a while since the last update on the sidestory. As some of you may remember Mr. Shroom took charge of the Ghanian national team back in the summer of 2019. A lot has happened since as Mr. Shroom has been introducing his style of play with patience.
We begin our journey with the first real challenge as Ghana faced strong opposition in the African Cup of Nations in early 2021.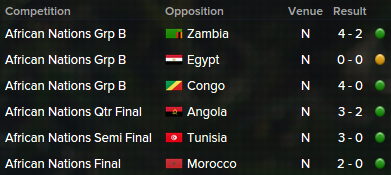 ---
GHANA CELEBRATE THE AFRICAN NATIONS
Some had doubts after Shroom had a slow start with the Ghana squad. The nation plummited in the world rankings after the Finnish manager took charge. The tides have turned though as Ghana managed their first major trophy since 1982. Mr. Shroom became a national hero.
---
GHANA LOOK TOWARD FURTHER SUCCESS IN THE WORLD CUP
The 2022 World Cup is closing in and Ghana are well on their way to Quatar. Ghana finished first in their qualifying group without losing or drawing a single match. The then continued to the playoff stage where they faced Mali.
Ghana trashed mali 3-0 in the first leg leaving little to no discussion as to who will go through to the World Cup. The second match was merely a formality as Ghana took their place in the World Cup. The real challenges now await - on several hot days in Quatar.
---
GHANA WORLD RANKINGS EXPOSED
As things stand Ghana hold the hightes position in the nations history as they sit firmly 13th in the rankings!