Month in Review: February

For manager Kévin Gauthier and Sporting the first month of Liga de Elite was a really good start to the 2019 campaign. In the three matches his crew would be victorious in all three and look unstoppable. For the first three matches the players would rotate as some positions would be up for grabs. During this three match run the club would score a total of sixteen goals while only letting in two.
Currently Sporting are on top of the league with nine points in three matches
.
Match of the Month: 17 Feb Monte Carlo
The 213 supporters that attended the first home match of the season saw the Taça do Presidente champions control the play for the whole of the match by not allowing the visitors score until the 71st minute. Fan Favourites Gilberto Monteiro and Luis Domingues entertained the crowd with their performances. The two former academy stars both scored five out of the eight goals. New signing Robson would end up scoring two goals while Vinicius Lemes scored his first in league play. This 8-1 victory is now a Lige de Elite record.
Man of the Month: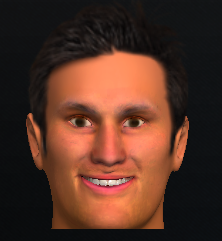 Luis Domingues has been by far the standout player for the club during the opening month and has been a crucial part of the teams explosive start and for him to contribute with 7 goals shows how much of a threat this club is in the league. Domingues currently has an overall match rating of 9.4.
Managers Thoughts:
I had thought that this was a very important month. If we were to show the league we mean business it was this month that we had to play at our best. The one thing I am not sure about is the goalkeeping situation yes Ricardinho has done great but I want to test Aldo Dali in the upcoming match against Chao Pak Kei. Outside of that I am ready for that Benfica match and hope it brings the best out of both sides.
What to look forward to in March:
The second month of the season looks to be very busy for this club with a total of five matches. On 14 February the draw for the second round of the 2019 Taça de Macau and we have been drawn against fifth division side Weng Wa. For the Liga de Elite the bigest match will be on the 24th as the club is set to host rival Benfica. This will be the first Derby de Macau match in the Liga Elite since 2016. This will be extra special as the clubs will be facing eachother for the first time as professional clubs. Also on 1 March the winter transfer window closes.