The Warrington Way
August 2026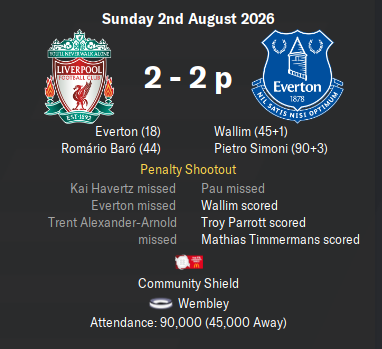 Click here for Match Stats
If you're going to win the Community Shield that's the best way to do it. Equalise late on against your closest rivals then win on penalties. Quality.
6th August
Nohan Kennah
and
Ben White
join Arsenal for fees of 59m and 47.5m respectively
Defenders
Davide Di Giovanni
(68m) and
Damian Morales
(9.5m) join from Atalanta and Man United respectively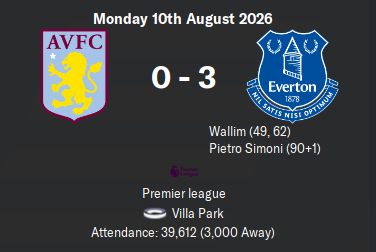 Click here for Match Stats
A fantastic to start the defence of our Premier League crown with a 3-0 win away at Villa and it was great to see Wallim score two on his debut.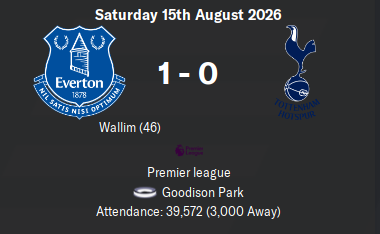 Click here for Match Stats
We had to grind it out but our first league game of the season at Goodison Park ended with a superb 1-0 win against Tottenham. We'll need plenty more performances like that if we want to retain our crown.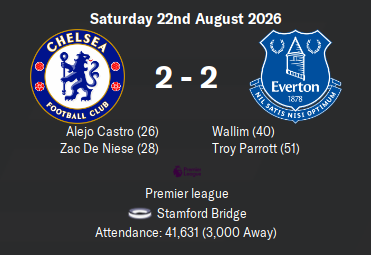 Click here for Match Stats
Last season at Chelsea we were 3-0 down after 30 minutes and lost. After 28 minutes, I was having flashbacks, however, this time we fought back to earn a point with a really good performance. I'll definitely take that point.
27th August
Everton to play Southampton at home in the Carabao Cup 3rd Round
Everton to face Barcelona, Bayer Leverkusen and Shakhtar Donetsk in Champions League group C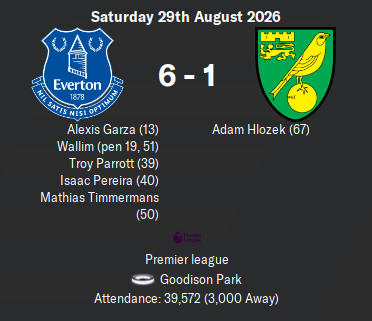 Click here for Match Stats
An absolutely brilliant performance. We never really looked like we weren't going to win the game and there was nothing Norwich could do, we were relentless.
Awards
Wallim
wins the Premier League
Player of the Month
award
Team Stats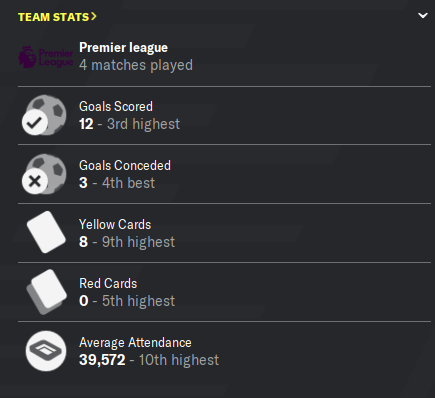 Player Stats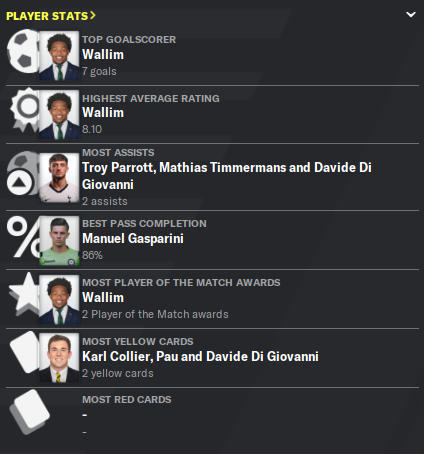 League Table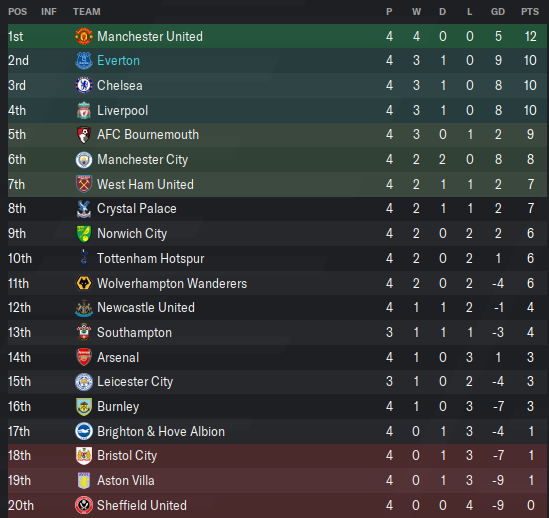 It's early days but I'm happy to see us sitting 2nd in the league, especially after playing Tottenham and Chelsea already.
Next Month's Fixtures