Of course, you can try and prepare as best you can before a game but during the game you can also make big positive changes.
In all the games I have managed on Champ Manager and FM there has never been a game which was perfect. It always happens that adjustments need to made during the game and these normally happen in 4 ways.
4 ways you can make in-game adjustments:
a. You need to change players – sub in and out players
b. You need to change some players roles
c. You need to change the team's formation
d. You need to change some team instructions (T.I's)
A.
Changing players but keeping the same system, formation and T.I's is probably the best scenario as a manager. A perfect example was in the 2022/23 Champion League Final.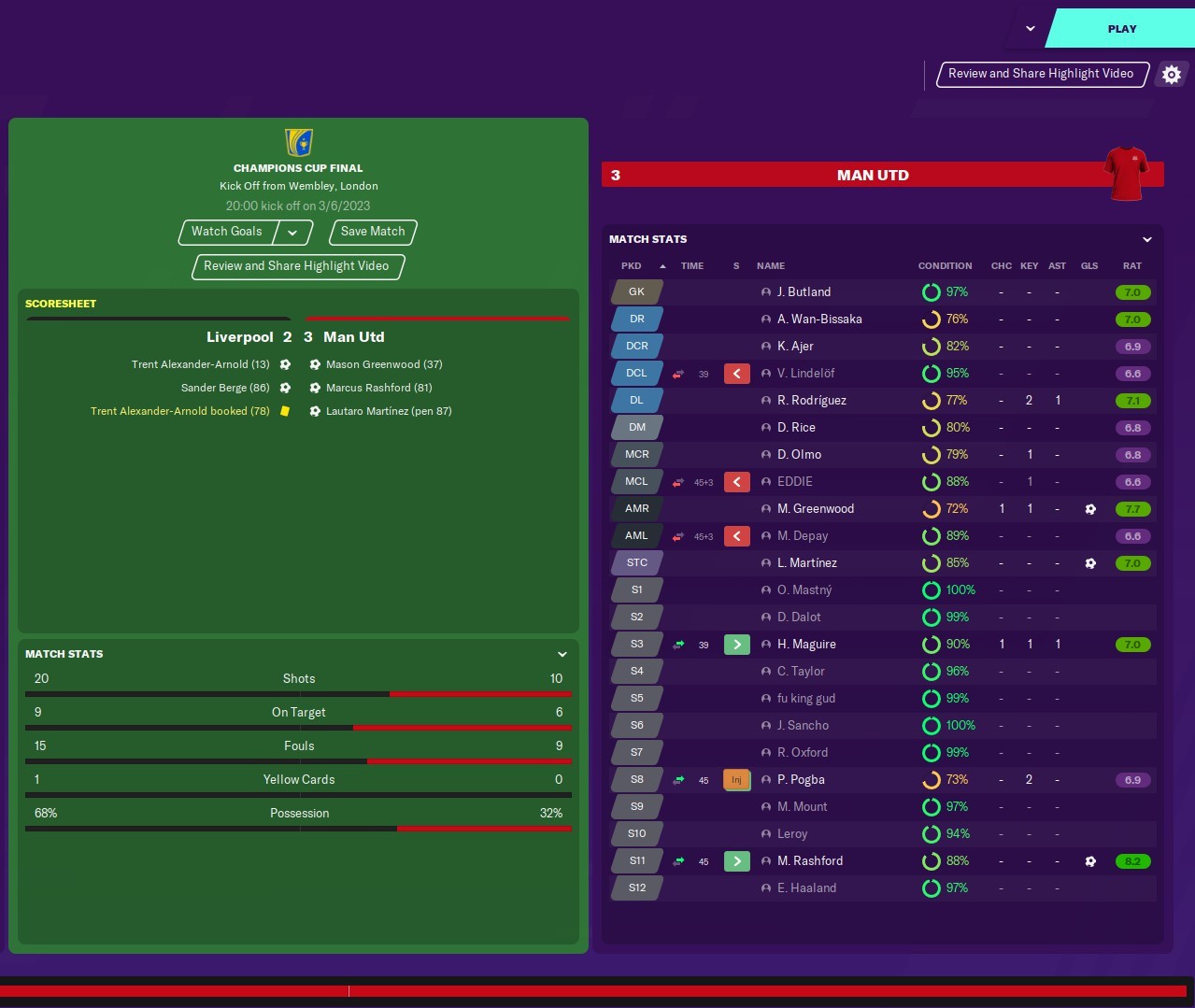 I love Lindelof but the lad was getting destroyed and having a bad start to the game, so I simply changed the player and subbed-on Maguire who was a lot more effective. The same with Depay, who was a massive player in the 2 games against Real Madrid, but in the final he was non-existent….. so Rashford came on a scored a goal for me.
This is the best and easiest way to make an in-game tactical decision and it's a great feeling when the substitution works well for you. However, you need a big squad to be able to make these simple changes over the long season.
B.
The next step up from this is changing the players roles.
For example, AML for me at United is normally Rashford. He plays AML (Inside Forward, attacking) and this has been very effective but often I can change he role to AML (Winger, attacking) which is different and does create different results.
It's a small change but often these can make a big difference.
During the game I can feel it is necessary and if I don't think that changing a player is going to be effective (or not an option) then I think about modifying the players role.
Another good example was in a league game and I had injuries which left me with no regular Wingers. I had to adapt and find a workable solution ASAP.
Then, I found that if I played Jude Bellingham in the AMR position but had his role set to AP…wow.. he was a lot more effective than if his role was Winger.
The same can be found in the DMC position which I can change to Anchor man or DLP defensive. Both are effective and it all depends on how the game develops and who I have available.
These are the 2 role-changes that I make the most with this formation.
Game data, a feel for the game, reading the bottom of my screen to see who is playing well and what is happen, checking if the shots are long range or real chances! …. Reading / experiencing the game live, helps me the most.
D.
Another key step is to change TI's during a game. I do this a lot and can say that I have learned it can work for you or against you.
A classic example was against Stoke. I was doing ok and the score was 1-1, but then just before half-time there was a Stoke player who got a 2nd yellow (red card) and that changed everything!!
The final score was 5-1 to United but the TI's changes that I made at half time were very very important. The stats show how aggressive and attacking the team was.
Another example of TI's begin used to win a game is when I am winning but need to see though the last 15mins of a game. The TI's change a lot so that I can secure the win or try and get something from the match.
C.
The biggest and most drastic change is to change formation. I have done this a few times but with a clear reason:
1. We have a red-card.
2. We need to protect what we have.
3. We need to adjust to the opposition's changes.
That is something that can't be taught because it comes with experience. Formation changes are not easy and have a massive affect on the team \ game.
In general, this is the my least favourite tactical change I want to make during a game. It is such a big and powerful thing that, at times, I am scared to do it.
One final note, please remember that opposition instructions can also make a difference.
For example, I never click 'always close down' or 'mark tightly' for a Striker like Harry Kane or Aguero. They will destroy me, but I will try to take away their supply. The wingers, midfield and Full backs are aggressively closed down and tackled hard.
For certain players I have specific ways to play against them and very often opposition instruction can be very effective.