I've been enjoying FM21 quite a bit and during last autumn I decided to start one more save before FM22 would be released.
I realise, that this is over a year old game now, so I try to keep this as short as possible. I don't expect people to read this, this is just a way for me to save a progress of one of my best saves.
I have achieved decent success with FM21 such as my journey with Newcastle United before they were cool and had all the money:
https://www.fmscout.com/q-21882-FM21-Newcastle-United--Back-to-the-Top.html?p=279117
Anyway, this time I wanted to try something new. My goals/ restrictions for the save were:
- Ideally play with two strikers and under any circumstances, DO NOT play my usual 433 formation.
- Instead of my usual habit of signing well rounded players, I wanted to sign player who have elite attributes in some categories but may have serious holes in their game in some other aspects.
- I like physically strong players...
I started the save after most recent updates e.g.promotions/ relegations, transfers, Newcastle's take over etc.
In my first season, I won the League 1 with ease. I had the best starting squad in League 1, so that wasn't a surprise. For the most part I used narrow 4-3-1-2 formation with BBM - BWM D - MEZ A in my midfield combined with AM A and AF A & DLF A up top.
I had a young squad, made some signings and won the promotion from the Championship with 2nd place finish in the next year.
My first two seasons in PL finished on 10th and 11th places respectively, which on the other hand were great finishes but weren't satisfying enough.
I decided to switch to 4-2-3-1 and put the earned PL TV-money to good use. During the next 4 years Ipswich Town's finishes in PL were 2nd, 4th, 1st and 1st. During the time span, we also won back-toback UCL titles in 2027 and 2028 as well as Uefa Super Cup in 2027 & 2028, FA Cup in 2028 and League Cup in 2025.
Here is a a picture of my 4231 tactic. Nothing too special I think. Attacking front 4, midfield pivot gives the team some stability and wing backs offer some width to our narrow play style.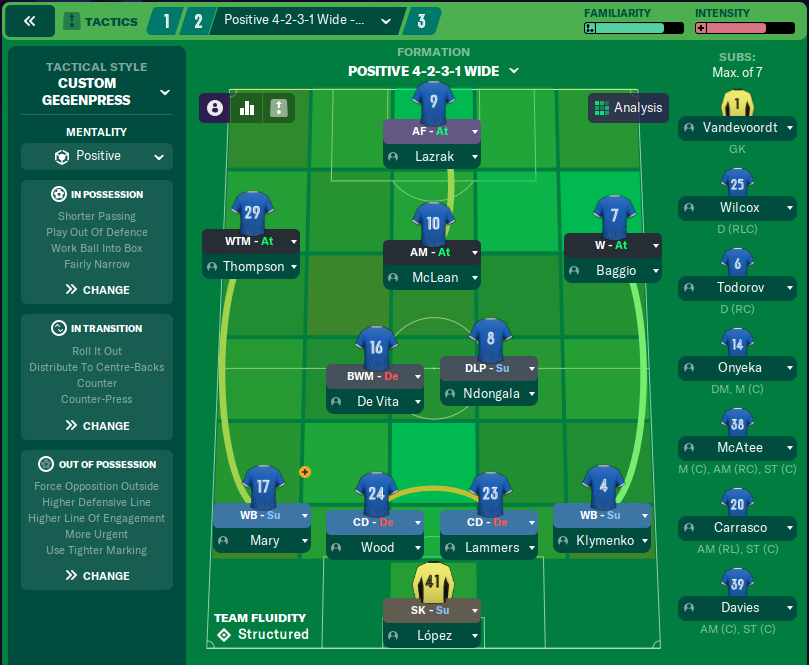 But the main thing are my players. These are some of the best players I've ever managed and technically they are still few years away from their peak.
Strikers:
Dutch Reda Lazrak was signed from Ajax for a humble £100 million. His finishing rating bounces between 19 and 20 and the chap is a true goal scorer. Steve Davies is one of our own academy graduates and operates as a back-up striker. As you can see, he has elite speed and dribbling attributes.
Attacking midfielders:
Scottish Aaron McLean is an absolute unit with his 196cm & 90kg frame, I actually think he has dropped few pounds in last few seasons. He was signed from Rangers for £35M and as you can see has amazing technical skills. Imagine player like that IRL??? Luissint is one of our newer recruits and reminds me of young David Silva.
Wingers:
If Aaron McLean was an unit with his 196cm and 90kg frame, I don't know what to call our academy graduate Jack Thompson, who stands at 200cm and weights 92kg. I swear he was closer to 100kg when he was younger. He was natural as a striker but accomplished at both wings. I've been using him as a Wide Target Man A, and he absolutely dominates in that role. I feel sorry for the opposing wing backs, who are in general 30cm shorter than him.
Baggio was signed from Boca Juniors for £12,5M. Newcastle offered over £150M for him during the summer of 2028, but there aren't better wingers than him in the game, so he isn't for sale at any price.
Central Mids
Guglielmo Vita is one of our newest recruits and despite being only 20 years old, he is already CDM. Ndongala is a great DLP, although not as physical as rest of the team.
Wing Backs
The Ukrainian Roman Klymenko is one of the best Right backs I've ever seen. He stands at 189cm, is an excellent defender and has 16 and 19 for dribbling and agility as well. Simply put, he has no weaknesses in his game. LB Mateu Mory is sort of lite-version of Klymenko.
Central Defenders:
I'm not 100% satisfied with my CD's, but Lammers has 19 for passing, 16 for technique and 15 for vision making him one of the best ball playing centre backs known to man. Wood is a nice partner for him with his excellent speed.
Goalkeepers:
Vandervoort is a boring option I admit. He is only my back up though, as 22-year-old Argentinian Lopez is the number 1 goalie. He's an elite goalie and was selected as Uefa's best goalie at the age of 21.