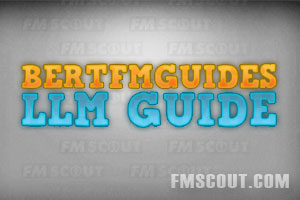 What is LLM and why is it hard?
LLM, or Lower League Management, is a long term game type in Football Manager that has been around for years, and is usually the most realistic way to play the game. The bare basics of the game type is that you start off with a non-league team, or a very low league team.
For example:
- Blue Square Premier/North/South
- Italian Serie C
- Spanish Segunda B
- Scottish Third Division
Things that you will notice when you jump into one of the clubs are:
- Clubs have a much reduced transfer and wage budget, if any at all.
- Will be a lot harder to get a player to sign contracts.
- Squads are usually changed every season, players joining and leaving regularly.
With the lowered wage budgets, and some journeyman players it can be hard to get players to sign new contracts with your club, and will often leave on a free, unless you get promoted.
So here's some tips on how to gain success in non-league football.
Players
One thing that you will learn during you time with a LLM team is that:
Do your business early. Try and scout and bring in the main players that you want before your first friendly. They will then be ready for the league, and will be settled in the squad quicker than a player you bring in on deadline day for example.


Work out who is in you first team plans. Players who you deem are not right for your style of play or who are generally not good enough should be offloaded, whether or not you get money for them or not. Add them to your unwanted list, or if needed release them.


No one player is irreplaceable. Their will always be players on the market that will be better or more affordable than them, if they won't sign a contract, wants a move to a bigger club/ unhappy/ homesick, let them go and replace them.


Make use of the loan market. Loanees are a very cheap and effective way of getting tallented or experienced players into the club. Sometimes you will struggle to get that one certain valuable player into the club, but there will always be others. The majority of players will come to your club with out having to pay anything for them.


Raid the Free Transfer market. Free Transfers are one of the main ways of signing in permanent players to your lower league club. Just a few things I would suggest is to scout them thoroughly and to compare them to the rest of your squad, this will give you an idea as to whereabouts they would stand at your club.


Experience not youth at this level of the game, you will not be able to hold on to any real decent talent that you may bring in through the free transfer market. Instead you should sign more experienced players who can come into the team and make an impact straight away. Players like Vincent Pericard, Yan Nsaku, Salomon Olembe, Rhys Taylor and Dali Gomez will do a good job for a Non-league side.


Pace can be destructive. In the non-league sides there is not a real abundance of pacey players, so when looking for loanees, try bring in a talented pacey player who can take on the fullbacks or cut the center backs in half. Most teams won't be able to deal with them and will force them deep all game, potentially giving you space and time to attack them.
Finances
It is very important to keep control of at this level. It's not like a Premier League team where a sugar daddy can just pump the money back into the team. You will have to keep an eye yourself on where you can save.


Get rid of the youth players sometimes you will be paying a small amount for your youth players, and as they will more than likely turn into nothing special it would be wise to terminate their contracts and save that money on your wage bill. Imagine having 10-15 youth players on £20-55 a week? Releasing them will save you the amount that you could probably pay one or two decent first team players.


Don't go overboard with the signings I would say try and get your first team set up and fillup the rest with loanees, and utility players, that can do more than one job in the team.


Try to keep under the wage budget. Keeping under the wage budget by say £500-1,000 will give you some contingency. Every business need a contigency plan, and if your team is doing bad, the attendance will drop,and you will lose income. You'll be glad then that you saved that £500 per week.
Match Tips
Don't expect clean sheets. Goalkeepers and defences at this level won't be able to keep clean sheets. Usually the players that you have available will have stong attributes in say heading and marking, but might be slow or have bad reactions, and pretty much all the goalkeepers are quite bad. As long as you have a prolific goal scorer in the squad or maybe one league 1-2 standard defender you should be okay.


Don't mess around with tactics too much. A change of tactics when things aren't going your way is fine, might help your club find its form again, but never change a winning tactic. I would also suggest that you play direct. Players in the lower divisions won't have the ability to do short passing and will often lose the ball. Route 1 is the way to go in the basement.


Study the team you have to work with. If you find out during preseason what team you will have to work with, you can then build a formation and a style that will suit your teams style of play. Their isn't much point playing 4-4-2 standard for example if you have only AM and DM central players, they won't be at their best. Try using a 4-4-2 Diamond in that instance.


Don't rush new signings into the squad. If you buy a new player in the january window or towards the end of the summer transfer window, don't rush them into the squad, break them in slowly by playing them off the bench or giving them a few games in the reserves first. This will break them into your style of play and they will perform better.
The overview
Get a Goalkeeper on loan from a higher division.
Make use of your parent clubs if you have any.
Make good use of the Free and Loan markets.
Select your tactic carefully
Don't be afraid to sell your best players to make money
Don't use all your wage budget
Don't expect clean-sheets and an unbeaten season.
If you follow these hints and tips you should be on your way to becoming a half decent LLM manager. These are the bare basics, but if you feel that I have missed anything out, then feel free to comment and leave your suggestions.
Guide's Audio-book
Also If you would prefer, this guide is in a 3 part Youtube video. Let's call it a Audio-book. Yeah that sounds fancy.
My YouTube channel:
BertFMGuides