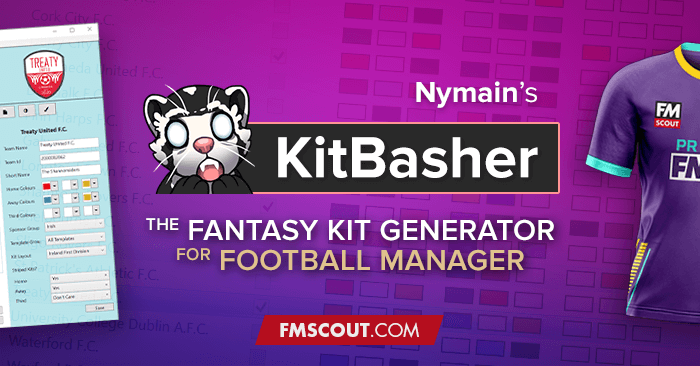 KitBasher - Create YOUR Own FM Kits
KitBasher allows you to create brand new kits from scratch automatically for any team you want, with the touch of a button.
It's ideal for creating fantasy kits, and be in position to change your team's kits every new season in-game or whenever you feel like it.
How to Get Started with KitBasher
1.
Download the Software
2.
Download the Kit Templates
3. Get Set up by watching the Tutorials
4. Generate your kits
Join Nymain's Discord
for the latest beta builds and kit templates. Also join the growing KitBasher community for Team Lists, Sponsor Packs and Kit Layouts and to share your favorite kits.
Steps to import the kits into the game
1) Import the teams into Kitbasher
2) Update the team Ids with the FM team Id
3) Generate the kits for the team you want
4) Go to Documents/Sports Interactive/Football Manager 202X/Graphics (if doesn't exist create)
5) Create a subfolder in the Graphics folder for your Kitbasher kits
6) Copy the kits, config.xml and 3dkits folder to the new folder from step 5
7) Open FM
- Click 'Preferences' > 'Interface' > untick 'Use caching to decrease page loading times & tick 'Reload skin when confirming changes' > click 'Reload Skin' for first your time.
- Click 'Preferences'>'Interface'>'CLEAR CACHE then again click 'RELOAD SKIN' AS ALWAYS after downloading to folders
KitBasher Tutorials