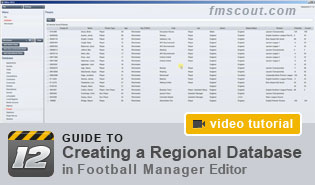 Guide to Creating a Regional Database in Football Manager
I have been making what I call regional databases for over 6 years now. A regional database is a county, state or region of another nation or nations which has been separated from the parent nation, given its own league structure, all the players born there and its own national team.
My experience has come from making a country from the County of Lincolnshire, the old region of South Humberside and Hull. The parts of this area have strong cultural links and rivalries which makes for an interesting league. Other areas I have seen done are the Basque areas of France and Spain, Wessex, London and various individual counties of England.
To make a database like this requires some but not lots of knowledge of the editor, any additional information not included here can be easily found from other guides or learnt by simply exploring the database.
One of the biggest parts, often overlooked or underdone is research. Firstly identifying all the big cities and towns from the region is a must, then use sites such as
the pyramid
and
football mitoo
to find, list and rank all the clubs of your nation n by league level.
After all these years I have two spreadsheets and a notebook full of all the info. I use them all each year plus some more research to make the latest and most up to date databases.
Video Tutorial
I have produced 5 videos that should take you by the hand in creating your regional nation database in case you don't fancy reading the steps in text below. The sound is a bit rubbish for the intro and first video but that could not be helped; things improved as I got better. Below you can watch all 5 videos in the right order.
The first video is an introduction (8:17) that leads to the other four videos.
Part 1- Setting up the nation (7:09)
Part 2- Adding Cities and People (7:10)
Part 3- Setting up the league and moving teams (16:07)
Part 4- Enhancing the structure (19:50)
How to create a regional database: Introduction


Part 1- Setting up the nation


Part 2- Adding Cities and People


Part 3- Setting up the league and moving teams


Part 4- Enhancing the structure



Guide Procedure
In this example I am swapping into a custom nation from a region of England, it will leave England in a playable and relatively untouched state:
NOTE
:
Enable editing the continent in the editor
, this is required to make the database work,
link to the guide here
.


From the menu in the top left go to "Database" then go to "Nations". Replace a Defunct nation... C.I.S ore Pre-1922 Ireland are pretty good, overwrite one with your nations details and clear out anything that is not relevant. Set its continent to Europe! (see above link)

---

Europe only (as far as I know): In the information tab for the nation you have created set all the spaces in the nations coefficient section to 0.20 (or 0.17), for more continental qualification places match your nations coefficients to a nation of the same level you want, If you get negative number of places in the game then try different coefficients.

---

From the menu in the top left go to "Database" then go to "Cities". Identify which cities you want to include in your nation and change their nation.

---

From the menu in the top left go to "Database" then go to "People". Identify all the people associated with those cities and change nationality to your nation. Sometimes adjustments to second nationalities is required.

---

From the menu in the top left go to "Database" then "Competitions". Add a league using the add button in the bottom right, name it and set its nation to your nation and with the correct continent. Add any other details if you require.

---

Add the required number of English teams from "A lower league" (they will take on your nations nationality but don't worry about it). Try just 6-8 teams to start with and filter out any from the "a lower division" with a "Next Division" and "Last Division" set. This is important to ensure compatibility and stability!

---

In England identify the required teams, swap each time with a team from the next league below, make sure it is a team without a "Next Division" and "Last Division" set, if your required teams have one set then manually change it to a team from the same division without any set.

---

Continue this until all your teams are down in a non playable league (below BSS/BSN on default database).

---

Swap the teams from your custom league into the non playable league, this will automatically correct the teams nationalities (handy isn't it :) ).

---

Add the national rules so your league is playable using the wizard. This is pretty simple to do. Click on the "Add Nation Rules" button on the far left. Keep the radio button on for "Create new competition and Rules" then just find your nation in the "Other Nations" list. Click next, amend any of the details if you wish.

---

Now below on the left is the "Nation Rules" section, click on "Divisions" and add all your leagues using the wizard that automatically pops up. Do the same for any cups if you have any.

---

Test! Use this guide to help you: Guide to Testing a Custom Fantasy or Regional Database - Note any potential changes or issues and revise

---

When you are ready repeat the steps for moving teams down to non playable leagues and across for the next of your nations leagues down, when adding custom teams there is no need to do step 8.

---

When all your teams are in and all your leagues are done it is now time to add some cups if you have not done already. Don't add any prize money just yet if you are following my testing guides.

---

Check all club relationships for possible feeder clubs in the same division as each other. Set up any team relationships you want.

---

Test again! - Note any potential changes or issues and revise. Keep testing!

---

Add in any missing prize money or finances, add any extra details such as graphics, awards etc. Test again!

---

Start playing, that's the best way to test if things work! Once you are happy and if you wish you could even share it with others for beta testing or release it for download depending on how the tests went :) Always keep testing, I test even once a database is release, there is always something to learn!


PRO TIP:
Always remember!
Save often to a new file (1.00, 1.01, 1.02 etc), write down the major changes for each version and test frequently! I usually get to my 30th or 40th version before release
There are lots of details I have not covered here to add depth and detail.
If you want an example database to follow try the
Lincs and Humber nation database
I created.
Thanks
Thanks to
Stam
for his help with the layout and for the final editing of this guide.