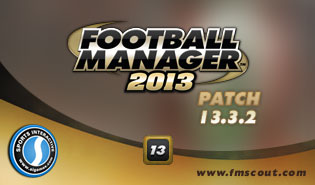 Sports Interactive released the ninth and tenth hot-fix updates for Football Manager 2013 via Steam very close to each other on the same day. This page includes changelist for both 13.3.1 and 13.3.2.
To update you will need to close the game down and re-launch for it to update. If this does not work for you or you feel it has not updated you will need to restart Steam.
Released
: 1 March 2013
Once updated the version number will be 13.3.2, more specifically the full version numbers will be:
PC: 354458 Mac: 354448
As with the previous hot-fix updates:
It is save game compatible allowing you to continue your current save game.
There are no database changes, if you start a new game the database number will be either 13.0.0 or 13.3.0.
You'll find complete changelog below.
Data
Fixed an issue where some player heights were showing up incorrectly in game
Transferred Diego Buonanotte from Malaga to Granada
Fixed a rare crash issue related to the users inbox
General
Fixed an issue related to old save games no longer loading