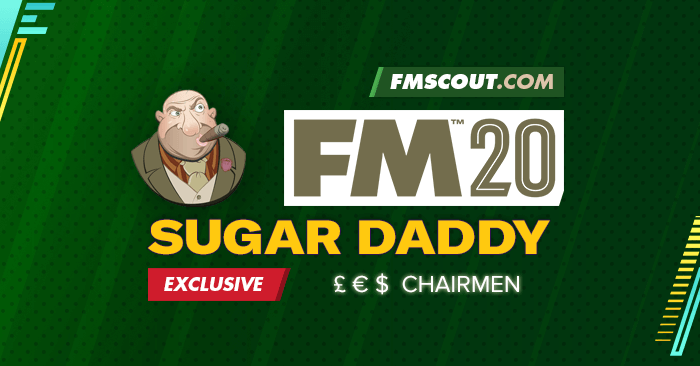 This is the complete list of all active sugar daddy clubs in Football Manager 2020.
Sugar Daddy refers to the club's chairman. Clubs with such rich chairmen at the helm stand a (much) better chance of receiving budget injections from time to time, depending on the occasion.
A Sugar Daddy chairman doesn't guarantee that you'll always have ridiculous amounts of money to spend on transfers. You might as well manage a sugar daddy club and get close to zero transfer budget. However, they will supply more money than the average chairman if needed or to reward your good performance.
Club reputation gets a boost as well, so you might find less players wanting to leave for a bigger club. However, this has a bigger effect when smaller teams get tycoon takeovers in-game so they can attract the players to spend their money on.
Credit: michaeltmurrayuk
There are 4 types of sugar daddy chairmen, as explained below.
Foreground - Will throw money at the club to spend until he leaves.
Background - Will spend enough to make them a force in their current league but if they go up a level or two it would no longer apply.
Underwriter - Won't give you any extra transfer budget but come the end of the season they will always cover any loss the club is making and not expect the money back.
Underwriter (Expects Returns) - Similar to "Underwriter" but expects the money back.
For example, if you spent the entire transfer budget at Barcelona (no sugar daddy) you'd have to re-earn it, but if you do the same at Man City (foreground sugar daddy) the chairman will just pump more money into the club.
Bankruptcy for sugar daddy clubs is highly unlikely. But don't go overboard with your expenses. Bad financial management can lead to severe debt situation for your club, which could result in going into administration. And there's always the possibility for the sugar daddy chairman leaving the club.
---
FM 2020 Foreground Sugar Daddy (31)
| Rep | Name | Nat | Status | Debt | MO | Attendance |
| --- | --- | --- | --- | --- | --- | --- |
| 9000 | Man City | | Professional | No | No | 53812 |
| 8600 | PSG | | Professional | Yes | No | 47496 |
| 7550 | Monaco | | Professional | No | No | 7195 |
| 7200 | Hertha Berlin | | Professional | No | No | 47400 |
| 6600 | LA Galaxy | | Professional | No | No | 24689 |
| 6500 | Toronto | | Professional | No | No | 26830 |
| 6350 | Los Angeles FC | | Professional | No | No | 24000 |
| 6150 | Atlanta United | | Professional | No | No | 48000 |
| 6050 | Almeria | | Professional | No | No | 7200 |
| 5900 | Al-Hilal (KSA) | | Professional | No | Yes | 13007 |
| 5750 | Al-Ahli (KSA) | | Professional | No | Yes | 34089 |
| 5700 | Guangzhou | | Professional | No | No | 45795 |
| 5650 | Al-Ittihad (KSA) | | Professional | No | Yes | 42371 |
| 5600 | Al-Duhail | | Professional | No | Yes | 2500 |
| 5600 | Shanghai SIPG | | Professional | No | No | 21845 |
| 5550 | Al-Nassr (KSA) | | Professional | No | Yes | 16186 |
| 5550 | Al-Sadd | | Professional | No | Yes | 3000 |
| 5500 | Shabab Al-Ahli | | Professional | No | Yes | 3174 |
| 5400 | Lausanne | | Professional | No | No | 3058 |
| 5400 | Al-Shabab (KSA) | | Professional | No | Yes | 3290 |
| 5350 | Al-Ain | | Professional | No | Yes | 5001 |
| 5350 | Al-Jaish (QAT) | | Professional | No | Yes | 1500 |
| 5250 | Al-Jazira (UAE) | | Professional | No | Yes | 7562 |
| 5250 | Al-Gharrafa | | Professional | No | Yes | 3000 |
| 5200 | Famalicao | | Professional | No | No | 2808 |
| 5200 | Beijing Sinobo Gho'an | | Professional | No | No | 41797 |
| 4500 | Al-Arabi (QAT) | | Professional | No | Yes | 3000 |
| 4450 | Al-Wahda (UAE) | | Professional | No | Yes | 2841 |
| 3750 | Lusitania de Lourosa | | Professional | No | No | 1000 |
| 3400 | Larne | | Professional | No | No | 1100 |
| 3300 | Johor DT | | Professional | No | No | 16745 |
FM20 Background Sugar Daddy (75)
| Rep | Name | Nation | Status | Debt | Fan-Owned | Attendance |
| --- | --- | --- | --- | --- | --- | --- |
| 6800 | Olympiakos | | Professional | No | No | 21000 |
| 6800 | PAOK | | Professional | No | No | 25000 |
| 6800 | Wolves | | Professional | Yes | No | 31030 |
| 6650 | AEK | | Professional | No | No | 14000 |
| 6500 | Bournemouth | | Professional | Yes | No | 11189 |
| 6400 | Universidad de Chile | | Professional | Yes | No | 24502 |
| 6250 | Jeonbuk | | Professional | No | No | 13937 |
| 6150 | Rio Ave | | Professional | Yes | Yes | 3954 |
| 6050 | Sion | | Professional | No | No | 9189 |
| 6000 | Okayama | | Professional | Yes | No | 20569 |
| 6000 | Seoul | | Professional | No | No | 17061 |
| 6000 | TP Mazembe | | Professional | No | No | 30000 |
| 5800 | Portimonense | | Professional | No | No | 1808 |
| 5750 | Saitama | | Professional | Yes | No | 34184 |
| 5600 | Giurare Yokohama | | Professional | Yes | No | 27010 |
| 5600 | Lugano | | Professional | No | No | 3290 |
| 5600 | Pyramids | | Professional | No | No | 0 |
| 5550 | Persepolis | | Professional | No | No | 40000 |
| 5500 | Osaka | | Professional | Yes | No | 27708 |
| 5500 | Juarez | | Professional | No | No | 8501 |
| 5500 | Esteghlal | | Professional | No | No | 31875 |
| 5250 | Shandong | | Professional | No | No | 22180 |
| 5150 | O'Higgins | | Professional | No | No | 7895 |
| 5100 | Jiangsu Suning | | Professional | No | No | 27508 |
| 5000 | Al-Taawoun | | Professional | No | Yes | 2826 |
| 5000 | FC Andorra | | Professional | No | No | 500 |
| 5000 | Al-Rayyan | | Professional | No | Yes | 3000 |
| 5000 | Shanghai Greenland Shenhua | | Professional | No | No | 21834 |
| 5000 | Dorados | | Professional | No | No | 6183 |
| 4950 | Al-Faisaly (KSA) | | Professional | No | Yes | 570 |
| 4950 | Bunyodkor | | Professional | No | Yes | 570 |
| 4900 | Al-Wasl | | Professional | No | Yes | 2871 |
| 4900 | Cova da Piedade | | Professional | No | No | 892 |
| 4800 | Al-Fateh | | Professional | No | Yes | 2777 |
| 4750 | Adana Demispor | | Professional | Yes | Yes | 9500 |
| 4700 | Mineros | | Professional | No | No | 4494 |
| 4650 | Al-Ettifaq | | Professional | No | Yes | 4395 |
| 4500 | Dalian | | Professional | No | No | 32853 |
| 4500 | Al-Qadsiah | | Professional | No | Yes | 2039 |
| 4400 | Buriram Utd | | Professional | No | No | 13004 |
| 4350 | Tianjin | | Professional | No | No | 19038 |
| 4250 | Al-Nasr (UAE) | | Professional | No | Yes | 2181 |
| 4250 | Muangthong Utd | | Professional | No | No | 10409 |
| 4200 | Wuhan Zall | | Professional | No | No | 20499 |
| 4200 | Al-Qadsia | | Professional | No | Yes | 3400 |
| 4150 | Raith Rovers | | Professional | Yes | No | 1886 |
| 4150 | Austria Klagenfurt | | Professional | No | Yes | 1783 |
| 4150 | Kuwait SC | | Professional | No | Yes | 1000 |
| 4150 | Bangkok Utd | | Professional | No | No | 5464 |
| 4150 | Shenzhen | | Professional | No | No | 16302 |
| 4000 | Chonburi | | Professional | No | No | 5088 |
| 4000 | Uerdingen 05 | | Professional | Yes | Yes | 4000 |
| 3800 | Salford City | | Professional | No | No | 2733 |
| 3750 | Baniyas | | Professional | No | Yes | 1838 |
| 3700 | Shelbourne | | Semi-professional | No | No | 611 |
| 3650 | Suphanburi | | Professional | No | No | 5824 |
| 3550 | Kazma | | Professional | No | Yes | 1400 |
| 3100 | Kitchee | | Professional | No | No | 2136 |
| 3050 | Yangon Utd | | Professional | No | No | 6000 |
| 3000 | Fylde | | Professional | No | No | 1643 |
| 2950 | Binh Duong | | Professional | No | No | 16833 |
| 2900 | Duli Pengiran | | Professional | No | No | 1000 |
| 2900 | Eastern | | Professional | No | No | 1511 |
| 2850 | Pahang | | Professional | No | Yes | 10209 |
| 2800 | Harrogate | | Professional | No | No | 1576 |
| 2800 | Selangor | | Professional | No | Yes | 8995 |
| 2750 | Lion City Sailors | | Professional | No | No | 1381 |
| 2750 | Kedah | | Professional | No | Yes | 13799 |
| 2750 | Arbeiter Oedt | | Semi-Professional | No | No | 200 |
| 2600 | Chengdu Better City | | Professional | No | No | 1563 |
| 2250 | Felda Utd | | Professional | No | No | 2663 |
| 2100 | Kunshan | | Professional | No | No | 800 |
| 1500 | South China | | Semi-professional | No | No | 150 |
| 1350 | Kelantan | | Professional | No | Yes | 9881 |
| 1250 | HA Attapeu | | Semi-professional | No | No | 0 |
FM 20 Underwriter Sugar Daddy (239)
| Rep | Name | Nation | Status | Debt | Fan-Owned | Attendance |
| --- | --- | --- | --- | --- | --- | --- |
| 8650 | Chelsea | | Professional | Yes | No | 41500 |
| 7450 | Zenit | | Professional | No | No | 48120 |
| 7300 | Galatasaray | | Professional | Yes | Yes | 40000 |
| 7300 | Hoffenheim | | Professional | No | Yes | 26000 |
| 7300 | Krasnodar | | Professional | No | No | 25200 |
| 7250 | Leicester City | | Professional | Yes | No | 31559 |
| 7250 | Lokomotiv Moscow | | Professional | No | No | 15100 |
| 7150 | Besiktas | | Professional | Yes | Yes | 32000 |
| 7100 | Fenerbahce | | Professional | Yes | Yes | 37500 |
| 6950 | Tigres | | Professional | No | No | 41257 |
| 6850 | Spartak Moscow | | Professional | No | No | 30940 |
| 6850 | Monterrey | | Professional | Yes | No | 40124 |
| 6800 | Everton | | Professional | Yes | No | 39200 |
| 6800 | Rennes | | Professional | No | No | 24937 |
| 6750 | Leipzig | | Professional | Yes | Yes | 41000 |
| 6750 | Pachuca | | Professional | No | No | 22153 |
| 6700 | West Ham | | Professional | Yes | No | 58335 |
| 6700 | Young Boys | | Professional | No | No | 22739 |
| 6650 | Toluca | | Professional | No | No | 17062 |
| 6850 | Southampton | | Professional | Yes | No | 30139 |
| 6650 | Vitesse | | Professional | Yes | No | 14703 |
| 6650 | Nantes | | Professional | No | No | 24749 |
| 6500 | Dinamo | | Professional | Yes | No | 4658 |
| 6500 | Colo-Colo | | Professional | Yes | No | 23549 |
| 6500 | Aston Villa | | Professional | No | No | 32000 |
| 6500 | Leon | | Professional | No | No | 19262 |
| 6500 | NYCFC | | Professional | No | No | 24000 |
| 6450 | Seattle | | Professional | No | No | 39600 |
| 6450 | Utrecht | | Professional | Yes | No | 19946 |
| 6400 | Watford | | Professional | Yes | No | 21500 |
| 6400 | Santos Laguna | | Professional | Yes | No | 23646 |
| 6300 | Sheffield United | | Professional | Yes | No | 30000 |
| 6250 | Atlas | | Professional | Yes | No | 30596 |
| 6200 | Ulsan | | Professional | No | No | 9692 |
| 6150 | Basaksehir | | Professional | No | No | 5350 |
| 6150 | Maccabi Tel-Aviv | | Professional | Yes | No | 9000 |
| 6100 | Tijuana | | Professional | No | No | 26766 |
| 6100 | West Brom | | Professional | No | No | 24631 |
| 6000 | Zurich | | Professional | No | No | 9287 |
| 6000 | Morelia | | Professional | No | No | 18677 |
| 5950 | Sheffield Wednesday | | Professional | Yes | No | 25995 |
| 5900 | Bristol City | | Professional | Yes | No | 20953 |
| 5900 | Higashiosaka Rosa | | Professional | No | No | 23272 |
| 5900 | Cardiff | | Professional | Yes | No | 26446 |
| 5850 | Stoke | | Professional | Yes | No | 27534 |
| 5850 | Middlesbrough | | Professional | Yes | No | 22000 |
| 5850 | Derby County | | Professional | No | No | 26850 |
| 5850 | Brentford | | Professional | No | No | 10257 |
| 5850 | Dinamo Moscow | | Professional | Yes | No | 14000 |
| 5750 | Hachioji Tigre | | Professional | Yes | No | 31540 |
| 5750 | Kasimpasa | | Professional | No | No | 2450 |
| 5750 | Huddersfield | | Professional | Yes | No | 23000 |
| 5700 | Blackburn Rovers | | Professional | Yes | No | 14552 |
| 5700 | QPR | | Professional | Yes | No | 13866 |
| 5650 | Hiroshima | | Professional | Yes | No | 13886 |
| 5600 | Suwon | | Professional | No | No | 8841 |
| 5600 | Servette | | Professional | No | No | 7424 |
| 5550 | Sakai | | Professional | No | No | 21518 |
| 5500 | Reading | | Professional | Yes | No | 16656 |
| 5500 | Millwall | | Professional | Yes | No | 13368 |
| 5500 | Pohang | | Professional | No | No | 8481 |
| 5500 | Aves | | Professional | No | No | 1153 |
| 5450 | Atromitos | | Professional | No | No | 900 |
| 5400 | Arouca | | Semi-Professional | No | No | 1708 |
| 5400 | Ast. Tripolis | | Professional | No | No | 2500 |
| 5350 | Sepahan | | Professional | No | No | 7588 |
| 5350 | HJK | | Professional | No | No | 3625 |
| 5300 | OFI | | Professional | No | No | 4000 |
| 5250 | Atlante | | Professional | No | No | 2728 |
| 5250 | Sangju | | Professional | No | No | 2353 |
| 5200 | Xanthi | | Professional | No | No | 1300 |
| 5200 | Tractor-Sazi | | Professional | No | No | 9000 |
| 5100 | Kobe Leone | | Professional | No | No | 21491 |
| 5100 | Busan | | Professional | No | No | 3944 |
| 5050 | Rotherham | | Professional | Yes | No | 8514 |
| 5000 | SJK | | Professional | No | No | 2569 |
| 4950 | Foulad | | Professional | No | No | 4765 |
| 4900 | Inter Turku | | Professional | No | No | 2050 |
| 4850 | Sendai Lumiere | | Professional | Yes | No | 14971 |
| 4850 | Ross County | | Professional | No | No | 4540 |
| 4800 | Jeju | | Professional | No | No | 3708 |
| 4800 | KuPS | | Professional | No | No | 2509 |
| 4750 | Ballena Shizuoka | | Professional | Yes | No | 14991 |
| 4750 | Kitakyusyu Blanco | | Professional | Yes | No | 15050 |
| 4700 | Alebrijes | | Professional | No | No | 3256 |
| 4700 | IFK Mariehamn | | Professional | No | No | 1219 |
| 4700 | MK Dons | | Professional | Yes | No | 9202 |
| 4650 | Nagoya Stolz | | Professional | No | No | 27612 |
| 4600 | Funabashi Bandits | | Professional | Yes | No | 9471 |
| 4600 | Sochi | | Professional | No | No | 3950 |
| 4450 | Fleetwood Town | | Professional | Yes | No | 3140 |
| 4500 | Dundalk | | Professional | No | No | 2664 |
| 4450 | Yamaga | | Professional | No | No | 17416 |
| 4400 | Tampico Madero | | Professional | No | No | 7643 |
| 4350 | Morton | | Professional | Yes | No | 1986 |
| 4350 | Hamamatsu Rafale | | Professional | Yes | No | 15277 |
| 4350 | Al-Fayha | | Professional | No | No | 400 |
| 4350 | Queen of South | | Professional | No | No | 1425 |
| 4300 | Al-Batin | | Professional | No | Yes | 400 |
| 4300 | Qatar SC | | Professional | No | Yes | 1500 |
| 4200 | Scunthorpe United | | Professional | Yes | No | 4364 |
| 4200 | Altinordu | | Professional | No | No | 1000 |
| 4200 | Al-Ra'ed | | Professional | No | Yes | 3311 |
| 4150 | Al-Zawra'a | | Professional | No | No | 10000 |
| 4150 | Al-Wehda | | Professional | No | Yes | 1971 |
| 4150 | Hajer | | Professional | No | Yes | 1622 |
| 4100 | Henan | | Professional | No | No | 20360 |
| 4050 | Changchun | | Professional | No | No | 13110 |
| 4050 | Ohod | | Professional | No | Yes | 1000 |
| 4000 | Torpedo Moscow | | Professional | No | No | 2620 |
| 4000 | Zhejiang | | Professional | No | No | 8675 |
| 4000 | Niigata Unicorn | | Professional | No | No | 14497 |
| 4000 | Al-Hazem | | Professional | No | Yes | 533 |
| 4000 | Alloa | | Semi-professional | No | No | 643 |
| 4000 | Jeonnam | | Professional | No | No | 2292 |
| 4000 | Al-Khaleej (KSA) | | Professional | No | Yes | 2685 |
| 4000 | Al-Quwa Al-Jawiya | | Professional | No | No | 10000 |
| 4000 | Al-Jaish (SYR) | | Professional | No | No | 10000 |
| 3950 | Al-Khor | | Professional | No | Yes | 1000 |
| 3950 | Al-Wehdat | | Professional | No | Yes | 7000 |
| 3900 | Al-Faisaly (JOR) | | Professional | No | Yes | 7000 |
| 3900 | Al-Ittihad (SYR) | | Professional | No | No | 30000 |
| 3850 | Al-Muharraq | | Professional | No | No | 3000 |
| 3850 | Al-Ta'ee | | Professional | No | Yes | 3000 |
| 3850 | Umm-Salal | | Professional | No | Yes | 1500 |
| 3750 | Waterford | | Professional | No | No | 1400 |
| 3750 | Crawley Town | | Professional | Yes | No | 2268 |
| 3750 | Derry City | | Professional | Yes | No | 1505 |
| 3750 | Dhofar | | Professional | No | No | 1000 |
| 3750 | Kyoto Mantis | | Professional | Yes | No | 7850 |
| 3750 | Al-Ahed | | Professional | No | Yes | 1500 |
| 3700 | Al-Nahda (KSA) | | Professional | No | Yes | 600 |
| 3700 | Dumbarton | | Semi-professional | No | No | 700 |
| 3650 | Al-Kharitiyath | | Professional | No | Yes | 1000 |
| 3650 | Al-Nejmeh | | Professional | No | Yes | 2000 |
| 3650 | Al-Shoulla | | Professional | No | Yes | 853 |
| 3600 | Al-Shorta (SYR) | | Professional | No | No | 5000 |
| 3600 | Al-Wakrah | | Professional | No | Yes | 2000 |
| 3550 | Al-Suwaiq | | Professional | No | No | 800 |
| 3550 | Al-Sailiya | | Professional | No | Yes | 800 |
| 3550 | Al-Orobah | | Professional | No | Yes | 3657 |
| 3500 | Osotspa | | Professional | No | No | 2067 |
| 3400 | Al-Orouba (OMA) | | Professional | No | No | 1000 |
| 3400 | Al-Markhiya | | Professional | No | Yes | 300 |
| 3400 | Al-Shahaniya | | Professional | No | Yes | 500 |
| 3350 | April 25 | | Semi-Professional | No | No | 5000 |
| 3350 | Bangkok Glass | | Professional | No | No | 6851 |
| 3350 | Dag & Red | | Professional | Yes | No | 1464 |
| 3300 | Damac | | Professional | No | No | 1500 |
| 3250 | Al-Mesaimeer | | Professional | No | Yes | 800 |
| 3250 | Al-Shamal | | Professional | No | Yes | 700 |
| 3200 | Al-Mujazzal | | Professional | No | No | 700 |
| 3200 | Police Tero | | Professional | No | No | 989 |
| 3150 | Mohun Bagan | | Professional | No | No | 17100 |
| 3100 | Lysekloster | | Semi-professional | No | Yes | 500 |
| 3100 | Al-Njoom | | Professional | No | No | 400 |
| 3050 | Muaither | | Professional | No | Yes | 800 |
| 3000 | York City | | Professional | No | No | 2706 |
| 3000 | Yadanarbon | | Professional | No | No | 6000 |
| 2950 | Al-Riffa | | Professional | No | No | 1500 |
| 2900 | Ebbsfleet | | Professional | Yes | No | 1563 |
| 2900 | Al-Jeel | | Professional | No | Yes | 400 |
| 2850 | Tampines Rovers | | Professional | No | No | 1315 |
| 2800 | Erbil | | Professional | No | No | 9000 |
| 2800 | Najran | | Professional | No | Yes | 949 |
| 2800 | Al-Saudi Al-Watani | | Professional | No | Yes | 1000 |
| 2750 | Ceres | | Professional | No | No | 1000 |
| 2750 | Al-Muhafaza | | Professional | No | No | 1000 |
| 2700 | Chester | | Semi-Professional | No | Yes | 2075 |
| 2700 | Perak | | Professional | No | Yes | 9648 |
| 2650 | Meralco | | Professional | No | No | 1000 |
| 2650 | Al-Diriyah | | Professional | No | Yes | 400 |
| 2650 | Home Utd | | Professional | No | No | 1381 |
| 2650 | Niigata Unicorn (SGP) | | Professional | No | No | 1324 |
| 2600 | Naft Tehran | | Professional | No | No | 2500 |
| 2600 | Al-Ain (KSA) | | Professional | No | No | 0 |
| 2600 | Chorley | | Semi-professional | No | No | 1562 |
| 2550 | Brackley Town | | Semi-professional | No | No | 519 |
| 2550 | Kanbawza | | Professional | No | No | 7000 |
| 2550 | Kaya | | Professional | No | No | 800 |
| 2550 | Al-Riyadh | | Professional | No | Yes | 1000 |
| 2500 | Spennymoor Town | | Semi-Professional | No | No | 1135 |
| 2500 | Terengganu | | Professional | No | Yes | 5616 |
| 2450 | Hougang Utd | | Professional | No | No | 875 |
| 2450 | Alfreton Town | | Semi-Professional | No | No | 488 |
| 2350 | PBDKT | | Professional | No | No | 880 |
| 2350 | Geyland Int. | | Professional | No | No | 819 |
| 2300 | Melaka | | Professional | No | Yes | 6743 |
| 2250 | Stallion | | Professional | No | No | 700 |
| 2250 | Abahani KC (D) | | Semi-Professional | No | No | 6000 |
| 2250 | Warriors FC | | Professional | No | No | 1618 |
| 2200 | Sabah | | Professional | No | Yes | 8672 |
| 2200 | Maziya | | Semi-Professional | No | No | 1000 |
| 2150 | South Shields | | Semi-Professional | No | No | 1502 |
| 2100 | New Radiant | | Semi-Professional | No | No | 2500 |
| 2100 | Hebei Elite | | Professional | No | No | 373 |
| 2100 | Boeung Ket | | Professional | No | No | 1200 |
| 2050 | PKNP | | Professional | No | No | 150 |
| 2050 | Sheikh Jamal | | Semi-Professional | No | No | 0 |
| 2050 | Tanjong Pagar | | Professional | No | No | 834 |
| 2000 | Abahani KC (CTG) | | Semi-Professional | No | No | 2000 |
| 2000 | Negeri Sembilan | | Professional | No | Yes | 2210 |
| 2000 | Saif SC | | Semi-Professional | No | No | 0 |
| 2000 | Kuala Lumpur | | Professional | No | Yes | 1023 |
| 1950 | Zeyar Shwe Myay | | Professional | No | No | 6000 |
| 1950 | Phnom Penh Crown | | Professional | No | No | 1200 |
| 1900 | Benfica (MAC) | | Semi-Professional | No | No | 100 |
| 1900 | Super Reds | | Professional | No | No | 1582 |
| 1800 | ABDB | | Semi-Professional | No | No | 400 |
| 1800 | Balestier | | Professional | No | Yes | 828 |
| 1800 | Hong Kong FC | | Always Amateur | No | No | 120 |
| 1800 | Nagaworld | | Professional | No | No | 1200 |
| 1750 | Global | | Professional | No | No | 1200 |
| 1750 | Lao Toyota | | Professional | No | No | 1000 |
| 1700 | Taipower | | Semi-Professional | No | No | 600 |
| 1700 | Penang | | Professional | No | Yes | 6403 |
| 1650 | Muktijoddha SKC | | Semi-Professional | No | No | 5500 |
| 1650 | Sarawak | | Professional | Yes | Yes | 3160 |
| 1650 | Erchim | | Semi-Professional | No | No | 450 |
| 1600 | Young Lions | | Professional | No | No | 1038 |
| 1550 | Jiuniu | | Professional | No | No | 0 |
| 1500 | Tatung | | Semi-Professional | No | No | 600 |
| 1500 | NTUS | | Amateur | No | No | 500 |
| 1250 | Benfica Laulara | | Semi-Professional | No | No | 3000 |
| 1250 | Gombak Utd | | Professional | No | No | 1163 |
| 1250 | Ka I | | Semi-Professional | No | No | 70 |
| 1200 | Sporting Afrique | | Professional | No | No | 2000 |
| 1100 | Monte Carlo | | Semi-Professional | No | No | 60 |
| 1000 | Sembawang Rangers | | Amateur | No | No | 2337 |
| 1000 | Jurong | | Amateur | No | No | 1688 |
| 1000 | Perlis | | Professional | No | Yes | 1173 |
| 750 | Rovers (GUM) | | Always Amateur | No | No | 40 |
| 750 | August First | | Semi-Professional | No | No | 1000 |
| 750 | Lucky Mile | | Always Amateur | No | No | 50 |
| 750 | Paya Lebar | | Professional | No | No | 1530 |
| 700 | Guam Shipyard | | Always Amateur | No | No | 50 |
| 500 | Woodlands | | Semi-Professional | No | No | 576 |
| 400 | Azul-Branco | | Semi-Professional | No | No | 55 |
| 100 | KCC | | Always Amateur | No | No | 30 |
FM 2020 Underwriter (Expects Return) Sugar Daddy (10)
| Rep | Name | Nat | Status | Debt | MO | Attendance |
| --- | --- | --- | --- | --- | --- | --- |
| 5650 | Estoril | | Professional | No | No | 2275 |
| 4900 | Guangzhou R&F | | Professional | No | No | 10468 |
| 4850 | Hebei | | Professional | No | No | 17798 |
| 4300 | Chongqing | | Professional | No | No | 30900 |
| 4200 | Beijing Renhe | | Professional | No | No | 7343 |
| 3850 | Huanghai | | Professional | No | No | 13193 |
| 3850 | Amora | | Semi-Professional | No | No | 400 |
| 3800 | Sintrense | | Professional | No | No | 500 |
| 3050 | Heilongjiang | | Professional | No | No | 9876 |
| 2500 | Shenyang Urban | | Professional | No | No | 3114 |