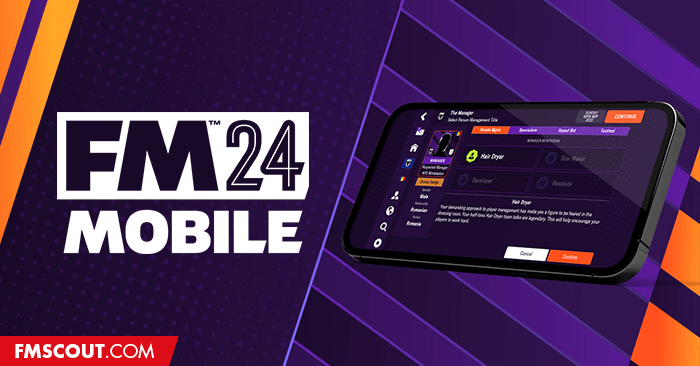 Football Manager 2024 Mobile - Pocket Glory
Earn victories on the go, wherever you are with Football Manager 2024 Mobile, now available with membership exclusively on Netflix. That means if you already have a Netflix subscription you'll be able to play FM24 Mobile at no extra cost!
Through Netflix's global reach and membership base, more players than ever before can fast-track their way to footballing glory and benefit from the addition of four new languages to the game.
Make sure to be checking our friends at
FM Mobile Vibe
for more info as it becomes available. It's the oldest and largest community dedicated to FM Mobile.
FM24 Mobile Release Date
: November 6th
FM24 Mobile Official Description
A host of new features have been introduced to elevate your career as you look to fast-track your way to footballing glory.
There are plenty of new features and gameplay upgrades in FM24 Mobile to dive into, including…
Pre-Match Hub: Whether it's a title decider or a cup final, the new Pre-Match Hub will give you key insights before big games to help outsmart your rivals.

Enhanced Match Experience: New in-match notifications will make it easier than ever to change your setup when your team needs it most.

Effortless Onboarding: From tactics to transfers, get to grips with the world of football management with refreshed in-game guidance.

New Reputation Titles: Earn reputation titles as you progress through your career based on your tactical approach, personality and transfer decisions.

Post-Match Hub: Get an overview of how the game went, with key information available to digest straight after full-time.

There will also be a number of other enhancements present such goal droughts (and related media/effects), the expansion of the game database size (and more national teams manageable because of it) and the optimization of the game engine to make it even faster.
With many new additions to FM24 Mobile ahead of its release on Netflix Games, you're better placed than ever to achieve success in the race to the top of world football.
FM24 Mobile Screenshots
Phone screenshots
FM24 Mobile Compatibility
You will be able to download Football Manager 2024 Mobile and enjoy it on your iPhone, Android phone, iPad, Android tablet, and iPod touch via the App Store and Google Play. However, you will need an active Netflix account to login and begin as the game your next journey to footballing greatness.