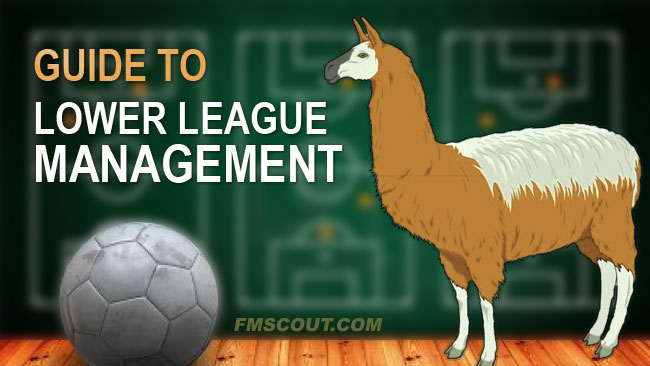 Choosing a team
Finances, Reputation, Expectations, League.
Lower League Management (LLM) is exactly what the name suggest; managing in the lower leagues. This usually implies you go to the lowest possible level and build yourself up from there. Either with the team you've chosen or getting better jobs in higher leagues. It all comes down to who you want to be. When choosing a club it is important that you make up your mind of where you want to manage. Most LLaMas (Lower League Managers) start in the Conference (Now called Skrill) North/South division. Most clubs here are semi-pro so you will have a wage budget. However you might want to look around as there are plenty of amateur clubs, e.g. in the Swedish Second Division.
When you set up the game and select a team to play there are multiple factors to take into account. The first ones I've already mentioned. What league would you like to manage in? Are you looking for a Semi Pro or an Amateur club? There are also things like reputation, finances, facilities, and expectations to consider.
Do you want to be fighting against relegation in your first season or are you looking for a team that will have the quality to get your obscure tactic just right before you try tackling the league above next season? Taking a look at the predictions for the team is a good indication of where you will be fighting your battles.
Do you want a club who is close to bankruptcy and will look to you to sell players in order to avoid having to close the shop or would you rather have a club who can offer good wages so you can attract better players? It should go without saying that if a club's status is rich you don't need to sell your last track suit to keep the team afloat, but it can be a lot more rewarding building a team that can attract sponsors and spectators so you earn money instead of throwing them down the drain.
You can also see the facilities the club has, do you prefer having a good youth setup or perhaps better training facilities so you don't have to deal with injuries all the time? Here it's good to know what importance each of these facilities have. Poor training facilities means worse practice for players, this means that you have a higher risk of injuries and you don't maximize the potential in your players. Youth facilities on the other hand is all about how good your young players are and will become. If you have a high youth recruitment you may get a boy in who could become a future England starter, but because he has only got one ball with no air, he can't realize his potential.
The last thing is reputation. The more reputation a team has got, the more likely it is for players to join said team. You can ask yourself if you'd rather play for Edgar Davids' Barnet or Alfreton Town?
Pure LLM
There's a completely
different
challenge in LLM and that is to start as low as possible. What could be lower than any club? No club. Pure LLM is trying to simulate how it would be for you to enter the real footballing world. Most of us haven't played more than Sunday League football and therefore we shouldn't start with a reputation that says otherwise. This also means that you in no way are allowed to look at guides for "best free players" and not even use the player search. All player searching should be down to your scout.
This is of course the extreme of LLM and you should feel free to start unemployed with none of the other obligations. Please note that starting unemployed may see you out of a job until clubs start sacking managers in the spring.
Finances
Ways to increase profit, selling best players for the right offers, arranging friendlies, progressing in cups.
As a LLM manager keeping track of your finances will be one of your most important tasks. You will not only have to do anything you possibly can to increase profit but more importantly you will have to keep track on every penny you spend.
Know your salary budget
If you want to succeed in the lower leagues you need to know your salary budget at all times and make sure you never overspend. Letting the salary budget get out of control is a sure way to getting your team in trouble and unemployment will soon follow. It will be tempting to spend just that little extra on the player your scout just found, but don't do it. The difference among players on this level is not that big and if the player you are negotiating with is asking for too much money another "John Doe" with almost equal skills and lower salary demands will probably be available elsewhere.
You should also consider that if your club is running with huge losses that you should cut down on wages even beyond your salary budget. There is a fine line here, you won't be in your job for long if you have a poor team, but neither with you if the club goes bankrupt. This is one of the things that makes LLM more challenging.
Every player should be for sale
No player should be bigger than the team, it's a cliché, but one that will be critical to your success in LLM. Players have a tendency to grow ambitious, especially the best players in your team. You will often be prompted by players who will want to leave the club to live their ambition to play at a higher level. You can try to appease these players, but you will gain more by trying to sell them. These player will in the end be so focused on leaving that they will not renew their contract. Some teams can make a huge part of their turnover by selling the best players when they are the most valuable.
You have to consider one thing whenever you get an offer for a key player. Could you get a replacement who is cheaper and just as good? This means that you should always be on top of what your particular market is. In an ideal world you would have a shortlist of 4 or 5 players for each position in your squad. This way you can make a quick decision on whether to sell or keep.
Getting people into the stadium
There's only one sure fire way of making a lot of money. That is by getting more spectators. The more people who share their hard earned pocket money with you, the more you gain. Unfortunately this isn't as easy as it sounds. To get more people to go to your games you have to do really well in the league, cups, have a few stars, play good football and so on, everything that would make yourself pay to watch a football team play.
One way you can get people to go see your team, is by making them come to see another. Friendlies at home against higher reputation teams can sometimes provide a sensible profit. If you have a parent club that will come and play a friendly at your place every year, you're bound to have a steady source of income. Even if it is only a few pounds extra it's worth while as every penny counts. However you cannot play just high value games as this will hurt your morale.
Squad build up
Assessing Players
Highest earners, youth prospects, most in-demand, no one is irreplaceable.
When you take over your team it is always a good idea to take a look at you squad and make a plan for how you want to go forward with the club. Are there players who are completely superfluous? Are there any players who would make you a bit of cash if you were to sell them? What players would you like to keep for the season? These questions and more should go through your head before taking over a new team and ideally before the start of every transfer window.
Once you get a new team you will be asked if you want a report on the squad. This is the first step to get an overview of your team. There are much more details you should consider than what you get in this report, but it is worth checking out none the less.
Keep the roster to a minimum
Another sign that you are managing in the lower leagues will be the size of your roster. You will not have the money to put together a big roster with several backups for all positions. At first it will feel strange not have a backup available to plug in whenever needed. But soon you will learn that this is one of the charms of managing in the lower leagues. With only 17-20 players on your roster you will get to know your players and their qualities and weaknesses a lot better.
The trick to surviving with such a small roster is to look for versatile players who can play more than just one position on the field. As a LLM I would pick up the 1,5 star right defender that could also substitute as a central defender and perhaps deep lying right midfielder over the 2 star right defender that could only play that one position, every time.
As a LLM manager you are more likely to run in to injury trouble due to the poor training facilities and low fitness levels of your players so the more options you have left yourself with when constructing the roster the better you will be able to adapt.
Getting new players
Buying Players
Free market, bargain deals, old is gold, key attributes.
For many LLM the question of buying new players will not be relevant as most of the clubs you will be in control of don't have a transfer budget. In many cases it doesn't even help to sell a player as the transfer income will go straight inn to the day to day running of the club and not be made available for buying new players.
So you will have to pick thru the garbage bin also known as the free market.
And here you will to no one's surprise find mostly trash. All the players here is rejects from other teams and your job is now to pick out the gems that can help your team.
So what to look for?
When building a LLM roster you cannot allow yourself to get blinded by the light from the shining "potential stars". We all want to be the manager to find the next diamond in the rough but as a LLM manager you will have to stay in the present. All the player you decided to bring inn must add something to your team from day one. You can not afford to use up a valuable roster spot (and the corresponding salary) on a player that can not add something to the team.
This should not stop you from scouting for players with big upsides that can develop and improve in the future but the buying for the bench is for the rich clubs in the big leagues.
When managing in the lower leagues you will often be approached by players in the twilight of their career. These players will be looking for a last paycheck and at first glance they looks like solid investments but buyers beware. While the overall attributes might look impressive for many of these players they almost alway comes with a huge question mark.
Before putting pen to paper on the contract for one of these old players you need to do your homework.
How long is the contract he wants?
The old players will in many cases try to get you to agree on a 2-3 year deal. That is in most cases not in your best interest. The players attributes might look fine now but they will start to go downhill quickly when father-time gets his hand on the player. When that happens you don't want to be stuck paying any kind of salary to an old player three years down the line when he is not able to get on the field.
What is his salary demands
The older players knows this might be their last chance to cash in on a contract and wants to maximize his earnings.
Be especially aware of kickers in the contract bumping up the salary and automatic extensions after a set number of games.
Make sure you check the injury history
Why was this player available in the first place? As a low league manager you will have to realize that you probably are not the players first option. More likely is that you are his last option. So why have all the other teams decided to pass on this guy. One reason can be an extensive injury history.
Make sure you check the injury report and check how much playing time the player has accumulated over the last few seasons. As a LLM you can not afford to pay a veteran for sitting injured on the bench.
Can he still move?
Father time is still undefeated and for a footballer its the pace that goes first. We all know the player that can hardly make it out of the mid circle but can still control a game with his golden passing foot. Or the striker that can not run past a man i a stroller but still have the muscle memory to be at the right spot at the right time to score the easy goals.
Before you make a deal with one of these oldies you need to be sure that he still got the skills he need to perform the task you have in mind for him.
If you are have crossed all the boxes and still want the player in question
What key attributes to look?
Determination.
A player with an enormous talent don't have to be determined as they can get ahead on pure talent alone. For the LLM players its another story. Most of these players are low on talent and have to rely on other qualities to get ahead.
Pace and Stamina.
Speed is everything in lower leagues. Pair it with high stamina and you have a supreme player that could dominate the game until League One (England) at least, if he's lacking any other qualities that is.
Here you will probably get as many answers as there is FM players.
Loan Market
Low percentage of wages, parent clubs.
Another way you as manager with no money can improve your roster is looking for loan deals.
When looking around the internet on LLM saves you will see a lot of managers being heavily involved in the loan market and its a common strategy used to bring in an almost completely new team of loan players alone.
When talking about "pure LLM" this strategy is deemed to be an exploit.
But that doesn't mean that you should not look in to the loan market. Whenever you can add a useful player to your roster for free and even have his salary paid partly or in best case totally by another club you should jump on the opportunity.
How many loan players you will allow yourself to add each season in your save is entirely up to you.
Youth Squad
Profit buys, clearing the useless ones, throwing them into the deep end.
When playing LLM it is very unlikely that you will ever use your youth squad. Unless you have taken over a club that is a "sleeping giant", one that once resided in a much higher league and could at one time attract a better calibre of player and have good youth facilities because of this. If this isn't the case then you are better off getting rid of any youth players to free up much needed money in your wage budget. Every little helps.
If you come across any players that look like they could become a future star then move them into your main squad and get them playing as often as possible, or sell them if you can get some value out of them.
Coaching / Training
Their importance, bargains, increase in player search, workload.
One of the places where you usually can make a difference is in training your players. You can ask a player to concentrate on certain role or a new position. When managing in the lower leagues you will usually find yourself in an amateur or a semi professional team which will have a limited time to train. Usually semi professional teams can train 5 days a week (as opposed to 7 days a week for professionals). But you have to play a match in these 5 days and you might even want to rest your players before and after the match. This leaves you two days of training, one of these days will be dedicated to match preparation so in all you will have 1 day each week to improve your players' skills. Now imagine the average training facilities at a lower league club. You've might have 10 balls, a stack of cones and a few brightly coloured training vests. Add to this that most of your coaches will not be the most talented in the system. You will not be able to develop the next world beater with conditions like that.
Does this mean that training is useless? Far from it. It is a very useful tool to keep your players fit or tactical aware. You can influence your player's development, but you probably won't be able to change a players role entirely. One thing that is essential to LLM training is resting. It seems absurd but because of your limited squad size you cannot allow yourself to rotate much in cup competitions. This means that you quite often will enter games with tired players. Make sure you rest your players if you need them fit for a cup game. This could mean that your players will not get any training that week, but sometimes making it through a difficult cup game is more important than developing your players.
After all this has been said, training is the same whether you're at one of the world's best club or one where the chalk lines on the pitch which seemed to have been done by a teenager on a binge drinking session. Go check out guides on the best way to train, but always keep the limitations of a lower league club in mind when reading them.
Scouting System
Importance of other leagues, scouting assignments.
The first order of business when starting as a LLM manager for a new team is to check out the team's scouting department. The basis of a LLM save is attempting to play the game the most realistic way possible. That means no player search is allowed, no FM Scout is allowed, no Wonderkid lists or other outside help can be used in a LLM save. What you know about the players in the LLM world is only what your scouts have told you.
Those restrictions makes the necessity of a quality scout obvious. If you can not trust your scout you will be signing players blindfolded.
You will soon find out that just like with players, the best scouts will have no interest in joining you tinny club. The scout already employed by the team will in most cases be useless.
The best scouts will be long gone when you get a chance to pick.
Dont bother about scouts who can judge future potential now. You will be in the market for players that can play now.
When you finally find a scout you can trust its time to put him to work.
To add to your problems as a LLM manager you will most likely have heavy restrictions from your board in your ability to send you scout out into the world. IRL the scout of a Norwegian 3rd division team will never allowed to travel south america for two months looking for new players so that's also the case for your LLM save.
In most cases your board will only allow you to scout your own country.
Pre-Season
Testing players, tactics, building a profit, chemistry.
Pre-season is the most important part of the season as it allows you to try out different tactics and players whilst at the same time helping to build squad morale and earn some all important cash for your team.
It is quite easy to generate a lot of revenue for your club by playing away against bigger teams, but this can also be extremely damaging to your teams morale if you are not careful. Whilst a big away game at Old Trafford might seem appealing, when you lose the game 10-0 your teams morale will take a huge hit which can in turn lead to a poor start to the season. So its important to try and get the balance right between making a profit and building the teams morale.
The best way to build the morale is by winning matches and playing well as a team. So when choosing your friendlies try to choose teams that you know you will beat or at least have a chance at beating.
Try to play between 6-12 friendlies in the pre-season and this will ensure that your teams morale is high by the start of the season. It also means that the team are very familiar with your tactic by the start of the season.
Rotation of the squad during pre-season is also important as you do not want to burn the players out before they have kicked a ball in a competitive match. This also gives you a chance to test players in certain positions and work out whether or not they are a good backup for your first choice in that position, because at some point during the season you will have to replace them whether it be due to suspension, fatigue or injury.
Tactics
Fluid or Rigid, Counter or Control, Expressive or Disciplined.
Finding a tactic that works for your team is what will make or break your season. At the big clubs you can pretty much create any tactic you like and go with it. When playing in the lower leagues this is not the case, you have to choose a tactic that will suit the players you have. This may even mean having two or three tactics due to not having enough players that can cover positions in your main tactic as you will have a much smaller squad than if you were at a big club.
Once you have decided on a basic shape you need to think about the team instructions and individual player instructions. What you have to remember here is that your players are not top drawer players. They are most likely slow, not very creative and general wont have a great footballing brain. So overloading them with instructions may end up getting you and your team in trouble.
So for example if you know that your defence isn't very quick then its not going to be a good idea to have them playing a high defensive line as you will just leak goals.
Similarly there is no point in playing a Fluid and Expressive style of football as the players won't really be creative enough to pull this off. So you are better sticking with a Rigid and Disciplined style.
Once you find a formation that is working, tweak it where necessary. As you move up the leagues you may find you can get away with that higher defensive line, or you may go with a whole new formation due to the changes within your roster.
Loyalty / Job Security
Rejecting offers, surpassing objectives - their importance.
If you've decided you want to be one of those managers who wants to make it through changing clubs throughout your career, then there's a few things you need to take into account. If you constantly talk about wanting a job in the league above you, you will get fired. If you want to build up your reputation to gain attention from other clubs it is quite essential that you don't get fired. This is even more so the case if you've decided to stay with the club until you win the Champions League. So how do you build up your job security?
There's one huge indicator whether the board thinks you're doing a good job. You get an update each month. Here you will learn whether the board thinks your achievements or actions is good or bad. They will usually tell you how they feel about the clubs economic status, how you have fared in matches, transfer dealings and so on. It is important to listen to the board's request.
You will also be measured on loyalty, this isn't just by the board but also by the fans. As mentioned earlier if you constantly try and link yourself to new positions both the fans and the board will quickly turn against you. Should you ever be lined up for a job at a bigger club due to your success one of the best things to do is deny to comment, unless you're not interested then say that. If you go out and declare your interest in every job you're linked to you might not keep the one you've got. Wait until you're unemployed to declare interest in everything.
Another good way to build up your relationship with the board and the fans is quite obvious. Surpass your objectives. This shouldn't come as a complete shock to you that if you do better than expected the board and the fans will like you more.
Keep in mind that no one likes a moaner. If you keep asking for things the board cannot deliver, especially if the clubs finances aren't up to much. The board will get annoyed by the sight of you. Try to keep your board requests to a minimum.
Remember that building up good will with the board will in the end allow you to go against the advice above. If you are a fan favourite you will have more presence in the board room and they will more likely grant your wishes. You can declare your interest in a bigger club, because after all the fans and board would want the best for you, because they like you. So despite the type of game you want to play, getting the board on your side is essential.
Credits
a_esbech
DaddyCool
Northwood