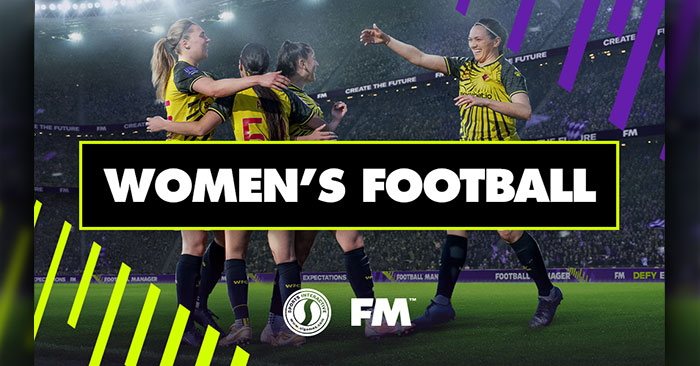 Adding women's football into Football Manager
has been a reoccurring feature request from the community for a number of years.
Miles Jacobson (SI studio director) used to turn it down saying there wasn't enough interest to justify allocating resources into making that happen.
At some point he mentioned that when they do it, they'll do it properly... so it appears he was ultimately convinced about taking the plunge.
We've recently seen another football management game including women's football, and that feature in particular was positively received by pro female footballers on social media.
Perhaps that accelerated the process for Sports Interactive to go public today with an announcement. Their commitment to
a multi-year project to include the women's game into the FM series
.
Miles wrote a
long post about it
on the official blog, which we'll summarize below.
First thing to clarify; it will NOT be a standalone women's football version of FM. Women's football will be added to FM.
FM players will be able to move seamlessly from managing a men's team to a women's team and back again.


A women's database that works with the existing FM won't work, as there's a lot more than simply replacing the male players with female players.
This includes attributes, female 3D models, different transfer system, unique league rules, level of detail, in-game text.


It will take some time to build a comprehensive global database of women's football. Tina Keech, a qualified coach, is the newly-appointed head of research for women's football.


Adding women's football to Football Manager is going to cost millions while the short-term return it delivers will be minimal. To help offset some of those costs, SI started conversations with potential commercial partners in return for a wide integration of their brand into FM.


Motion capture sessions have already began with plenty more to be carried out over the coming months. This will ensure women's body shapes and animations will be accurately represented in the 3D match viewer.


Nothing in FM is ever finished, and the same will be the case with women's football. It won't be a case of just adding it, then forgetting about it, but it will continue to grow along with the rest of the game-world.


SI will become a commercial partner for women's football. Besides ongoing partnerships with AFC Wimbledon Ladies & Girls and Watford Women, they've now signed a commercial partnership for one season with Leicester City Women.


Realistically, bringing women's football to FM is going to be a multi-year project.
At this stage they don't know exactly how long the process will take so they can't say exactly which version of FM will see women's football make its debut.
So, one big question is when they will actually add women's football into the game.
Maybe their new commercial partnership with LCFC Women (for the 2021/22 season) hints that it could make its debut as early as FM22? We'll see.
Are you excited about this new feature in a future FM version? Share your thoughts in the comments.