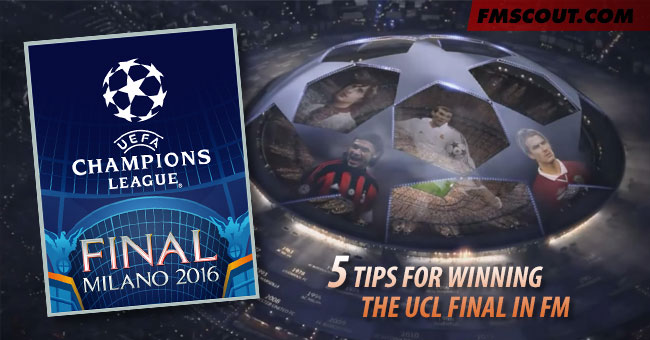 The Champions league final is almost upon us and Real Madrid will fight it out with their bitter rivals Atletico Madrid for another European crown this weekend.
http://leovegassports.com/
and other sports bookmakers have pegged Ronaldo & co as favourites, but if you've played Football Manager for any length of time you'll know that it's not just the squad that matters, it's what you do with it (and luck) that counts.
A game of this magnitude often demands calm and mature performances. The ability to perform under tremendous pressure, taking the right decisions at the right time and tactical depth is what differentiates the champion from the challenge on a stage like this.
Here at FMScout.com, we look at ways how you can dominate big games and win finals on Football Manager 2016.
Tactical understanding - Be patient
One of the most common issues with players in Football Manager is they tend to switch tactics often. If you think your players will respond to your tactics that keep changing twice/thrice during the game, you are wrong.
Players need rigorous training and time to understand a new tactic fully, so pick one that suits your players best and then stick to it.
Choice of personnel
The worst thing you can possibly do before a big game is pick your lineup based on individual abilities/stats. The best team is not a group of your highest rated players, it is the one that is tactically best suited/more balanced.
Try and pick out your opponent's strengths and weaknesses, see which players can exploit/counter them and then pick a lineup based on that.
Player ability - mentality is key
When picking a player for these huge occasions, take note of his mentality rating. A weak-minded player is likely to crumble under pressure or make a poor decision that will cost you big time.
For example - a rash challenge or a poor back pass.
Planning your training and player management
Plan your training according to the fixture list and how your players respond physically.
If you play a high pressing game, you might want to rest players before a big game like the Champions league final. The last thing you want his a tired side trying to press and failing miserably.
If you play a well orchestrated passing game, keeping a strict training regime will work wonders for you.
Game Management
This is the final and the most important part of winning any big game. You cannot keep up the same level of dominance throughout a game. Every once in a while you need to tinker with your tactics - slow down the tempo, conserve the energy, defend deep.
It is your job to manage the game properly. Make sure your instruct your players accordingly and guide them through the different phases of the game by mixing things up according to the demands of the situation.