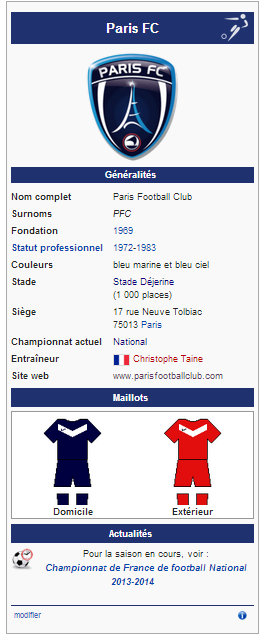 When people think of football in the capital city of France the first club that comes to mind is Paris Saint-Germain. Well there are a few other clubs in the city of lights, Paris FC and Red Star Football Club 93. The two clubs play in the Championnat de France de football National and are semi professional. With the takeover of the QIG people are looking for a club in Paris to be pure once again.
With that I am taking over Paris FC. They are a club with no major history but have changed names as much as I have made stories. In 1970 they merged with Stade St. Germaine to form PSG, then two years later they split from PSG merged with CA Montreuil and become Paris FC. In 83 they become Racing Paris 1, a year later they change names once again and become Paris FC 83. Finally in 1996 they become Paris FC once again.
This is
The City of Light Divided
. The title is a play on two things. The first is the nickname of the City of Paris, The City of Light. The second part is from P0st-Hardcore Band Thursday's 2006 album A City by the Light Divided. I hope you enjoy this story and wish me luck.
Note:
This most likely will be with PFC but down the road I could take another job. We will see.
GOALS
TROPHY CASE: