mitchelldfc
INTRODUCTION
It has taken me three seasons of an Everton save to 'perfect' my tactic. When I say perfect, I mean to get it working the way I wanted it to, no tactic in FM15 can claim to be perfect, all dominating, all powerful master of the game. I think FM15 is the closest yet SI have got to achieving a true footy sim. Maybe in time this might not be such a good thing for everyone. Is it possible to take Kidderminster Harriers to the European Cup final? Or can the might Forfar to break the old firms domination of Scottish football? I dare say you cannot anymore and I still love it. I loved the feeling of winning the Europa League with Everton and the thrill of the chase for 4th place in the Premier League. I no longer expect to play and play and play until I have conquered all, my expectations are now realistic thanks to the game.
Maybe some of you have cracked the game, well done to you, but for me thats not what the game is about and I am by the far not the most dedicated person when it comes to analysis of tactical stats etc. I have been a long time FM gamer and admirer of the FM community which has inspired me to enjoy the game on a totally different level. I have never contributed to any forums, I have absorbed all the info and taken and taken and taken. Now I would like to give.
Some of my 'musings' will not be revolutionary to most of you, so maybe I am targeting those of you who just cant get it right somehow and need a little guidance on the thought process that goes into structuring a team and building a successful tactic.
INSPIRATION FROM PLAYERS AND THOUGHTS ON TACTICS AND ROLES
First, my philosophy and inspirations. I hate the term football philosophy. It distracts from the goal of actually winning a game of football. As a football fan, I like to be entertained and as a manager i'd imagine that I would also want to be entertained, after all, I have to sit through some 60 games a season. So in terms of philosophy, entertainment is the goal but what is entertaining to me as a fan and what is entertaining to a manager are totally different things. So I have certain aspects which I have identified that give me 'joy' as a manager on FM and as a fan:-
Passion, players must want to play for the jersey.
Determination, players must want to win and win the ball.
Work rate, I believe my team should work harder than the other.
Teamwork, I hate individualism on the pitch. No-one should criticise a teammate for making a mistake or choosing a different option to what his teammate would have preferred.
Discipline. Structure. Intelligence.
I would therefore go as so far as to say this is the core, fundamental base that my team is based on and should be universal and applicable to either Barcelona or Albion Rovers.
As mentioned by the mighty CLEON in a post that I read, all tactics must start with some basis, some inspiration. How do you want your team to work? Well, I watch alot of football from all around the world and I have been inspired by many aspects of different teams. But also players. I see some players and they just stand out as your 'type' of player. You like the way they move, they decisions they make, their positioning or whatever. I remember watching Gareth Bale playing at Southampton and he just stood out, I cant describe what I saw but I just took notice instantly, the same more recently with Nathanael Clyne a few years ago. I just liked him.
Therefore, my tactic was inspired by certain players who I just like, and the idea of throwing all these guys together and getting them to play as a team was an interesting way to approach the game for me. So lets take a look at my inspirations:-
GK - no-one really stands out, i prefer goalies not to stand out. If i am ever asked to name a famous goalie i tend to think of Rene Higuita or Chilavert. This is what we dont want. I was always amazed at the progression of Victor Valdes. He started out so raw and was in the limelight at Barca from a young age. We saw his every mistake and quickly got the reputation as a dodgy keeper. Not so now, for me he was a legend. Barca playing their high line game, he was their last line of defence and saved them on upteen occasions. He was never recognised for his role in their success.
FULL BACKS- On one side I really liked the role that Ivanovic plays at Chelsea and similarly so did Abidal at Barca. Playing as a narrow full back who is equally adept at CB yet capable of getting forward at the right times offering an offensive outlet. On the other side an offensive minded outlet like Jordi Alba. Im a season ticket holder at Barca and he for me is the stand out player who breaks out of the tiki taka and really has a go and attacks the flank, puts in crosses and also gets onto through balls inside the area.
CENTRE HALVES - i see the two centre backs as a unit and think some of the great CB partnerships that there have been. Maldini/Baresi, Puyol/Pique, Desailly/Blanc. What all these have in common in an aggressor and a more cultured partner. I tend to remember more fondly the aggressor/leader in the unit such as Terry, Adams, Stam more so for me this has added importance.
DMC - I am a great admirer of the DMC, fans love a midfield enforcer. For me Mascherano, Viera, Keane are the ones who stand out.
MIDFIELDERS - Tricky area and yet the most vital. Firstly, I love Lampard or the Lampard role. For me midfielders must contribute to the goal threat and who better than Lampard. An attacking midfielder who works hard and covers back. I also think about Fabregas, Xavi (2009) and Ramsey in this role also. Secondly, the introduction of the roaming playmaker to this years FM was most exciting. A role that I have been trying to replicate for years on previous versions now given a name. Because how better to describe my favourite midfielders role. The Yaya Toure role. Yaya for me can do it all and yet is creative also. A fulcrum for the team who cannot easily be picked up by the opposition. Almost a complete midfielder (a new role for FM16??? Why not!).
Slightly off topic in regards to players but here is my rant about the deep lying playmaker. I hate this role with a passion both in the game and in real life. Never before have I seen a more pointless, ineffective role to try and win a football game. Xavi (post 2009) was deployed as this as Barca shifted from high tempo passing game to a lower possession orientated system which has since become the basis of many tactical 'philosophies'. Xavi went from a 15-20 goal midfield goal threat to being a deep midfielder and constantly looking for messi. He was highly successful in supplying Messi for his 100 goal year and is a true master of the position but the fact that Barca played through and relied on Messi has now proven to be an ineffectual, individualistic approach which alienates many team mates ie. Ibra, Pedro etc So my tactic has also been inspired by the failings of my team and what i would do to rectify this. I also associate the DLP with Xabi Alonso who for me (my personal opinion) is a loathsome player. Always late in the challenge, gives away too many fouls and yet is the defensive lines protection against some top players. I think his passing distribution is more varied than Xavis but I cannot accommodate a player such as this. A roaming playmaker, gets forward, gets back, defends and attacks. He is everything, yet floats around looking for space, its so much more dynamic and entertaining.
WIDE FORWARD - Has to be someone who has a go at the defence, someone who scares defenders with pace. Robben for me is everything that I would want for this position. Also Gareth Bale and Claudio Caniggia.
CENTRE FORWARD - a key position for so many reasons but for me goalscoring is not the prime objective here. Im looking for someone who drops deep, gets on the ball and feeds my primary goalscorer (which i will explain in a minute) but has to carry an aerial threat. I believe so much in having as many tools to my attack as possible and I believe that a team lacking an aerial threat, eliminates so many tactical options. Therefore, consider Dzeko or Lewandowski or Llorente, who work hard, technically brilliant, team workers and aerially frightening.
GOALSCORER - Oh how excited was I to see the RAUMDEUTER introduced to FM15. A role i have been trying to replicate as an INSIDE FORWARD for years on FM. I love Thomas Muller and I love the idea of my primary goalscorer drifting in from the flanks and looking for space to score, breaking the offside trap and causing havoc. So hard to pick up and produces some fantastic play to watch.
So these players and their roles have inspired me to create a tactic, and with players such these in their roles, the football will be (for me) aesthetically pleasing. Thinking on these lines really helped me to make what I believe is my own style, form my transfer targets and inadvertently gives me my team structure.
INSPIRATION FROM REAL LIFE TACTICS
I regard myself as a student of the game. I love tactics and the history of their evolution. So in developing my own tactic, what do I want to achieve? How do I want to play? Here, I took inspiration from varying and contrasting styles.
Fundamentally, I want to reiterate that my team must work as a unit, for each other with no weak link in the chain. Here I take inspiration from Brian Clough, a manager who built successful teams on simple ideas. Have fit players, who work hard and for each other. His success with provincial clubs can only inspire our own managerial approach. We all want to take our small provincial club to the top, so therefore I would argue that fitness, determination, team work and work rate are key attributes throughout the squad.
Then I take Barca. Rijkaards Barca started something, then Guardiolas Barca completed it. It didnt happen overnight, it was a laborious process but what a ride. Guardiola takes all the credit but the 'Barca way' was reignited under President Laporta who took Cruyff and asked him who should be the next Barca coach. Rijkaards Barca was exciting and dynamic and captured the imagination. It was total attack and it had many prongs to it. Xavi was a goal scoring machine, Etoo was at the peak of his powers as a complete forward and Ludovic Guily was a lightening quick wide forward/winger. Then there was Ronaldinho. An advanced playmaker playing off the flank. It was a deadly combination which offered a variety of avenues of attack. So why didnt it create the dynasty of Guardiolas Barca? Simple, lack of discipline. Late night parties and drinking led to the demise of Ronaldinho and Deco, Etoo was said to be a disruptive figure in the dressing room and Rijkaard lacked authority to deal with these major players. A key element to a successful team absent which led to them losing the league.
Compare that then to Guardiolas Barca. The 2008/09 season, the Barca of the six cups. They won everything and in style. A high tempo, high pressing style of football which made a team to be feared but is not widely known is that at the centre of the sides success was its ability to hold possession......wait for it........ By winning the ball back from the opposition quickly through effective closing down and superb organisation. Every player knew there role. The high tempo game is not conducive to a high possession tactic, but Barca in 2009 went for teams throats. They had Henry (effectively playing as a raumdeuter), Etoo through the centre and a young Messi out wide playing as an inside forward. Xavi at the height of his powers playing alongside a young Iniesta gave the side multiple attack options. Etoo was top scorer but goals went flying in from everywhere. It was the best football I have ever seen.
How do you improve upon winning everything? Guardiola then became obsessed with possession. The idea or 'philosophy' being that if you have the ball the other team cannot hurt you. Etoo was sold and Messi moved into a central role with Pedro brought in after a good first season out of the B team. The team was still dynamic. The sheer quality of the players alone led them to win the league a canter but then came the semi final of the Champions League against Mourinhos Inter. Barca were arguably lucky to win against Chelsea in the semi the previous year but there was to be no doubt in regards against Inter. Inters counter attacking, organisation and determination were key factors in them beating Barca over two legs. It was a tactical masterclass and the cracks in the tiki taka philosophy beginning to show, albeit evident to me early on. The loss of Etoo and the emergence of Messi led to the team over utilising their primary weapon. Henry and Pedro were mere passengers at times through no fault of their own, they simply didnt receive enough of the ball. Inter nullified the Messi threat and nullified Barca. Also by sitting deep and using aggressive pressing in their own half, Inter were able to win the ball and have acres of space in the oppositions half to cause damage. Milito up front (an aerial threat) was key to getting the counter kick started.
In the later Guardiola years, the possession game became slower and slower, the rates went up as high as 80%, yet Barca continued to be successful, in no short fact due to the brilliance of Messi. But everything had to go through Messi, either to be creative or score the goals. Xavi reverted to a deep lying playmaker and Iniesta almost mirrored this role, they played parallel to one another. The high intensity, determined approach to winning the ball back through effective pressing was no longer evident. Teams simply had to clear their lines to stop an attack yet another followed. But slowly, all the while the opposition sits in their own box, giving no space to the forwards and the intricate passing and movement of Barca was their only tool to score goals. Nothing from midfield. Only Messi is capable of scoring in these tight situations, it was a tactic that would not work without him, it depended on him. With no input from wide (now Villa and Pedro) Barca essentially played with 9 men. It was frustrating to watch them fail to break down teams such as Rubin Kazan and Roberto Di Matteos Chelsea. Tiki taka for me died in 2010.
The team is evolving but evolution is a slow process. Barca are still overly dependant on Messi but this season we are starting to see the best of Neymar playing as an inside forward and when Suarez gets going he will be the raumdeuter. Xavi is starting to make his runs into the box again and its great. Time will tell if Luis Enrique can get it right.
So by taking into account the failings of a great team, I developed my own ideas. I like possession, I like controlling the game but I dont need 70-80% possession. I think around 55-60% allows a team to be dominating and I do not want to achieve this through a slow passing build up, compressing the other team into their own half where there is no space, so we will drop deeper, press in our half, aggressively, be organised and be ready to counter (which Barca have neglected to do since forever). This was effective for Inter and Chelsea and most recently and impressively for Real Madrid. Their robust pressing method, in their own half and the success that has brought them is very commendable and with the pace they have on the flanks in Ronaldo and Bale they have a deadly tactic which allows them to dominate. They still hold possession but do it through winning the ball back well. What Benzemas role is in FM terms I can offer no definitive opinion but he also impresses me due to his work rate and unselfishness toward the team.
I think the most complete modern day side has to have been the Heynckes Bayern Munich. A possession based side with counter attacking capabilities and good set play conversion rates. Together with a solid defence and aggressive midfield structure. And also their counterparts Klopps Dortmund who to a certain extent lined up very similarly. Where Bayern preferred to press high, Dortmund did so much lower and both had varying degrees of success against each other. So lets find a balance.
THE TACTIC
My save is with Everton, my English team with a squad of players that fits my structure and plans. I wont need to make too many signing but the depth of the squad is rather weak especially for having to deal with European football.
A quick summary of my progress. Season 1 was ruined by version 15.4.1. I was annihilated by wingers and cross balls into the box plus I could have been winning by 3 goals and the game would have ended 3-3 (or worse). I was playing against the ME rather than developing my tactic.
Season 2 was trial and error but the new version breathed life into what I was trying to achieve. I found Lukaku difficult to find into my system, he has great technical ability and is a beast in the air but he wasnt able to offer a creative threat. His link up play was sloppy and no amount of PPI training was able to improve this. My Raumdeuter (Mirallas) was suffering tremendously but I found great success in my IF(s) in McGeady. Defence was leaky also. We finished 6th but closer to 10th than 4th.
Season 3 brought Domenico Berardi in for Lukaku who went to Arsenal for 33m. Unfortunately, Romelu went to the Euros with Belgium and was player of the tournament, top goalscorer etc etc. So it was a brave move. However, the difference in attack play was like night and day. Having Yarmolenko has a Raumdeuter(L) and Mirallas as the IF(s) led to a great season, Barkley playing as a CAM was also picking up form. We finished 6th again but a point off 4th, FA cup final losers and Europa Cup Winners (against euro champs Chelsea who finished 3rd in their group).
Season 4 has started great, cant keep a clean sheet but the tactic is flowing.
So here it is, after much tinkering:-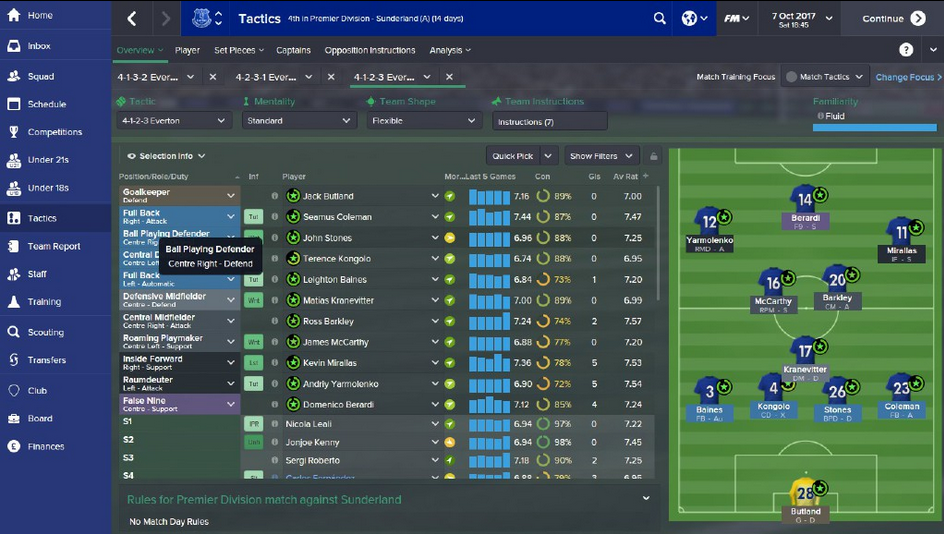 This is a basic structure which should work with most good teams based on the roles as they currently are. But I wouldnt change my structure even if i was playing as a small team. I believe in my approach and always strive to get players to play the way i want or get in players with the attributes i need. Its a bit stubborn but I like to install my methods early rather than paper over cracks. Its my approach and certainly not conducive to winning but I like playing with tactics and getting them to work and always within my framework.
A flexible shape. I must at this point thanks www.guidetofootballmanager.com for their amazing guide and explanation of player roles and shape, without with this game would be no-where near as fun. So in reading their explanation of shape, I simply couldnt put myself in the fluid or structured camp, I needed elements of both. I need a variety of attacking options with sound defence organisation. But if you are making a tactic, then please use the guide to help you decide.
Team Instructions:-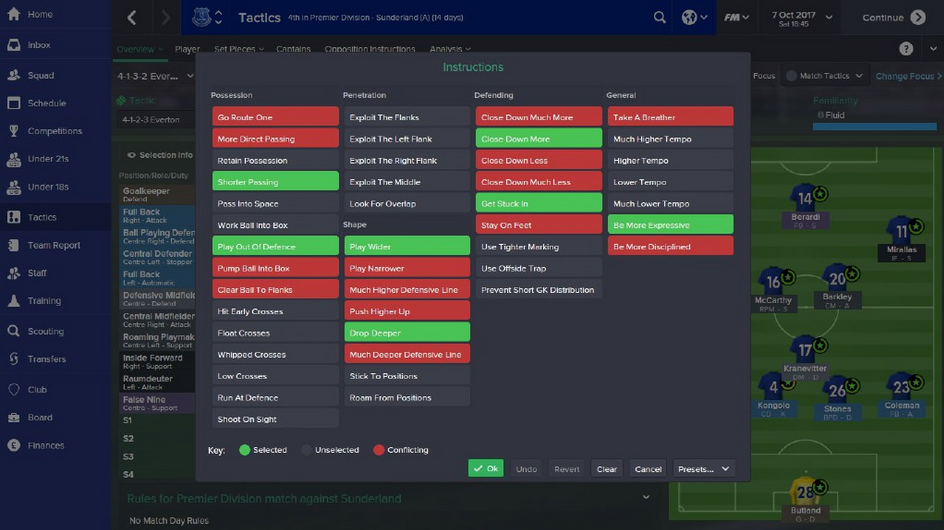 A major breakthrough for me was reading that in FM15, team instructions do not override the player instructions and vice versa, they co-ordinate each other, i discovered this toward the end of season three and led me to winning the Europa League. Shorter passing is based on the premise that I like possession but with more expressivity I allow my players to use their intelligence and decision making to decide when to counter or when to switch play etc. Its very dynamic and beautiful to watch. If i am dominating possession but cannot find a breakthrough, or if I want to enhance counter attacking options i untick shorter passing.
Play out of defence is again another tool to maintain possession and control the game, I control when I attack, I hate losing possession with hopeful balls to the front. I find the tempo just right and the football pleasing to watch whilst controlling our own destiny. I very rarely if ever untick this. If i am chasing the game late on then this may be something i consider.
No instructions on penetration!! This is key. I have several avenues of attack which can all be effective and with increased expressivity I again rely on the intelligence and decision making of my players to find the right option at the right time, based on the knowledge I have of my players and PPI's I have them playing just as i want them and they are able to capitalise on weaknesses in the opposition. By choosing an avenue to penetrate I feel i am closing another door. It may be relevant to do so during a match but you can use common sense as to when this should be necessary.
Play wider. Man did i tinker here. I had no real inspiration as to how my team should play and trying to play the ME wasnt helping. My original theory was to play narrow, to give solid defensive structure, good possession and compress the game in the middle to free up space out wide where my raumdeuter or full backs could get forward. I shipped alot of goals from crosses so when I changed to wide width this helped to combat this with no noticeable negative side effect through the middle. The team was more sound defensively than it was previously.
Drop Deeper, Get Stuck in and Close down. Based on Mourinhos Chelsea and Madrid and Barca 2009 (for aggressiveness).
Be expressive is key. I cannot dictate to my players how to attack, i choose players with good decision making skills and they can exploit opportunities as and when they arise.
Tempo is something i play with in the match, higher if im chasing the game and lower if i want to kill things off.
So a simple 4-1-2-3. I always use standard as a base point for designing a tactic. The team instructions are set so they take into account the mentality ladder, i dont have to tinker so much but I tend to untick drop deeper when moving to counter attacking as i feel that standard drop deeper is a perfect defensive line for what i want to achieve.
ROLES
As explained briefly before with some player instructions.
A simple GK. Distributes to full backs
A full back on Attack. He is very attack minded but is also quick to get back and defend. I rely on the players intelligence here and it works wonders. PI's i have throughout my team based on how I want the player to behave.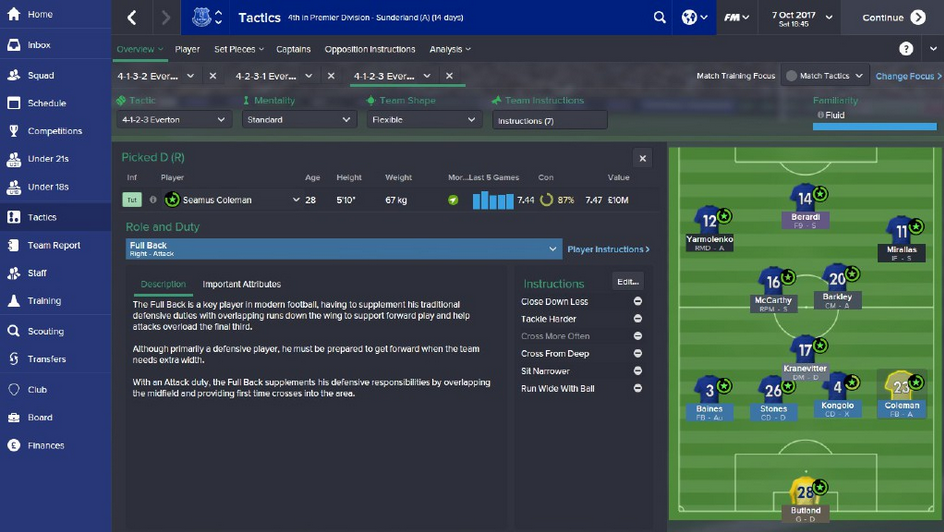 I may still tinker with the sit narrow but close down less is to protect the wings and tackle harder to be aggressive on flying wingers. Cross from deep is my favoured cross position from a personal point of view, difficult to defend against.
Baines at LB mirrors these PI's but has an automatic duty depending on the circumstances.
CB:- Stones I sometime employ as a ball playing defender and a stopper. He is such an allrounder and indispensable member of the team. But just as a ball player is perhaps best with a stopper by his side. I have no PI's for this role. Here I am open to suggestions. I think the team instructions are sufficient for him to be aggressive enough.
Kongolo as a stopper has all the right attributes, he is my Baresi/Puyol whereas Stones is my Pique/Maldini. He plays it shorter. No ambitious passes from him. Simply win the ball and pass it off.
DMC:- Again, how i tinkered with this role but eventually settled on the DMC for a variety of reasons. Getting to know the roles is key and watching how they perform. Im a fan of the half back and anchor man. I believe the DMC position should be used for defensive cover and not some creative midfielder who sits deep. My Mascherano.
Again, tackle hard and pass it short. A simple role and can be employed at any level of the game.
RPM:-
My Yaya. Heartbeat of the team, on direct passing to negate the shorter team passing slightly.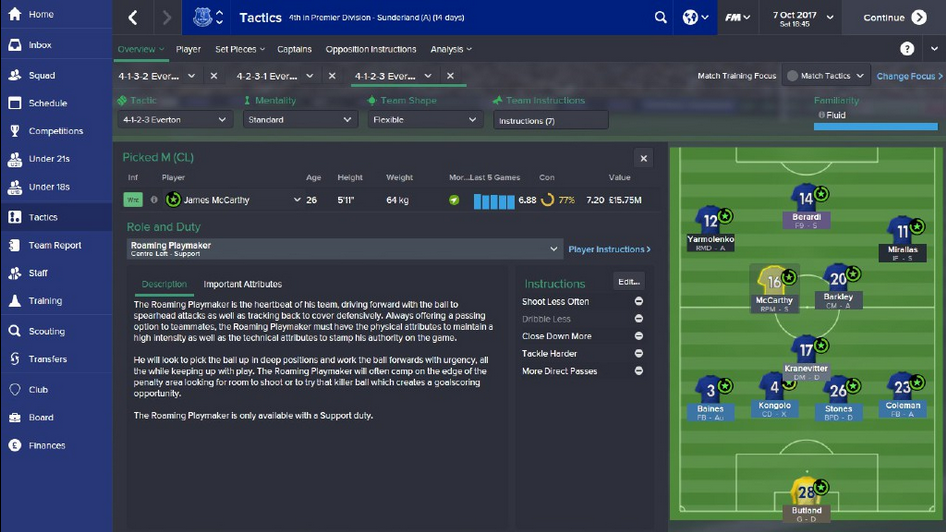 CAM:-
My most exciting role in the team, I structured everything around this role and the raumdeuter to get goals such as i value their worth. PPI's so important here. I train getting into the area and arriving late specifically. Move into channels is also key.
GOALSCORER:-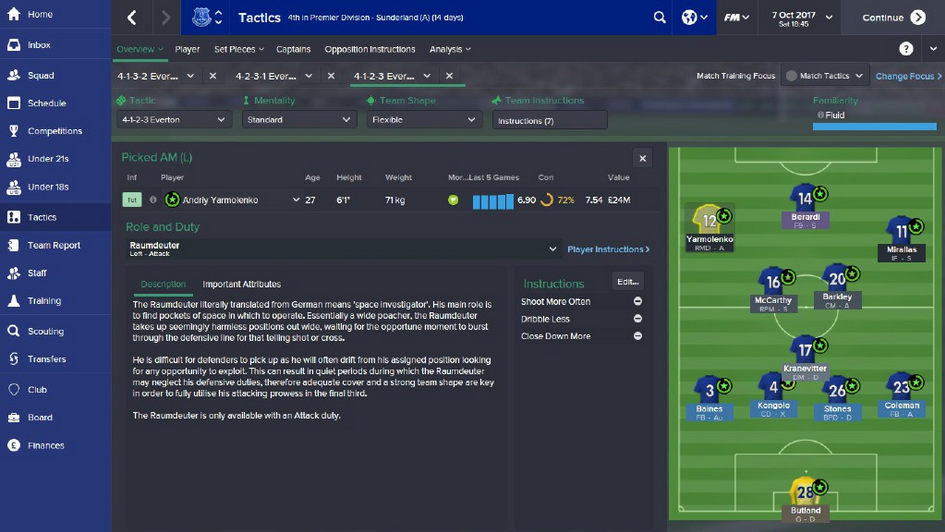 My other key role. Pass and move. Find space and shoot. Simple, effective.
FALSE NINE:-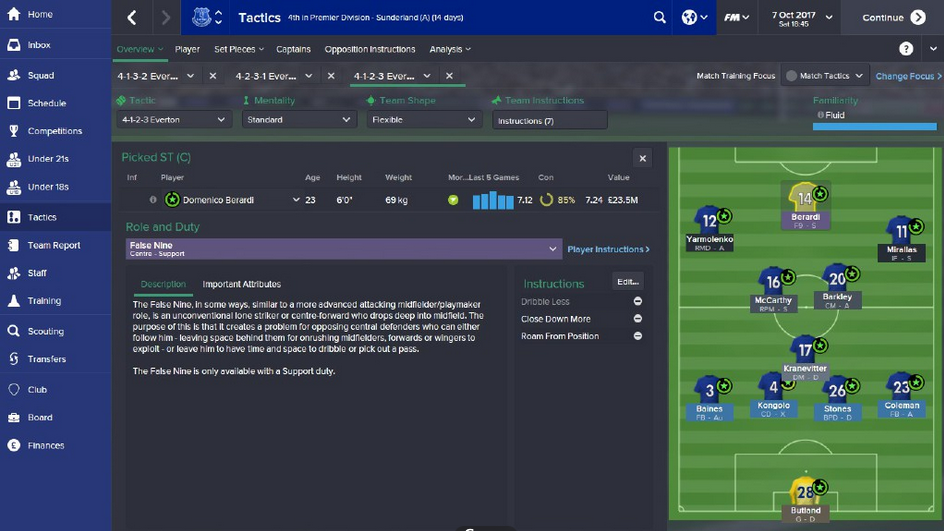 Again im not 100% the role is correct but so far its effective. Berardi has an aerial threat and the false nine does literally go everywhere. Creates space and chances whilst making them for himself. I have tried every role up front and havent noticed many differences but i think false nine helps Barkley get involved in goalscoring more to devastating effect.
IF(s)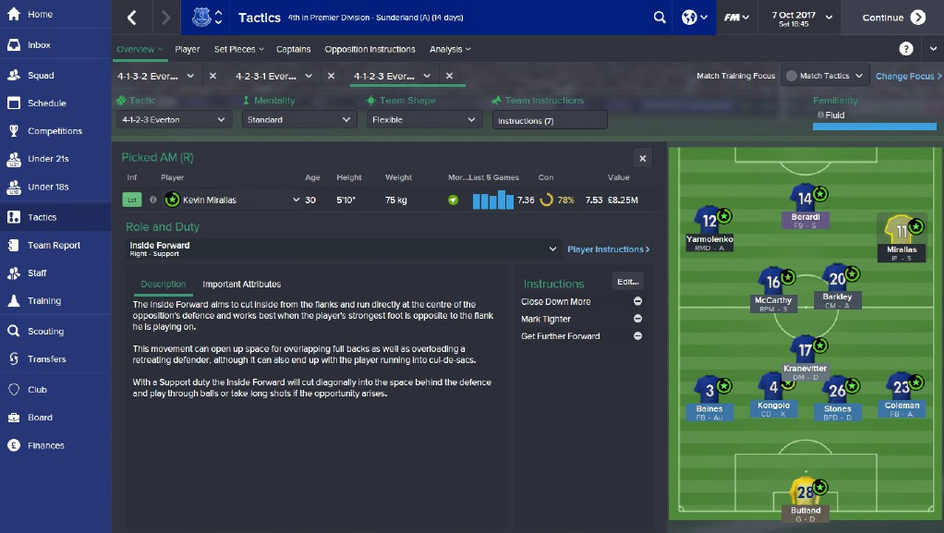 I love Mirallas. So versatile. I had employed him as a winger and indeed against 3 man defences i still do and he tears them apart. But as a IF(s) he seems to do everything naturally. He does attack byline or he cuts inside. Its great to watch.
So I have my many prongs to my attack. Yarmolenko scored 30 goals last season in all competitions and likewise Berardi. Mirallas got nearly 20. Barkley around 15. The balance is superb, its very asymmetrical.
Defensively, we leak goals. But I honestly cannot say there is a pattern to the goals.
This is not a plug and play tactic. You have to manage your team, and maybe thats the beauty of it, it works but you still have to play the game. You wont be unbeaten all year, some teams are simply better than you. Europa League final was a 1-0 victory against Chelsea (although with wasted chances it could have been 5-0) a Stones header from a corner. We put a lot of practice into set plays and it pays off. Again something Barca neglect to do these days. A corner for Barca v Madrid is just like a penalty for Madrid!!
We lost the FA cup final 2-1 to Man Utd the new EPL champions but we gave them a great game.
Is it a tactic for better teams? I would probably agree with that however im about to apply the same approach to a Dundee save (my hometown team) I think the false nine and roaming playmaker roles are 'big' player roles but its my belief that this can be applied to small teams with changes to PI's based on their own attributes.
Why dont i analyse the stats and exploit weaknesses? I play the game on comprehensive or full depending on opponent or circumstances. I watch and observe, i can see issues and spot weaknesses with my eyes just like a real manager has to. I use stats for transfers, and maybe pre match but very seldomly. I am stubborn and believe in my players, i think my current Everton team, man for man is as good as anything in the league at the moment. We are sitting 3rd a point behind the leaders and top of the Champions league group with Atletico and Juventus.
It think its a simple tactic, not revolutionary by any means and im not reinventing the wheel or being adventurous in setups (unlike Luis Enrique v PSG last week) all i can do is play the way i want to play, are my opinions and beliefs better than my opponents? Thats what football is all about.