After discussing with eachother (ToppTobbe and Ricardokishnaajacied) we decided to do an online story. We're inspired by the story of Feliks and Xander but we're not going to copy it. We decided to choose two rivals. Everton and Liverpool? Dortmund and Bayern? we decided to choose Ajax and Feyenoord. As the most of you know I support Ajax and de Eredivsie is without a doubt my favourite league. The rivalry between Ajax and Feyenoord is huge. Since a couple of years the KNVB decided that the matches between the 2 teams is going to be without away fans. We're both going to post our own updates but it's really going to be one story. I play as Marco van Basten, the Dutch legend is for me the second best Dutch player ever. van Basten had an incredible career as player of Ajax,AC Milan and the Dutch national team. He won the european championship with Holland and won the ballon d'or in 1988.
Me on the other hand (ToppTobbe) will play as the former Feyenoord legend Pierre van Hooijdonk. The reason why I chose to play as Pierre is because he has had an amazing career as a player, he is a club legend and he had amazing free kicks. And obviously because Laurens recomended him to me as well.
van Hooijdonk had an amazing career and I will now be looking to making him just as succeslfull as he was as a player… but this time as a manager.
So let me explain it. ToppTobbe is going to post his updates with the Feyenoord banner, and I'll do it with the Ajax banner, we hope you guys will enjoy it!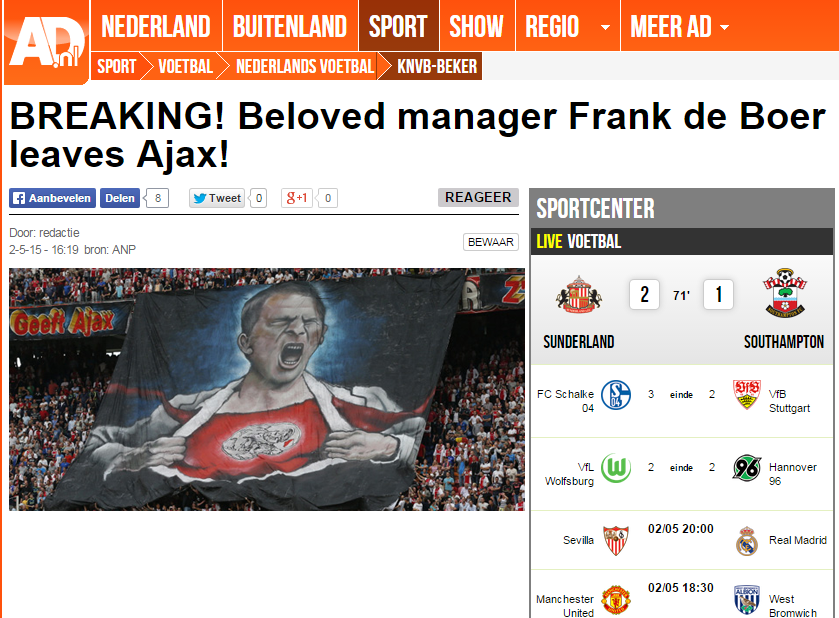 It's a sad day in Amsterdam as Frank de Boer has decided to retire as manager of AFC Ajax.
In a press conference earlier today de Boer said that he wants the quit because of his teenage daughters. One of the questions that got asked in the press confrence came from a journalist of nu.nl, Henk de Jong asked the manager:"did you ever feel pressured to leave the club, or did you retire at your own will?" de Boer explained his decision:"In my whole career I couldn't spend any time with my daughters, they had to travel around the world just for me, although I'm in the Netherlands right now, I steel feel like I'm not home, I can finally say that it isn't like that anymore"
A journalist of the NOS asked de Boer when he made this decision, de Boer answered:"After discussing with my wife, Michael Kinsbergen, Edwin van der Sar and Marc Overmars I made the decision. My daughters are hitting puberty right now and they need a father that can help them and support them, I can not be a manager of Ajax and a good father at the same time."
The Dutch manager of Ajax had a impressive career. He won the Champions League with Ajax and was a key player of FC Barcelona. His twin brother (also player of Ajax and Barcelona) Ronald de Boer is not going to quit. "I totally support Frank's decision, he's being a good father, but I'm going to stay in Amsterdam, I love the job and I'm not going to quit."
http://zizo-online.be/sites/default/files/field/image/FrankdeBoer_Ajax.jpg
One of the favourites to take over as the manager of Ajax is Marco van Basten. The Dutch legend who won the Ballon d'or in 1988 and won the European cup with the Netherlands is one of the contestants. He already managed Ajax between 2008 and 2009, now he's the manager of AZ Alkmaar but it looks like he's not enjoying the job. Marc Overmars has told the press that he is going to announce the new manager later today.
Marc Overmars also had an interview with RTL 4. He says: "We all love Frank. Frank is a great manager. He won the league 4 times in 4 years and did a great job in the Champions League. He has managed to win against FC Barcelona, Manchester City, AC Milan and a draw against PSG while he has been the manager of this club. That's amazing.
The journalist asked who is going to be the replacement of Frank. "Well, I can't say anything right now but I think we're going to annouce it soon."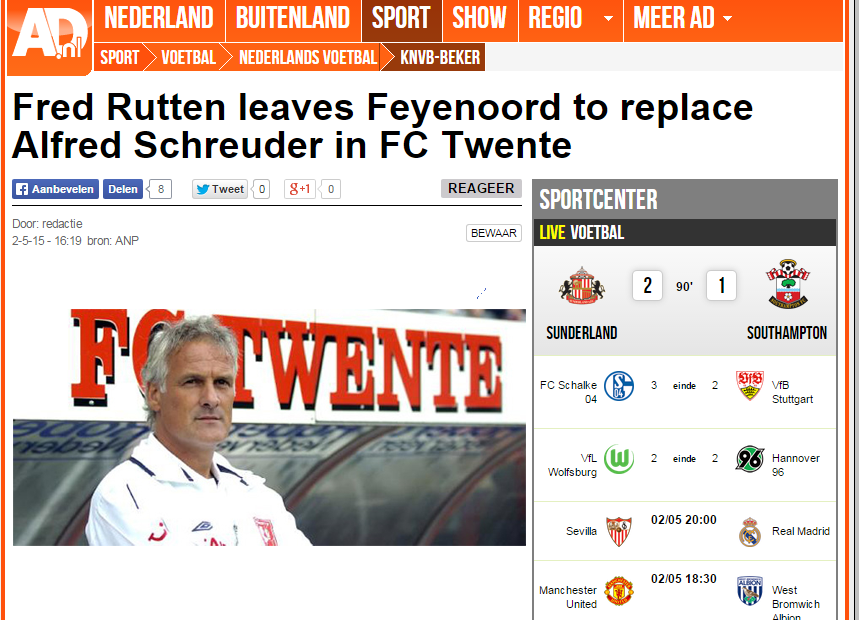 After many days of speculation it is finally official that Fred Rutten is leaving Feyenoord to become the manager of Twente FC. It is well known that Rutten's heart belong to FC Twente as he was a player there for 13 years and became a club legend during that period. He has even been the manager of Twente two different times before this (1999-2001 and 2006-2008). Instead of crying, the Feyenoord fans actually seem to be pretty happy with the decision Rutten have made. Rutten left Feyenoord because of a fight with the board. He wanted to sign the star player of FC Groningen, Tjaronn Chery but the board fiërst wanted to sell Jordy Clasie before they were willing to sign a new player.

Pierre 'Pi-Air' van Hooijdonk replaces Fred Rutten
It is official, Feyenoord legend Pierre van Hooijdonk is the one taking over after Fred Rutten as the new manager for Feyenoord. Pierre definatly know what he is talking about when it comes down to football. He used to be a proffesional player for teams such as Vitesse, Benfica, Celtic and Feyenoord. With over 300 goals in 500 games, van Hooijdonk is deffinatly one of the best strikers in the dutch history of football.
He held his first press confrence earlier today where he got asked questions such as how he would feel playing against other teams he used to play for when he was a player.
These were the highlights from the press confrence held earlier:
"As a former player for Feyenoord, it must be an amazing feeling becoming the manager for the same club as the one that you retired at?"
"This is a fantastic feeling and I dont know how to express myself. Feyenoord has always been my favourite club and it will always be. It is a pleasure to be in the posistion I am in.
"During your career as a player you have played for other teams in this league and to be precise, Vitesse and NAC Breda. Are these matches going to be a bit emotional to you?
"As I said, Feyenoord is the one and only team I have ever dreamt about managing. I don`t think that care more about these matches then any other match.
"What about the fans of Vitesse and NAC Breda? How do you think that they will react when coming up against your team?"
"I have no idea to be honest. I hope that they will act in a mannered way, and pretty much be as football fans should be.
"How did you feel when meeting the players again?"
"That has to be the best thing with all of this. I have a lot of friends playing for this club, and it is a pleasure to be able to manage them. I feel that the players have a hundred percent belief in my tactics, and hopefully we can manage top 3 this season."
Banners
I use this banner for my updates (RicardoKishnaajacied)

And ToppTobbe uses this one for his updates: