The Toon Rising
Introduction
So firstly an introduction to myself, I thought I'd make my first post on this forum worthwhile! I've been an avid FM player since 2005 and prior to that Champ Manager for several years too. I do a lot of writing in my spare time, and as well as playing FM I thought I'd try to combine the two for the purpose of this post, and others beyond it!
That brings me on nicely to where I am with this save. Since picking up this years' FM a couple of months ago, I have struggled to get into it mainly with time constraints but also after loading 4/5 saves I've really struggled with the game, and found it pretty difficult. I class myself as a reasonably good player, so my struggles this year did surprise me. I don't like using other people's tactics for serious saves, each to their own but I like to make my own and I think I was guilty of being too complex with the ones I made and quite frankly it was getting me nowhere, other than being sacked! So I decided to load up lots of leagues across a number of different countries and sit back and take a look at who I should manage. After much deliberation, I decided
Newcastle
...
The Aim
'Huge potential', 'Too big a club to go down', two quotes that always seem to be associated with Newcastle. However it's time to be realistic, the club have been relegated twice in the past 10 years, and with unstable ownership to put it lightly, as well as no sign of being close to European football or any trophies something definitely had to change. That's why I decided this would be the perfect challenge to take up. I will go on to what the club wanted me to achieve in the next mini-segment, however these were my personal (lofty) aims for this season:
- Successfully overview the sale of the club to new owners
- Finish within touching distance/scrape a Europa League spot
- Sign young players who will become first team stars in later years
- Have a strong cup run
I thought these were 4 reasonable and ambitious aims for the season. Obviously the ownership matter is out of my control, however I was hoping this could be sorted over a season as it's heading that way in real life. The Europa League spot did seem slightly lofty based on where Newcastle are at the moment, but I felt with the right additions this would be possible. I always look to build young squads, and unlike previous FM saves I've had I really want to build a 'dynasty' of sorts here so I needed to look forward and sign players I felt could help achieve this. Finally Newcastle fans have been dreaming of silverware for many years, I vowed to take the cups seriously and see if I could help achieve an elusive trophy this season.
Transfers
Mike Ashley, who many perceive as the 'outgoing' Chairman due to his vested interest in selling the club (as you will find out later) tasked me with a mid-table finish, as well as a transfer budget of around £13m plus free wages remaining of about £100k. I saw this as reasonable, and after looking at the squad there is certainly enough talent there to do what I needed to do this season. See below my in/out activity.
In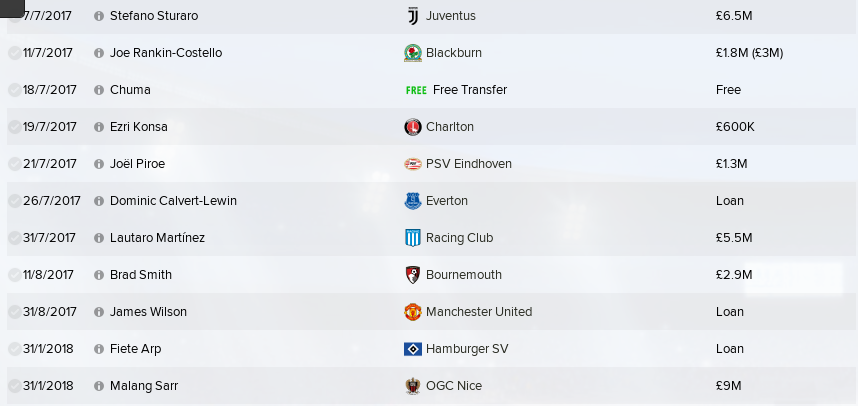 Quick spoiler, as you can see this image does contain the two January signings I made in Fiete Arp (Loan) and Malang Sarr, however I'm displaying this update as a full season review so it made sense to include them.
So the signings then. I quickly identified Central Midfield and in particular the 'Ball Winning' midfielder area in my 4-2-2-2/4-2-3-1 formations (which I will show you later) as areas we were lacking. Sturaro is a player I've had on previous editions, and was available at a snippet of his true value of £6.5m from Juve. We fought off big European completion for him so I was pleased to get that one over the line. As I mentioned previously, I was fairly happy with my squad and so I focussed the rest of my window(s) on young talent. Joe Rankin-Costello a highly rated midfielder was signed from Blackburn, at 16 he has a huge future ahead and I know he's being touted in real life with moves to the likes of Man City & Arsenal so I was excited about his prospect. Ezri Konsa, another young British CB was signed from Charlton with bags of potential. Incidentally as you'll see in the outgoings both were loaned back to their former clubs for the season. Strikers Chuma and Joel Piroe were brought in. Chuma a low-risk free transfer who will spend the season with our U23s, and Piroe an 18 year old Dutchman from PSV's youth side. We secured the loans of Dominic Calvert-Lewin, and James Wilson. Both young Englishman who will bolster our squad and make sure we can compete across all fronts, also nice to have some more homegrown players on our books. Finally Lautaro Martinez joined, this was the transfer I was most excited about. One of Europe's most coveted young strikers' who has the world at his feet. What impressed me the most was both PSG and Man City were interested, but we fought them off with the lure of first team football. However the downfall & huge risk was that he failed his work permit application, I was in two minds as to cancel the transfer altogether but I decided to take the plunge as I couldn't let that potential slip, and worst case scenario we would make a tidy profit.
Out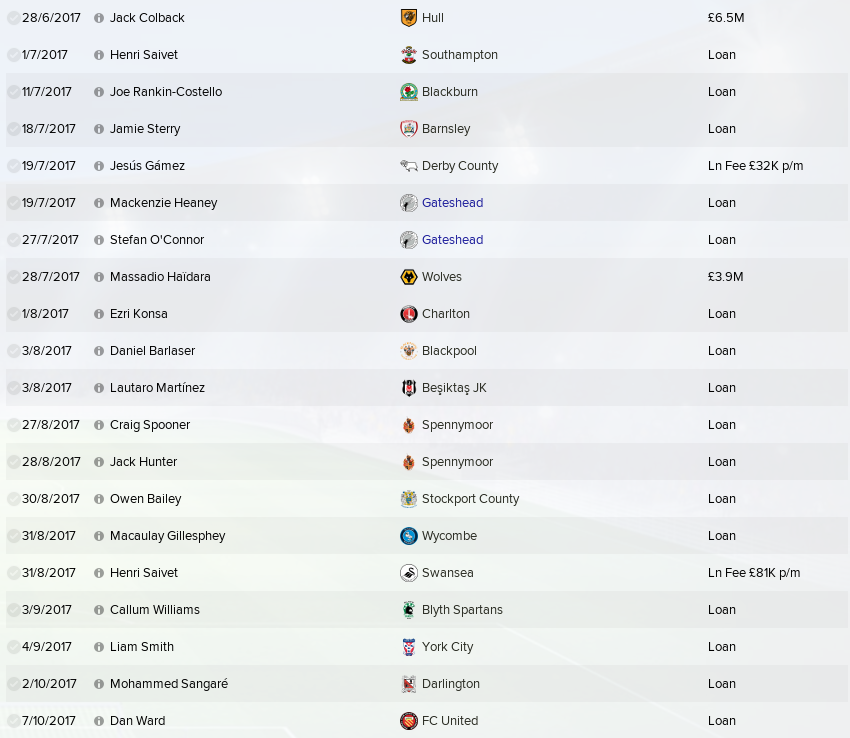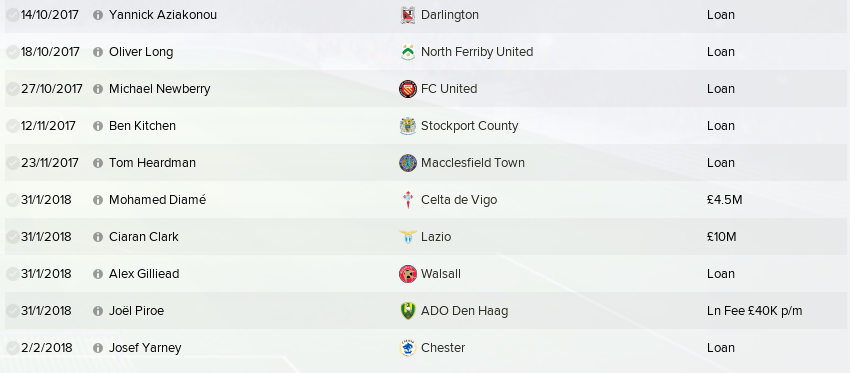 As you can see, numerous outgoings. I won't go through them individually but I will summarise. Jack Colback was moved on, who was replaced by Sturaro. I didn't feel he had the quality to start and his big wages were offputting so I decided to cash in. Massimo Haidara was moved on, with the arrival of Brad Smith as cover for LB preceding him and he was making noises about wanting to go. Across the pitch at Right-Back, Jesus Gamez was sat in my reserves on big wages so I decided to loan him out and wind down his contract. Henri Saivet was a weird one. I immediately loaned him out to Southampton, recalled after realising I probably should have kept him as backup and then was set to keep him for the season, but Swansea came in with a 100% wage paid loan offer plus monthly fee and after not making my first few matchday squads I decided to let him go, as I was most likely going to sell him in the Summer anyway. The rest of the activity was youth being loaned. Most notably Martinez who was loaned to Besiktas to help obtain his work permit and get first team football, thankfully this didn't take long at all and he was recalled in January after receiving his permit surprisingly in December and proving to be pivotal for us in the second half of the season. A quick one on January too, both Ciaran Clark and Mo Diame were surplus to requirements so they were shipped off for reasonable transfer fees.
Season Review
Premier League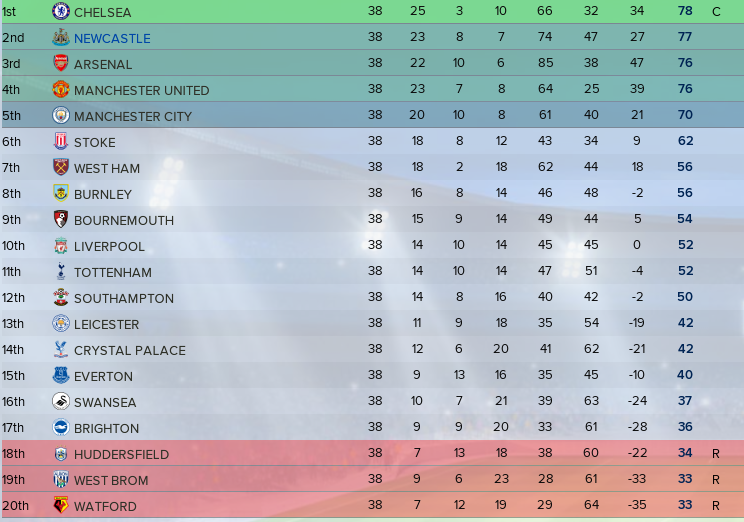 What an unbelievable campaign for Newcastle Football Club! I will explain just how we did it, but firstly just to say this vastly exceeded my ambitions. As I posted above, the club wanted a top half finish, and I targeted a Europa League (7th) placed finish really at best. In addition based on my recent FM18 experiences I was half expecting to be sacked and to end up with egg on my face, but how these boys proved me wrong! Here is the breakdown.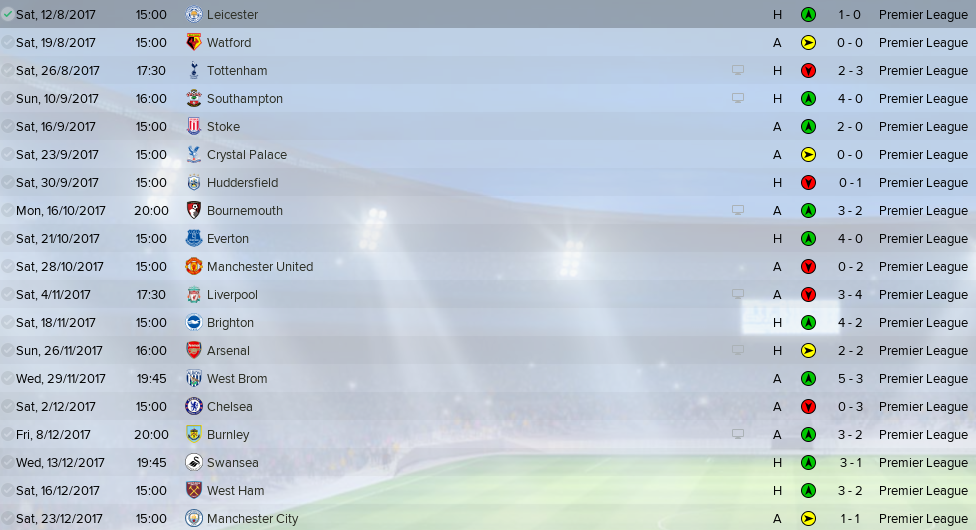 The first half of the season saw a mixed bag really. Whilst I was chopping and changing with tactics we did hit peaks and troughs in form. I felt after the first 19 we were pretty much on 'Europa League' or Top-Half form. We struggled against the bigger sides as expected, losing to Spurs, Manchester United, Liverpool and Chelsea however picked up credible points at home to Arsenal and away to Man City. During the other games, bar the disaster of newly promoted Huddersfield at home, we pretty much did as we needed to do. Strong home victories against Southampton and Everton as well as coming from 2 goals down to beat Burnley 3-2 away at Turf Moor impressed me. After 19 games we totalled 34 points, which on projection should get us 68 which I felt was 5th/6th place form, I was more than happy!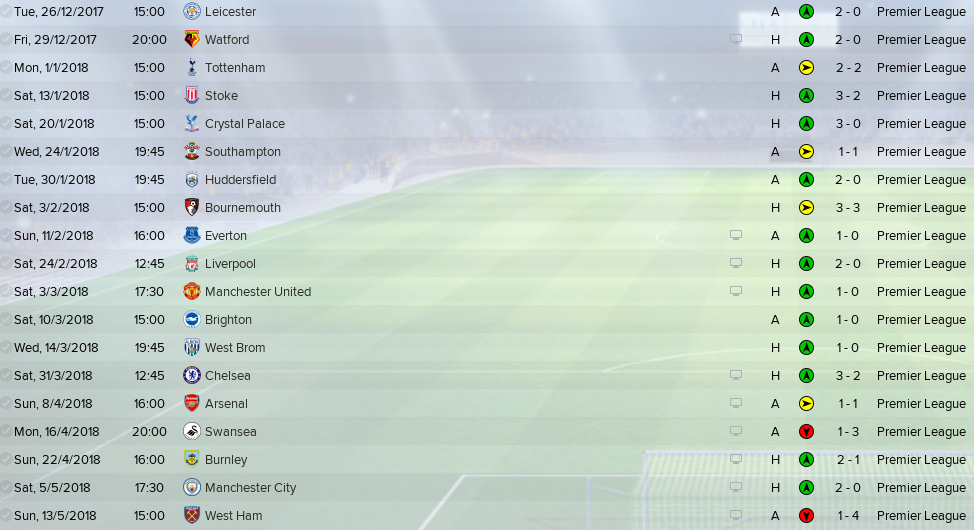 The second half of the season is really where our campaign dramatically changed. Only 2 losses from 19, the latter against West Ham I will be going on to (ffs). However we really did hit form. Actually we were unbeaten in the league from our 2nd of December defeat against Chelsea, all the way through to a 3-1 loss at Swansea on April 16th. An incredible run and I couldn't have been happier with my team throughout. The wins that most stood out for me were the 2-0 and 1-0 reversals of Liverpool and Manchester United respectively who both beat us away from home. This took a lot of guile especially playing them back to back but we did extremely well, and at that point I thought our top 4 push was credible.
After escaping Chelsea at home with 3 points, and grabbing a last gasp equaliser away at the Emirates, amazingly we were in with a shout of lifting the title. We hadn't lead the league at any point yet we had as good a shout as ever to lift the title in my first season in charge! An awful performance at Swansea saw us lose pace, but after beating Burnley and Man City we went into the last game on 77 points, with both Arsenal (75) and Chelsea (76) behind us! All we had to do was get a result away at West Ham, and I held a positive team meeting pre-match, I thought this was the moment. We even went 1-0 up and I began to pop the champagne. However, too our horror we absolutely crumbled, we decided to put in our worst performance of the season when it mattered most. We were absolutely played off the park and I can have zero complaints on the day, Chelsea won their game and it just wasn't to be, the dream was over.
As strange as it sounds, I never really thought we would win it. We came from absolutely nowhere and I actually felt it was going to be 'too soon' to win the league if there is such a thing. Winning the title was part of my 3-5 year plan, and to achieve it at the first time of asking would have really lost my interest in the save, and expectations would be so high going forward. Despite losing it the way we did, a remarkable season from the boys, and Champions League football would be back at St James's Park for the first time in over 15 years since a certain Alan Shearer was banging them in. What a campaign!
Cup Competitions
Carabao Cup

Not much to report here. We struggled hugely. After scraping through ties against Fleetwood on penalties, and a late winner at home to Preston we set up a tie against our bitter, recently relegated rivals Sunderland. Having played fringe players in the first two ties, I actually opted for a near enough full strength side against the Black Cats. I knew how much this game meant to the fans, and due to Sunderland's relegation they were starved of some Tyne-Wear action. Unfortunately we really weren't at our best, and were outplayed by our rivals for 90 minutes. That sent us out of the cup and I had a lot of making up to do with our fans, hopefully our league campaign went some away to wipe away this disaster!
FA Cup

Not the easiest of draws, but we did make a credible effort to the Quarter Finals before losing to Arsenal. Despite my earlier promise of an aim of challenging for silverware, our league campaign in the second half of the season was in full swing and as it was going much better than expected, the cup did take a back seat. We scraped past Villa despite going 4-0 up courtesy of a brace for debutant Lautaro Martinez then let 3 second half goals in to make it a nailbiter. We then scraped another win against Everton at home, goals from the underused Joselu and Isaac Hayden safely saw us through. A last gasp equaliser from Martinez earned us a replay at St James's with Burnley, which we duly dispatched 2-0 with goals from Mitrovic and again Martinez who was proving a star since his return from loan in January. Arsenal was always going to be a stretch, a largely 2nd string side put in a good effort but Arsenal were too strong and the Cup run ended at the 6th round. Not a bad run, and we go again next season!
Player Stats - My Feedback
Player Of The Season - Christian Atsu

A phenomenal season from our Ghanaian winger. He excelled in the left wing position of our 4-2-2-2 chipping in with a mammoth 16 goals and 15 assists in the league, therefore involving himself in 31 goals in 38 league games. Pre-season I thought we might struggle for goals with Dwight Gayle, Mitrovic and Joselu not really being 20+ goal men so it needed someone like Atsu from the midfield/wing to step up and he did. Some extremely important goals and assists lead him to becoming our club player of the season, and finished 3rd overall in the PFA player of the year, a fantastic achievement and a bumper new contract was earned.
Honourable mention to a few other players.
Matt Ritchie
who was Atsu's counterpart had a stunning season. 7 goals and 7 assists don't seem like excellent numbers, but they all came in big games and he was very important to the side. Aside from Ritchie, the striker pairing of
Dwight Gayle
and
Aleksandar Mitrovic
chipped in with 13 and 14 goals respectively. A strong effort from two players who I didn't feel would set the world alight but did what they needed to do for us up front and touching 30 goals between them is a very reliable effort.
Lautaro Martinez
was a phenomenon when returning from loan. 8 goals in 18 appearances for the 19 year old who scored 5 of those 18 in his first 4 games before going on a drought. He picked himself up and he will certainly be the one to watch next season, I was absolutely delighted to get that over the line ahead of some big club competition and to sort out his work permit earlier than expected. However I doubt we will be hearing the last of possible suitors and it will take continued success to keep this man in Tyneside for the foreseeable!
In the midfield
Stefano Sturaro
won a lot of plaudits for his gritty performances in the BWM role. He picked up his fair share of bookings, and 2 sendings off but he complimented
Jonjo Shelvey
very well, and allowed the playmaker to focus on goal scoring and assisting exploits.
Finally at the back, a special mention to all 4 of the starting defenders who were pivotal to our 2nd place finish this season. The youthful pairing of
Jamal Lascelles
and
Chancel Mbemba
proved mature beyond their years in an astounding campaign. I was worried going into the season if they would be strong enough but both avoided injury and were vital to our successes. Likewise with our fullbacks
De-Andre Yedlin
on the right and Welsh international
Paul Dummett
were pointed out by many managers as our suspected weak link and I have to say initially I thought this too. However both averaged over a 7 for the season, and with a lack of cover on both sides did well to keep fit and sustain continuity at the back alongside the two centre halves.
Other Information
I'll keep this brief, but some other information to shape next season's campaign:
- Premier League Manager of the Year went to myself. Of course I'd have preferred the title, but the award did well for my Manager points and was well received!
- Mike Ashley sold the club! A Tycoon who is a 'local businessman' Peter Bishop tied up a deal in February, and as you'll see next season awarded me a bumper budget and hopefully will secure the future of this club
- There will be at least one derby next year, not the Tyne-Wear but the Tyne-Tees derby will be back as Boro' won the Championship. Aston Villa return after finishing 2nd, as do Hull who came up via the play-offs
- Belgium lifted their first World Cup in 2018 beating Germany 4-0 in the final
Conclusion
Well I hope you enjoyed reading my exploits this season. Please let me know any feedback on the writing style, any constructive criticism is welcome! I'd like to continue doing the 'season review' formats as opposed to monthly updates as I prefer to play it then review rather than a stop/start setup.
Next season we will aim to go one better and try to lift the Premier League against all odds, and we welcome Champions League football back at the iconic St James's Park, I can't wait!
Many Thanks For Reading