All right guys and gals, let's finish off the month with a bang!
#TheGrind closes January
On every single save I've seen from multiple content creators this kid goes on to become one of the best, if not the best CB in the world. By far the most complete and technically gifted young CB -curiously enough, after Dias-. When your CB is also a natural as a DM and has good enough attributes to play as a DLP, you know he'll be a class BDP. I see a young Piqué immediately and I will not hesitate to give him starting minutes immediately. As I've stated in the past, if it's part of the project and helps the cause, I will spend however much I need to. Later we'll find ways to balance our books. And he WAS in the list I provided a couple of days ago. I've been trying to lock this kid in for a while, but Barca kept holding on to a 89 mil tag, which is absolutely ridiculous. After learning that they'd be willing to settle for much less, I went right back to the charge.
And just when I was feeling good about life…
This FA Cup certainly hasn't been to us. Not only have we NOT played at home, but we also haven't played against teams from lower divisions. And of course, the trend had to continue, but as the complete opposite. Now we have to go to the Etihad and somehow manage to get a result. I'm a hopeful manager, but a realistic one as well. I'm not going to the Etihad expecting a W, and an early exit will mean that the old farts are not gonna be happy at all, which will hurt our evaluation, and, who knows, perhaps even hurt our longterm stay in London. And I like living here. For this year at least, the FA just wasn't meant to be.
Moving on to the Watford game
.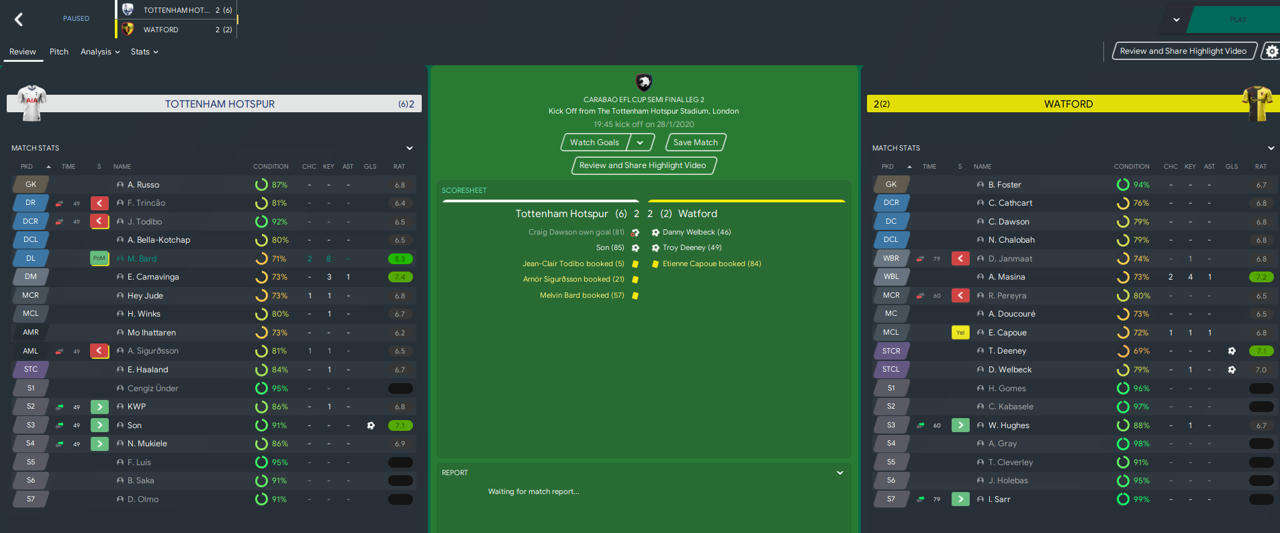 We went with a completely alternate lineup, and it showed. This was a very average game, but when your roster is evaluated as a "Championship side" except for Haaland, Mukiele, and Todibo, and you still manage to tie, it speaks very well about your team talks, your tactics, and your young players' reaction.
Todibo made his debut and was NOT good at all, but I threw him into the fire immediately, so all in all it was an OK response. The team got it together when I made 3 changes, which was to insert 3 first team players. I was particularly disappointed by Mo and Sigurosson. Mo's made the most out of his chances, but today he could've made a case to place him ahead of Saka in the depth chart, but he didn't do himself any favors with his awful performance (6.2), which cost him a weeks' fine (yeeiiiii). Still, a young, inexperienced team that, overall, was a lesser team than Watford avoided a loss -and we played Russo, a League 2 GK-, so you have to be satisfied with the response. Jude Belligham made history by becoming the youngest player ever in Spurs' history to play a 1st team game. We're proud of him and his accomplishment, because he had a solid performance.
And the important part here. Who are we playing? Of course, it had to be Manchester City, who went through after defeating Liverpool over two legs. So that's 2 extra games we'll have against City.
This day was very weird.
For some reason no one wanted Mo or Sigurosson for loan, even when I offered literally for free. Very strange. That's why I decided to send Saka on loan. Those 3 hadn't lived up to my expectations, so we had to find a way to get their money off the books.
To clear some wages and to improve players, "Project WB" left out on loan to get regular minutes. He won't be logging them where we want him to, but he'll improve overall as a player, and this is something we're interested in.
Still no one's interested in Saka, Mo, or Sigurosson… I still don't get it.
And a little before closing…

This one also took about 3 months to process. My whole idea was to reduce his value as much as possible, and once he requested a trade this was made possible, bringing his value to about 45 million – still a lot, but a whole lot less than 90, the initial price. As part of the contract he stated he wants to be loaned out immediately, but I have him in my plans because I believe he's more than Mo, Sigruosso, and Saka, so he will see minutes. I'm taking a big risk here but I'll have to convince him I want him to play straight away. He was willing to place in transfer request over at Old Trafford, I don't doubt he'll get pissed off immediately if he's not treated like a King.
In any case, if we look at all our overall talent, we can agree that, pretty much, we're set for LIFE.
And even then, I have my eye on a couple of Brasilian regens -of course- that I'll be trying to lock in for the future, because strangely enough, we HAVE STILL HAVE MONEY!! Another prospect we went after (yet again), with no success: Ansu Fati. Barcelona's standing very strong with the 90 million request. Well my top signing stands at 57 – Chiesa – and I don't think we're going to go over that number any time soon – but you know me, never say never!
So all in all it was a rather "quiet" deadline day, but we managed to spend 80 mil on two players that will be foundational pieces for our future. Just like with Todibo, if the talent's there, spending is not an option. We're going against everything Danny stands for here, but I don't care. Once he sees how this team's set up for the long term, he'll come around.
Just for data though:
After all our spending you'd think we'd be really bad from a wages standpoint, but as you can see, we're doing just fine. Sort of. This will only be justified if we achieve our goals.

It's no surprise we're the biggest spenders, again. Like I said at the beginning of our story, we're reshaping the entire foundation of this organization. We've practically stripped it bare and bought in talent at ever level, but main and U23 team. Not a cheap task of course, but one that will provide success beyond anyone's imagination.
Hopefully we're around at that point!
Let's check out overall how January was for us and what awaits in February!

The month was solid, but we failed yet again to pull out a win against a big team from a winning position. Dropping points against CP could hurt us, but overall, we can't complain.
February is short, but definitely presents a tough challenge, specifically our first Champions League leg against Leverkusen. That's obviously the key match but we have to take advantage of the fact that we play "lesser" teams to keep our current gap.
The title race is starting to become very clear. I just hope we're there two months from now.
Hope you enjoyed #TheGrind as we move forward!