Chapter 5: A New USL
The 2010s we're going strong for US soccer, this included runs in the 2014 World Cup and a bunch of other tournament wins or runner up spots. Even in the United Soccer Leagues the game was flourishing despite the second soccer war against the North American Soccer League. A major event would change the league structure once again coming into the next decade. On the date of June 13th, 2018, The United States of America, Mexico and Canada beat out Morocco to host the 2026 FIFA World Cup.
Unlike 30 years prior when the USSF made a promise to FIFA to create a new First Division this time there was no need of it as do United Soccer Leagues we're extremely stable. One thing though is that the leak already had plans to overhaul the system a little bit. The target date for play under the new overhaul was set for the 2020 season, unfortunately everybody knows what happened and it had to be delayed until 2021. Surprisingly enough the delay due to COVID Allowed the United Soccer Leagues to perfect what we have today.
This change included adding a fourth division of professional soccer known as league 2, updates to the roster limits, I continuation after five years of absence of the USL Challenge Cup but this time all 42 clubs in the professional end in two from the professional development league were eligible to participate. the biggest change of the mall would be the renaming of the A-League, USL First Division and the USL Second Division. they would be re branded as the USL Premiership, Championship and League One. to this day it's still hard not to call the Premiership the A-League,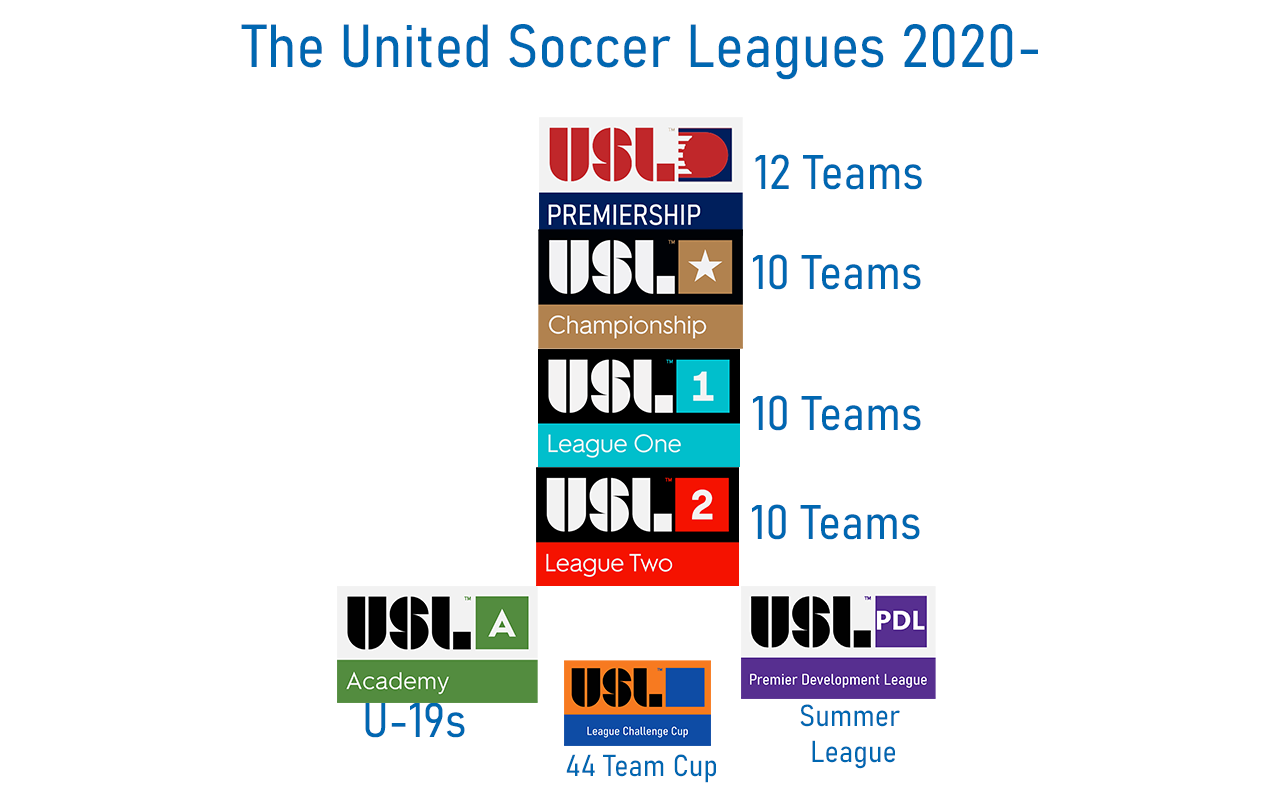 For the United Soccer Leagues, it would be a 12-10-10-10 system with one automatic relegation and the second placed team will faceoff against the second to last club in a playoff. The system also includes the Premier Development League (PDL), The league has been around since the mid-1990s, and USL Academy League.
For the forty-two fully professional clubs the roster situation is the same through all four professional divisions. Each team will be able to register at maximum 35 players, a maximum of 12 foreign players, at least two U-22s, and at least one registered Academy player. Also, the USSF updated its non-foreign player exception list, outside of the key US territories and Canada all nations of the Caribbean have been granted special status of being not counted against the foreign player limit. Mexico and Central America are still under foreign status.
Now that the initial front of COVID-19 has lessened The United Soccer Leagues will start their 31st season starting in March of 2021.