The Transfers 'In' Update
During the last season, the club was able to agree pre-contracts with two exciting youngsters,
Marius Alexe
of Dinamo Bucharest and
Andrea Bertolacci
of Roma. Alexe is an exciting left-sided winger, while Bertolacci is a central midfielder, who can play any role in the middle of the field it seems.
However, the first signing of the offseason was 16-year old Danish striker
Jimmy Larsen
, a regen from Lyngby. (I don't have a screenshot for him when we bought him, and think it would be unfair to show his current profile)
Our second signing is the new centre back that we very much required. We were up against Chelsea for the guy's signature, and I was absolutely delighted to agree a fee of just £6.5m for
Jan Vertonghen
from Ajax. Vertonghen is a very accomplished ball-playing centre back, and is an established Belgian international.
http://answers.bettor.com/images/Articles/thumbs/extralarge/Ajaxs-Jan-Vertonghen-attracting-interest-from-AC-Milan,-Arsenal-FC,-and-Liverpool-Eredivisie-news-63715.jpg
Our third signing is an absolute bargain, £3.5m for young fullback
Kyle Walker
from Tottenham. I was very surprised Spurs were willing to part company with Walker, as I believe he has potential to be England's starting right fullback for years to come.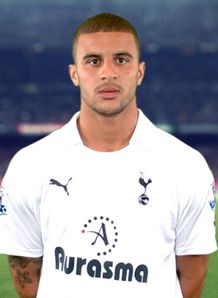 The fourth and fifth signings were not big names, but are no less exciting in terms of potential. We wrapped up an £825k deal for young goalkeeper
David Stockdale
from Fulham, who spent last season on loan at Ipswich, while we also paid £3m for Danish attacking midfielder
Bashkim Kadrii
signed from OB, who can operate in the middle or on the left.
The sixth big deal of the summer was another bargain. £4.6m for last-season's striker target
Kolbeinn Sigthorsson
. The Icelandic striker left Ajax after just one season there, and we were able to beat some big names to his signature, including AC Milan. We were also able to bring in
Daniel Sturridge
from Chelsea for just £3.7m, while we completed our stable of strikers with the £1.3m signing of young Mexican
Carlos Fierro
from Chivas.
http://www.nevercaptainnickybutt.com/wp-content/uploads/2011/11/daniel-sturridge.jpg
The value had to end some time though, and Blackpool refused to part with exciting young right winger
Matt Phillips
for anything less than £5.25m. However, with all the great value we had been getting so far, I was willing to pay a bit more for a young English player with good potential.
Our final deal of the offseason saw us secure the services of Dutch winger Royston Drenthe, released by Real Madrid after his contract ended. He spent last season with Everton on loan, and played impressively. I'm hoping he will be a solution to our problem left wing position.
http://totalfootballmadness.com/wp-content/uploads/2011/11/Royston-Drenthe-3.jpg
Other Major Transfers
Man City
Marek Hamsik from Napoli - £27.5m
Danny from Zenit - £18.5m
Mauricio Isla from Udinese - £13.75m
Salvatore Bochetti from Rubin Kazan - £11.5
Angel Di Maria from Real Madrid - £10.75
Tottenham Hotspurs
Edinson Cavani from Napoli - £25m
Phil Jagielka from Everton - £11.75m
Douglas Costa from Shakhtar - £9.5m
Chelsea
Ezequiel Lavezzi from Napoli - £20m
Liverpool
Seydou Doumbia from CSKA Moscow - £17.25m
Andriy Yarmolenko from Dynamo Kiev - £11.75m
Pablo Barrera from West Ham - £10.25m
Manchester United
Milan Badelj from Benfica - £18.75m
Christian Fuchs from Schalke - £15.5m
Juan Pablo Carrizo from Lazio - £6.25m
Arsenal
Andre Ayew from Marseille - £11.25m