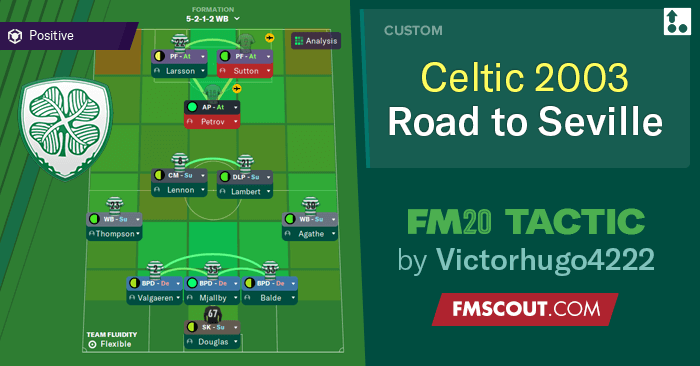 Being a huge Celtic fan i have decided to do a series of tactics which are based on my favourite Celtic teams from the past. So over the next week or 2 i will be uploading more tactics that i have tried to recreate.
Tactic Intro
My first tactic is
Martin O'Neill's 2003 team
which came agonizingly close to emulating our greatest team, The Lisbon Lions, and lifting our 2nd European trophy only to narrowly lose 3-2 AET to Jose Mourniho's Porto which went on to capture further European glory the following season winning the European Champions League which shows just how much of an achievement it was to come so close to toppling such a magnificent team assembled by 'The Special One'.
With me being only 22 yrs old when this happened this was completely new to me as Celtic had not been playing European football after Xmas for 20 years or about that long I'm not sure exactly so this was all new to me.
Not only was i a season ticket holder I also loved going to away matches too and that season I managed to visit Blackburn, Liverpool, Stuttgart and Celta Vigo and only missing Suduva and Boavista.
At the time I was saving for a deposit to put down on a flat with my girlfriend but as we progressed and I kept attending away matches my savings quickly went! I chose to miss the Semi Final away at Boavista praying that we didn't slip up and we reached the final so I would have enough money to go to Seville.
The King of KIngs, Henrik Larsson, did what he does best and scored to put us through which then i was faced with a dilemma. My girlfriend said I had to choose. Her or Celtic? It was a no-brainer! my reply was simple, ''I could always find another girlfriend but I may never see Celtic play in a European Final again'' We did reconcile after the final but it was never the same and we soon parted ways.
The Tactic
The tactic is based on The 352 system that we was so successful during Martin O'Neill's time at Celtic.
Goalkeeper
Rab Douglas - As was seen by many as the weak link in our team he tended to flap at crosses and heavily relied on our back 3 to deal with any aerial threats. Was a good shot stopper and did have some good moments on our run to the final.
The Defence
Bobo Balde, Joos Valgaeren and John Mjallby - We played with 3 huge CB's in Balde, Valgaeren and Mjallby who were not only great defensively but could play a bit too not to mention were a major threat from set pieces.
Wing Backs
Alan Thompson and Dider Agathe - The 2 wing backs could not have been much different from 1 another. Thompson was a midfielder that was converted to Wing Back due to his excellent crossing ability and good engine to get up and down the flank and Agathe was a striker converted to wing back due to his electric pace and dribbling ability. Agathe was by far the fastest player in the team which earned him the nickname meep, in reference to the road runner!
Midfield
Neil Lennon and Paul Lambert - A fantastic midfield duo with Lennon covering every blade of grass and Lambert using his experience and fabulous football brain to control matches. They complimented 1 another magnificently.
Linking Midfield and Attack
Stilian Petrov - Anyone in football who knows about 'Stan' know what a great player he was. Had a very rocky start at the club when he 1st joined but went on to be a mainstay in the team for years to come.
Forwards
Henrik Larsson and Chris Suton - These 2 guys had a fantastic relationship and Sutton deserves a lot of credit for helping Larsson become Celtic's top ever goalscorer and 2nd best player of all time behind 'Jinky' Johnstone. Larsson's performance in the final was nothing short of phenomenal.
My Tactic Test's
To test my tactics i will be doing 1 season on holiday with Celtic and also Liverpool as i usually test with them as it is a way of gauging how it performs. Will post screenshots of both tests.