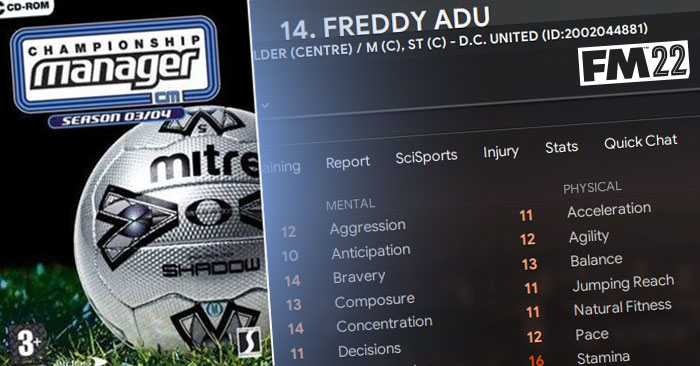 DISCLAIMER
:
IF you download the DATABASE on Steam Workshop
- Because this file is so huge, it takes about
three hours
to start a new save game with the file loaded. In addition to deleting all the modern players, 39000+ retro staff and players were edited or created from scratch. Three hours is a very long time, but it was actually much worse on FM21. It looks frozen on the setting up database screen, but it isn't frozen. Once it gets past that, it runs normally.
If you don't want to wait that long to start your save, just pick 1 of the "day one saves" available. The main download button is such a save (with 62 leagues). It will allow you to look at the database or even play it without leaving FM open for three hours.
This is a comprehensive retro database with players and squads from the 2003-04 season. Legends, lower-league plodders, wonderkids and Freddy Adu. Relive great memories, create new ones, leave the thing on holiday overnight and watch a bizarre football-themed snow globe. 62 leagues have their full squads, giving you a rich and dynamic game world even if you don't want to load everything.
This database has been released three years in a row, first by
MadScientistFM
and later by myself. I'm very happy to build off his great work and bring it to the FM community once again for FM22. Would be nice to smash all the download records!
Data was used from the original CM03-04
for the leagues and players that were fully researched at the time, from later FMs for leagues and players with murkier original research, and sometimes just from a newspaper report or a post on a fan forum saying a Conference North or Serie C player was fast or good at dribbling. Thankfully, there are so many online resources with accurate squad lists for such a wide variety of leagues.
Everything should be in a good release state, but with more users poking through the database I should be able to see more issues. Common issues in past releases are duplicate players (a player I accidentally created twice) and typos in player attributes. There are also smaller issues like history records showing recent seasons that are more trouble to fix than they're worth. If you see something, don't feel shy about telling me in the comments.
Downloadables
DAY ONE SAVES
All 62 Leagues
18 European Leagues
22 Leagues
COMPANION FILES
Companion Files
Required to run Australia, Egypt and Japan. The USA one doesn't work; I included it in case we have a big brain advanced editor rules guy who can help me out. Extract and paste into Documents/Sports Interactive/FM22/editor data folder.
PICTURE PACK
Facepack (1 GB)
Actually less of a disaster to put together than I expected (they change the UIDs every year). Extract and paste into Documents/Sports Interactive/FM22/graphics/faces/faces folder. These faces and the faces from any megapack you have should be in the same folder at the end.
FM22 Screenshots
Fully playable leagues
Asia: Australia, China, S. Korea (first division only), Japan (first two divisions)

Africa: Egypt, South Africa (first division only)

North America: Mexico (first division only)

South America: Colombia, Uruguay (first division only), Argentina, Brazil (first two divisions)

Europe:
Austria, Bulgaria, Croatia, Czech Republic, Finland, Greece, Hungary, Ireland, Israel, Poland, Romania, Russia, Serbia, Switzerland, Turkey, Ukraine (first division only)

Belgium, Denmark, Germany, Netherlands, Norway, Portugal, Sweden (first two divisions)

France, Italy, Scotland, Spain (first three divisions)

England (first six divisions, down to conference N/S)
If you want to play a more realistic game in the English lower leagues, I would like you to load in the players from the four leagues beneath the English Conference North/South. For some reason I added those too.
Known issues:
There is an editor problem with the USA leagues and continental qualification, so for now I can't release a complimentary MLS+USL A-League file. I wouldn't recommend loading or playing MLS, since none of the newer clubs (LAFC, Atlanta etc) will have any players. Retro MLS and USMNT players are still included.
The Serbian league and the Polish league don't create fixtures for the first season, but they're fine after that, not sure what the issue is there.
Points deductions (including Derby County's whopping -21 for their administration) are impossible to remove without making a separate advanced rules file for each effected country. VAR is also an absolute menace to get rid of.
Some modern day financial stuff might be grafted on top of this, though I made sure to get rid of the obvious ones like Newcastle, Man City and PSG.