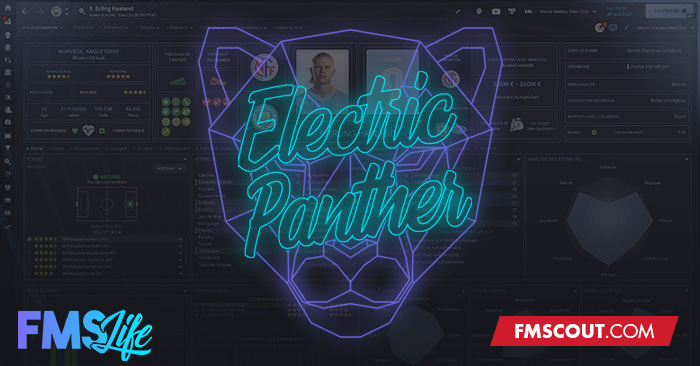 The objective with my friend Akasha was once again to offer you a skin that does not distort the original skin, but which enhances it with the colors of the moment. Objective achieved? Not really anymore as we move further and further away from it over the course of iterations.
This is our 3rd skin and a V1 (which is in fact last year's V4 improved and which has a real change with the last version in fact). So don't hesitate to report bugs that we didn't see during our multiple tests.
This skin is aimed at the FM community and our forum for your greatest pleasure.
Electric Panther skin features
Player Overview modification (Profile view and Attribute view)

Bars Attributes management

Staff screen modification

Integration of FM Stag stats for even more advanced indicators.

Integration of archetypes and Pizza Chart Made by Mustermann (Percentiles will be updated at the end of November for Pizza).

Appearance of infrastructure notes in club view

Info added to individual training panel.

Added info to learning center panel.

Updated scouting card.

Added neon effect in many areas.

Human trainer screen modified.

Modified match and summary screen panels.

Modified tactics screen with added player faces.

Club screen modified with a new, totally personal panel.

Added management of mini stadium packs and city pics.

Background management with a dozen "Electric Panther" backgrounds.

Instant Result added

Last 11" feature added to club view. Addition of various tabs in the club section.

Tactical terrain changes

Harmonization of game colors to match your club's colors.

Return of settings files according to color to enhance color immersion as close as possible to your club.

Addition of a content creator menu with streamers.

Addition of a FMSLife menu

Changelog
1.0.3
Addition of a child skin to fit 13" resolution in general and strangely help on almost 4K screen ! (Please keep the two Electric skin folder in your FM skin to use 900p version.)
Panel tactics fixed to show intensity and familiarities

Addition of shortcut below continue button

Manager Home Left container fixed to appear league table

1.1.0
Better Translation management to remove french words (sorry guys i'm french so it's french friendly first

)

Mustermann tab : Fix for table with some missing labels

Stat tab in player overview fix

Player Popup graphical fix

Recommendation grade fix on scouting card

Stadium picture addition on calendar view

Rework on Last Match review news panel

Rework on stadium page

Addition of Staff List in staff overview page.

Addition of opposition analysis widget on tactical overview in match

Addition of DF11 back shirt on tactical panel

Opposition Analysis overlay fix to fit tactical panel.

Comparison attributes tactics panel fix

1.1.1
Addition of Praise or Critisize in training panel Multiselection

Fix Minors

1.2.0
Fix on Comparison attributes tactics panel (addition of transparency, video in comments)

Electric Panther FM24 Preview
How to use the Electric Panther skin on FM24
Download the file. You will get a "Electric Panther - Mustermann Edition - English (Low Res included).zip. Unzip it on skin folder. Keep both folders got if you want use 900p version
Those folders you got at the precedent step should be moved to the following location:
Windows
: Documents / Sports Interactive / Football Manager 2024 / skins
Mac
: Library / Application Support / Sport Interactive / Football Manager 2024 / skins
In the game, go to the preferences then choose the version of the theme that goes with your resolution, also don't forget to adjust the zoom or the zoom out according to your resolution.
THANKS / Credits
Thanks first to bluestillidie00, Gimn, Akasha, Damn3dfor their support, help and support in all phases of design and testing.
BIG UP Akasha and Damn3d, ElKun, Rhinoet, Ironsfor their help with bug support and artistic direction. Thanks to your ideas, the skin has passed (again) quite a milestone in my opinion.
In this sense I would like to credit and thank the following creators who clearly inspired me:
michaelmurray (for his helpful tweaks and guides)
DF11 for the specific panel and the authorization to divert the DF11 a little for my use
Tracisloo - Tangfu Skin
Krysler76 - Heffem Skin
OPZ - OPZ Skin
FMEnhanced - FMESkin
Zealand
@i_am_the_shark - SSD skin
GzSkin
Vince
wozzie (for his many tweaks)
Ben - Statman (for his tweaks, answers and his help welcome on the SI forum)
FM Stag (for help and data)
Gaz
bluestillidie00 - TCS (for all his help and without whom this skin wouldn't really exist)
GIMN - Mustermann (for all his help, his genius ideas and the ability he had to challenge and support me and without whom this skin would not really exist)