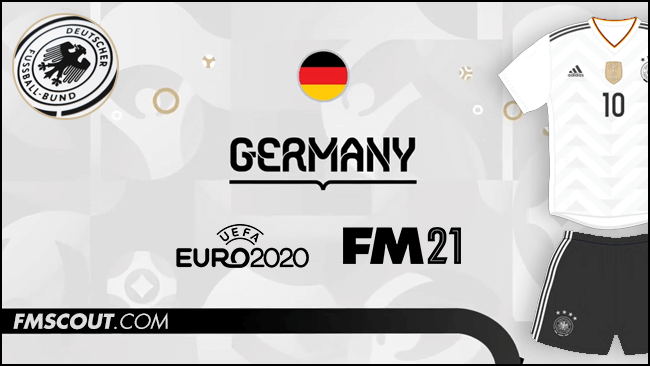 So, another tournament rolls around for the whole of Europe to get excited about. There are so many contenders for this year's crown and, the EURO's being postponed last year, this is arguably the most highly anticipated of UEFA's international tournament ever.
With EURO 2020 around the corner and the whole country in meltdown over England, it's time to take a look at the other runners and riders in this year's competition. This is Germany.
Last 5
14/11 - Germany 3-1 Ukraine
17/11 - Spain 6-0 Germany
25/3 - Germany 3-0 Iceland
28/3 - Romania 0-1 Germany
31/3 - Germany 1-2 North Macedonia
Germany have really had a mixed bag of results since November last year. A promising 3-1 win over Ukraine was followed by a disastrous 6-0 defeat to Spain.
Successive wins over Iceland and Romania followed, before another disappointing defeat, this time to North Macedonia, convinced Joachim Loew that this would be his last tournament at the helm of the national team.
There is a lot to unpack here. In fairness to Loew, he no longer has the quality at his disposal that he used to have. Gone are the likes of Marco Reus, Samy Khedira and Mesut Ozil. Germany, as you will read later in this article, have turned over a new leaf.
However, that's not to say that strong sides weren't played in all of these games. Manuel Neuer played in all five of these and the likes of Toni Kroos, Ilkay Gundogan and Leroy Sane all started against Spain.
While can be excused to an extent - Spain are, after all, a quality side - the loss to North Macedonia was a weird anomaly. Again, relatively strong side was fielded with only Marc-Andre Ter Stegen being the only non-regular (if you could call the Barcelona number one that) starting the game.
It has to be said that Germany do tend to have poor performances in the lead up to international tournaments. It's sort of become their 'thing'. However, what is worrying is that the quality of previous squads offset the worry of those results.
They were seen as mere bumps in the road as this squad would always be back to its best once it was time to get down to business. This side does not spark the same amount of confidence and serenity in the German public.
You, my dear reader, can decide whether they are justified to feel that way or not...through the lens of Football Manager 2021.
The squad
Goalkeepers
As is fairly evident by his leadership stats,
Manuel Neuer
will captain Germany this summer. His teamwork stats are also extremely high for a goalkeeper which, again, strengthens his claim for the armband. He is, in this game, practically the perfect goalkeeper.
Like a lot of German players, his mental stats are phenomenal and this plays into goalkeeper-specific technical stats such as command of area, rushing out and eccentricity. This, alongside exceptional kicking and passing stats, all makes for a world-class attack-minded sweeper keeper.
Kevin Trapp
is perhaps the surprise inclusion out of the three goalkeepers. Undoubtedly a good goalkeeper and previously had a spell at PSG, Trapp is coming off the back of a disappointing season with Eintracht Frankfurt in which they finished outside the top four after being there for so long.
Why Trapp is so surprising is that he is so different to Neuer. Trapp is safe. His pace is low, his kicking isn't great and his eccentricity is fairly normal. Where he does excel over Neuer is in traditional goalkeeping stats, such as positioning, reflexes and one-on-ones.
It's a surprise that Loew would choose such differing players in the goalkeeping department.
Out of the three chosen,
Bernd Leno
is the hybrid. A jack of all trades but, sadly, a master of none. Traditional goalkeeping stats are high as should be expected from any international goalkeeper. Sweeper keeper stats are rather average.
Kicking, eccentricity and rushing out are good, but not spectacular. Can Leno count himself lucky to be in the squad? Possibly. Are there better keepers not included? Probably. But it does make sense to include him given the spectrum between Neuer and Trapp.
Unlucky to miss out...
Very unlucky to miss out. Marc-Andre Ter Stegen has a legitimate claim to be better than all three of the keepers Loew has picked. His is an excellent traditional goalkeeper while also being a fantastic sweeper keeper. While he may not have started ahead of Neuer, he can certainly feel aggrieved not to be involved ahead of Trapp or Leno.
Defenders
Marcel Halstenberg
has been playing at a relatively high level for RB Leipzig for a while now. A regular in the Champions League and Bundesliga, it was only a matter of time before Halstenberg commanded a place in Joachim Loew's plans. And so, now is the time for him to shine.
Halsteberg is fairly quick though it does take a while for him to get going. What is unusual about Halstenberg is that is rather good in the air for a full back. His dribbling is poor but his crossing is good.
It has to be said that Halstenberg is just that - good. Not awful, not excellent. Just good. He's certainly no Phillip Lahm but is probably just as good as Jonas Hector and Marcel Schmelzer, two of his national team predecessors.
Freiburg's captain is perhaps another surprisingly inclusion in the national squad.
Christian Gunter
is a good full back in his own right but whether he is an international standard player or not remains to be seen.
He has the basic requirements of a decent full back - a good crosser, can carry the ball up the pitch and a high work rate gets him back into position quickly. However, basic defending stats desert him.
Heading, tackling and positioning mean he would not be a good option to bring on is Germany are clinging to a lead late on in their opening fixture against France.
This is a man who you would bring on to see out a lead. Like his club team-mate Halstenberg,
Lukas Klostermann
has been playing at a relatively high level domestically for some time now.
While attacking stats, such as vision, dribbling and crossing, are very low, defensive stats are quite good. Technically, Klostermann is not the greatest. However, high levels of anticipation, bravery and determination are positive signs for the still developing 24-year-old right back.
Robin Gosens
is the left back that this Germany team really needs. A very effective and attack minded defender, Gosens is the joker in the pack for Joachim Loew's defence and is a very shrewd pick.
Again, not exactly a spectacular player but certainly one that will benefit from the effects of international football. Work rate and pace is rather high and, while creative stats are up there with the best, they are definitely promising and not something the other full backs can offer.
A centre half by trade,
Matthias Ginter
is most likely to play at right back when needed. Ginter is a very good defender. His technical stats for a defender are very good as are his mental stats. Ginter's versatility is a strength though he is as good as the other centre halves or full backs in the squad.
Pace is not his strong point which rules him out of starting at right back, though the strength of the other centre halves means Ginter doesn't start in his natural position. Everyone needs a Ginter and that is the Gadbach man's biggest downfall in many ways.
As with most centre halves when reach the sloping end of their career,
Mats Hummels
is no longer the athlete he once was.
He has shorn up the Dortmund defence since returning to the club from Bayern Munich in 2019 but, as is evident from his physical stats, this is likely to be Hummels' last major tournament in a national team shirt.
He is still useful though in any defensive formation. I mean, look at those mental stats - Joachim Loew would have been insane not to take a player with his experience and of his quality. It's likely that, despite his physical shortcomings, Hummels will be one half of a stubborn German centre back partnership this summer.
Likely to be to be the other half of that centre back partnership, it's hard to argue with
Antonio Rudiger
's inclusion in the squad given the end to the season he has just had with Chelsea.
A mainstay in the team since Thomas Tuchel's arrival at the European champions, Rudiger's physical stats go some way to covering Hummels' who is lacking in that department as dicussed.
His mental stats make him a good candidate for a no-nonsense centre back though he can easily play the ball playing role, too. I'm sure these stats will be much improved come FM22, but by this year's standards Rudiger is a safe and experienced pick.
While
Niklas Sule
has been a mainstay of one of the greatest Bayern sides in the club's history, he is unlikely to feature much this summer. For 25-years old, his mental and technical stats are very good and he is clearly competition for Rudiger long-term.
However, given his own lack of pace and agility it is unlikely he will partner Hummels in the centre of the German defence. Sule should count himself unlucky not to start if that is indeed the case given the past two seasons he has just had with his club.
But he has plenty of time on his side and, with his club manager about to be become his national team boss, he will likely push him up the pecking order in time for the World Cup.
Robin Koch
of Leeds United and formerly of Freiburg is certainly the wildcard of the German defence. At 24-years old, Koch has plenty of time on his side to improve and this is certainly what needs to happen, especially mentally, if he is to feature in future German squads.
And, in what seems to be a trend among defenders from this corner of Europe, physicality is not Koch's strong point. If PSG's Thilo Kehrer was in form and Union Berlin's Marvin Friedrich had more experience, then it is quite possible that Koch would be watching this summer's EURO's from a sun lounger.
Unlucky to miss out...
Jonathan Tah
(who has already been snapped up by Gladbach on my Brentford save) has had a very good season with a Leverkusen side who became defensively proficient once Hannes Wolf took over for the last ten games. Tah is actually faster than those physical stats point toward but it might be his mental stats that could have ended his hopes of a place in Joachim Loew's squad.
Phillip Max earned himself a move to PSV Eindhoven last summer after a stellar season at left back for Augsburg. His attacking stats him an excellent candidate as a complete wing back or attack minded wing back.
However, given the quality of the players chosen ahead of him, and the development of Christian Gunter this season, Max has been left out this time. It is widely regarded in Germany that this won't be the case for future tournaments.
Midfielders
Emre Can
has become a vital of a combative BVB side whose late season form saw them sneak into the Champions League places. His work rate and stamina make him the perfect candidate for a box-to-box midfielder, but his versatility his is greatest strength.
While most commonly played in the centre or defensive midfield, Can has often been deployed at right back by Joachim Loew throughout the boss' tenure. With only Lukas Klostermann as a natural right back for Die Mannschaft, it is beyond the realms of possibility that we see Can back there at some point over the next month.
A more natural option for the back-up right back slot would be
Joshua Kimmich
. Positioning, work rate, vision and crossing stats point towards Kimmich being a world-class right back which was proven multiple times over the past few years for Bayern.
However, Kimmich's performance in Bavaria this season from central midfield have been nothing short of exceptional. And it's easy to see why given his previously mentioned work rate and his passing stats. He has become undroppable for Hansi Flick this season and it is unlikely Loew will move him from that role this summer.
Likely to be partnering Kimmich in centre midfield,
Toni Kroos
basically picks himself at this point. Part of the World Cup winning side of 2014, it seems unconceivable that Toni Kroos would find himself on the bench for Joachim Loew. With passing stats like and near enough 20/20 vision of a football pitch, there is no need to analyse Kroos' inclusion too much.
Ilkay Gundogan
certainly throws a spanner in the 4-2-3-1 works for Joachim Loew. Gundogan has had his best goal-scoring season at club level and is coming off the back of a league winning season in which he also finished a Champions League runner-up.
Gundogan is certainly more mobile than Kroos but, as already established, there is no way Loew drops on his reliable lieutenants. It is more likely that Gudogan either A) moves into the number 10 role, or

forces the manager to move to a 4-3-3 to accommodate him. Either way, he poses Loew the best kind of headache.
Ah...
Leon Goretzka
. Now the headaches are really beginning to mount up for the manager. Look at those physical stats. Marvel at those mental stats. And all at the age of 25-years old. Another dog of war for Bayern,
Goretzka has been a major reason for his clubs dominance in Germany since Hansi Flick took over 18 months ago. Goretzka is, maybe, the least creative of the chosen midfielders which is likely to see him take a place on the bench though. Such a shame.
As harsh as it sounds,
Jonas Hoffmann
is in the German squad this summer to simply make up the numbers. That's not to say that Hoffmann isn't a quality player, he clearly is. Don't take my word for it - his performances for Gladbach this season have seen the former BVB man linked with a move to Chelsea.
He certainly has impressive mental stats and his work rate and teamwork mean his likely to be a fantastic trainer. But, given the competition he faces, Hoffmann will probably only get a game if Germany somehow manage to qualify from their group of death with a game in hand.
Youngster
Florian Neuhaus
' inclusion in the squad is more to gain experience than it is to contribute on the pitch. His stats in every department here show a potentially very good number 10 in the making.
However, Neuhaus has had a superb season for Gladbach in which he has gained the attention of Bayern Munich and Liverpool - not bad admirers to have. A number 10 with those work rate stats is a rare commodity and he will surely be an important player for the national team in years to come, but this won't be his year.
After writing himself into Chelsea folklore by scoring the winning goal in a Champions League final,
Kai Havertz
is likely to find himself on the bench for the national team this summer.
While being a natural attacking midfielder, probably best suited as an advanced playmaker, Havertz's off the ball, composure and creative stats make him a good option as a deep lying forward as well. With so many options to choose from both up front and in midfield, it's looking like Havertz will start the tournament on the bench.
Clearly
Leroy Sane
is handful. Dribbling 18, first touch 16, acceleration 17, pace 19. How does any full back live with those stats? Sane has been tearing defences apart this season in the Bundesliga and he will probably start on the right side of the attack. Again, much like Kroos, not much point going into Sane too much given he is almost a shoo-in to start.
Another of the Bayern lads very likely to be in the starting XI against France is the returning
Thomas Muller
. Having been left out of the last few squads, Muller was finally recalled by Loew after having a fantastic season domestically in which he was seen as a key reason behind team-mate Robert Lewandoski scoring 41 league goals.
Muller is the ultimate team player. Unselfish, creative, hard -working and versatile. Judging by these stats Muller is a natural pressing forward but is obviously utilised differently at club level given that spot is nailed down by the mercurial Pole. If Germany do go with a 4-2-3-1 this month, then it's likely that Muller will slot in behind the striker.
Serge Gnabry
has featured heavily for Germany since making his debut four years ago. Gnabry is pacey, direct and threat in front of goal, making him a potent inside forward. Again, given the reliance on Bayern Munich players in this squad, Gnabry will probably start on the left of a either front three or the three behind the main striker.
At 18-years old, the recently German
Jamal Musiala
is the youngest member of this squad. His stats are very promising for an inside forward but it is clear that international football might just be a step too far for the youngster for now.
He has forced his way into the Bayern side at points this season and proven how good he will be. However, much like other members of the squad, Musiala is along for the ride and the experience as opposed to changing games from the bench.
Unlikely to miss out...
Well, no one. The truth is that there is so much quality in this German midfield than it would be hard to replace anyone in this squad, even those picked to fill seats on the bench.
Attackers
Despite having a rather underwhelming first season at Stamford Bridge,
Timo Werner
is almost certain to be Joachim Loew's first choice striker this summer. Werner has bags of pace and bundles of energy which make him a nightmare for defenders.
Obviously a good pressing forward, Werner is still finding his feet at Chelsea but Loew has plenty of attacking talent behind Werner that can make use of his dragging runs and annoyingly high levels of stamina.
Kevin Volland
was surprisingly sold to Monaco last summer by Bayer Leverkusen but has had a very good first season in Ligue 1, scoring 14 league goals. Again, obviously a pressing forward judging by that aggression and work rate.
It appears as though Loew has a very particular type of striker to spearhead his attack. Loew really does like Werner though as he due to the intelligence of his runs, so it is most likely that Volland starts on the bench.
Unlucky to miss out...
Amin Younes
has been involved in Germany squads in the past and has had a good season for Eintracht Frankfurt. A tricky winger with a low centre of gravity and difficult to dispossess, Younes' main issue is that he has mostly been effective off the bench for Adi Hutter's men. While this proves Younes' ability to make an immediate impact, it isn't a good look for a prospective national team player.
Predicted finish: Out in the group stage
This is a good Germany side but it is not at the level of previous German sides. Defensively they aren't as solid as they once were and the feeling in Germany is that this is very much a team in transition.
There are some very good youngsters coming through, such as Florian Wirtz and Noah Katterbach, for whom this tournament is two years too early.
Germany are extremely strong in places, such as central midfield, but don't possess the quality of France of Portugal out wide or at the back. They are also in this year's group of death and let's not forget that Joachim Loew oversaw his team going out of the World Cup at the group stage in Russia.
Let's not forget that it is only the four best third-placed teams that go through to the quarter-finals and did I mention Germany were in the group of death? This means that they would have to avoid defeat against France and Portugal and this is all while discounting a tricky Hungary side.
I, personally, believe this year's final will be a repeat of EURO 2016 and that Germany would do very well to get out of their group. If they do, by some miracle, then I don't see them getting past the semi's at best.
Written by Dean Mannion - @Dean_Man7