With the football season pretty much over all eyes will soon turn to international football and the European championship so today we look at 10 of the best wonderkids to keep an eye out for when watching the Euros who could potentially have an outstanding summer and really put their names in the lights of the European championship.
Watch the video or keep reading.
Comment down below who you think will win the Euros, who the player of the tournament will be, and who will be the best young player?
Just a quick ground rule before we go I've only chose one player from each nation. I figured that's only fair because for example the Netherlands have at least 3 wonderkids.
This list and video was put together just before the final cut of the team rosters, so a couple of players didn't make it due to injury.
Jurriën Timber
I've gone for
Timber
at the right back spot. This is a player I hadn't really heard of to be honest. I was very surprised Timber looks like another wonderkid off the Ajax production line.
The 19 year old Dutchman at the start of Football Manager 2021 season hasn't had any football (played just one time for Ajax up to this season), however this season according to transfer market timber he has played 20 times in Eredivisie apparently at centre-back.
According to Football Manager he is natural at right back and center-back. For the Netherlands if I'm honest unless there's an injury I don't see him getting into the first 11. If he does I think all eyes will be on this young man to see how he handles the pressure of the big stage.
Timber is definitely one to keep an eye on it as is the whole Netherlands national team particularly after some disappointing performances in recent competitions.
Now let's move on to the two centre-backs.
Joško Gvardiol
Gvardiol
is a powerful centre-back on loan from Leipzig. He spent the season at Dinamo Zagreb in Croatia and now he's been picked for the Croatian national team.
Croatia are in the same group as England so there'll be a lot of viewers on these games, So Gvardiol is going to have a big job to keep the likes of Harry Kane quiet. I think he could potentially handle the pressure quite well.
He's definitely got a big future ahead of him and I imagine next season he will be playing in Leipzig's first team. You can see he's a very good ball playing center back even though he's not the tallest, but he's strong, powerful, and very physical.
If you look at his traits in Football Manager, he is really good at the passing side of the game and that's great if are looking for defenders to play out the back. He's a modern centre-back and he can also feature at the left-back spot for the Croatian national team, so it'll be interesting to see how they do.
Croatia had a really good World Cup. Can they build on it now with a good Euro performance too? Gvardiol will be one to keep an eye on and I imagine a lot
of Football Manager players will be doing that thing where they look at him and go "oh I remember that guy from Football Manager", so hopefully he lives up to the billing when everyone watches the Euro.
Becir Omeragic
The 2nd player in our centre-back pairing is
Omeragic
. The swiss international playing for Zurich has been picked for the Euro squad for Switzerland and I imagine we're going to see a fair bit of him. He may not potentially be in the starting back line, but I assume he will feature at some point.
The young player is someone regarded as one of the best wonderkids centre-backs in the last couple of years in Football Manager and one of the best young centre-backs in the world, so I'll definitely be keeping an eye out for him.
He's known as a ball playing defender with a really good passing ability. Looking at his player traits on FM, he is another modern day center back and I'm sure in five years time he'll have been picked up and brought into the top five European leagues.
He's very well regarded in Switzerland and very highly coveted in Europe, so it'd be interesting to see how he does at the back for Switzerland should he play.
Now let's move on to our left back who I think everybody is going to be aware of.
Nuno Mendes
Of course the Portuguese left back that we're looking at is Nuno Mendes. He is regarded as probably the best young left back in the world - definitely the top three - especially if you're going by Football Manager standards.
This wonderkid is brilliant and has been wanted supposedly by the likes of Manchester City. Recently lots of big clubs are looking at him. Maybe a move from Sporting this summer is on the cards, as big teams often go for these players after international tournaments.
Could we see a breakout international performance for Nuno Mendes? With the likes of Cancelo and Guerrero he might not be in the first 11, but he will definitely appear at some point I'm certain about that.
He is very good in the attacking phase of the game and I think a lot of scouts will be watching him play for Portugal.
Now let's move on to our stacked midfield full of quality.
Arsen Zakharayan
Our first midfielder hails from Russia. Russia's team looked like quite an experienced one when I was looking at it in the Euro squad sheet but someone who popped out straight away was someone I remember from one of my wonderkid lists.
Zakharayan
on Football Manager didn't have an adult cap for Russia, so the fact he's been picked for the team comes as quite a surprise. According to transfermarkt he appeared 13 times for Dynamo Moscow this season, assisting 5 goals and scoring 3. So after a start like that at such a young age it's no surprise that he has been picked for the Russian national team.
Sadly due to an infection he didn't make the final cut. So
Jude Bellingham
can replace him. I didn't put him in just because he's well known and everyone is going to be watching him anyway.
Perhaps Bellingham isn't going to be picked for the starting eleven either as he's just getting that international experience, but in the future he will definitely
be part of England national team.
He's a technically gifted midfielder and I think there will be a lot of excitement when he finally makes his way onto the pitch.
Eljif Elmas
The next midfielder on our list who I think is almost a guaranteed starter for his national team is North Macedonia's
Eljif Elmas
. This guy looks awesome.
North Macedonia making it in the Euro was a surprise to me considering the likes of Norway didn't qualify, but that goes to show they've definitely got some quality in this team even if people aren't instantly recognizing it.
Elmas is definitely going to be a huge talisman for this side if they are to achieve anything in the tournament. He's very technically gifted playing for Napoli as a regular starter.
Apparently he is a Football Manager wonderkid, an awesome player that I've seen crop up on a lot of saves going to bigger clubs. I'm looking forward to seeing whether he shines in the light or crumbles under the pressure in the tournament.
Dominik Szoboszlai
Next on my list is someone I like so much that I've got a Leipzig shirt on here with his name on the back. Szoboszlai is a wonderkid and has been for a couple years now.
One that we've all kept our eyes on and he recently made his big move into the top five divisions moving from Salzburg (where he was doing really well) to Leipzig.
He had an injury this season but he did look good when he was playing for them and I imagine he is going to be Hungary's main man in the midfield. in my opinion he has a huge future and I'm really interested to see how he does for Leipzig next season.
On Football Manager he's already an important player for Leipzig and they have been one of the better performing teams in the Bundesliga in recent years. They've also been appearing in the Champions League so it's no small feat to be classed as one of the biggest players in a club like that at such a young age.
He's so technically gifted but also got it all in the physical areas, so hopefully he does recover from his injury well enough to play consistently.
3 more cracking players left, so let's go and take a look.
Jamal Musiala
Musiala has had such a meteoric rise in recent times that at the start of Football Manager he's an England international classed as a breakthrough prospect
at FC Bayern Munich having joined in 2019 on a free deal from Chelsea's academy.
Another Chelsea academy prospect where he's missed out and gone to perform better somewhere else. I was expecting too much from him this season but he's broken into Bayern's team in the latter half of the season. One of the best teams in the world.
He's been playing really well for them to the point where he's now been called up for the German national team. He declared his national allegiance to Germany and I can't blame him, as I think he's gonna be part of that German national team for 15 years to come.
I don't think he's going to be in the starting 11 in this tournament but I'm sure we will see this guy at some point. A lot of the limelight has been on Bellingham but Musiala had such a good season too.
I'm really excited to see how he gets on for Germany in this tournament and also what kind of role he's going to play in the Bayern Munich squad next season.
Adam Hložek
Now I have a sneaky feeling the Czech Republic are going to do pretty well at this tournament. They've had a few good players recently in the Premier League in Coufal and Souček who are just two of a really steady squad that the Czech Republic have got going there.
I could be completely wrong but I can see them knocking around in the quarter finals of this tournament.
One player I'm really excited to see is Adam
Hložek
. There's interest from West Ham recently and this is only going to put him in the limelight even more. West ham have brought a lot of players from the Czech division in recent times, but Adam has done absolutely brilliantly.
In 18 appearances for Sparta this season he scored 11 goals and assisted 8 according to transfermarkt, so I think we've got a really good talent on our hands.
I've only ever known him from Football Manager and never seen him play in real life, so I'm really excited to see what he can do on that left side particularly. That's where he's good at, though he can also play up front.
He's known for his goal scoring ability but he can also create a lot of chances and I think he's going to do wonders for this Czech Republic team. They're going to be a bit of a dark horse for this competition and I reckon they'll get pretty far in it.
We move on to the striker in our team now.
Alexander Isak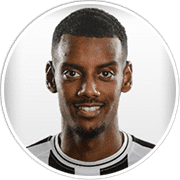 If Norway had qualified for the Euros I imagine all eyes would have been on Haaland, however a few years ago Dortmund signed another wonderkid striker who looked like he had the world at his feet. it didn't quite work out for him there, but he's definitely doing well recently at Real Sociedad in Spain.
It's
Alexander Isak
, the Swedish international who is almost guaranteed to be a starter in that team quite regularly. Zlatan Ibrahimovic has missed out on the tournament due to injury, which means Isak doesn't have as much competition.
He's a really physical presence up front and on top of that he's really quick. He's someone that if Sweden do well I think he could be one of them players that just steals the spotlight.
This guy has done awesome this season at Sociedad. 34 appearances in La Liga with 17 goals and 2 assists, so he's pretty much scoring a goal every two games.
I'm really excited to see what Isak can do and I've chosen him as my choice wonderkid striker to keep an eye on for this tournament.
---
Let me know who you would have picked in this list. Anyone that you think I've missed out? Like I said I could only pick one player from each nation. Of course I don't actually know every player in the tournament, so there's a good chance I've missed out on a few.
Who you think is going to win the Euros? I'm of course rooting for England, but I have a feeling Portugal have a better team than the year when they actually won it in my opinion.