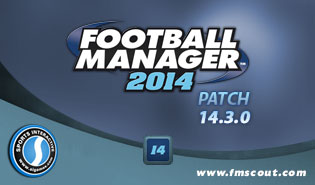 Sports Interactive just released the 6th patch for Football Manager 2014 via Steam. This 14.3.0 patch includes the January transfer data update.
If you start a new game, you will be given an option to start with two databases, the default database (14.0) or the 14.3.0 Update. Included within are all the latest transfers and updated squads.
if you want to see if you can best Moyes with Mata at Manchester United, now is your chance!
To use the latest data you will need to start a new game following the update. The data is compatible with both modes, full Football Manager and Football Manager Classic.
Also included within the update are a number of other changes and fixes to the game and the match engine which are save game compatible. So if you're in no rush to use the latest data you're fine to continue on with your current save.
To update you will need to close the game down and re-launch for it to update. If this does not work for you or you feel it has not updated you will need to restart Steam.
Released
: 28 February 2014
Please remember as with all data updates, short-term loans are not included, and some late transfers/managerial changes or those conducted after February 1st 2014 may not be included.
You'll find complete changelog below.
Changelog
DATABASE
- Updated to January 2014
PERFORMANCE
- Fixed rare crash related to city inhabitants in edited save
- Fixed rare crash when holidaying to next fixture
- Fixed rare transfer deadline day crash
- Fixed crash related to Turkish player names
- Fixed rare crash when histories have been corrupted
- Fixed rare crash when recalling players from loan
- Fixed rare issue occurring during and after matches
COMPETITIONS
- Fixed State leagues not being scheduled when adding Brazilian leagues
- Fixed past Winners screen for the Polish Ekstraklasa using positions from the Regular Season and not the positions from after the Split
- Bulgarian and Romanian Players no longer need a Work Permit for British Clubs from January 2014
- Fixed user not given opportunity to Postpone Premier Division match due to International Callups
- Improved scheduling of domestic fixtures before/after European matches
- Fixed user not being asked to set length of End of Season Break after last match of season
- Fixed MLS teams being unable to register players for Club World Championship
- Improved the selection of players in the MLS Draft pool
- CFA League Schedule now correctly matching other French Leagues
- Improved A-League AI teams' signing of Marquee players
TRANSFERS & CONTRACTS
- Relaxed some German transfer preferences to allow users to sign more players from outside of Germany
- Prevented AI managers from leaving jobs before playoff finals
- Increased amount of international management sackings
- Prevented the AI from signing a player on loan when the player has already played for two teams in the current season
- Prevented players loans getting extended automatically when being loaned to South American sides
- Tweaks to transfers made by the AI for users players
- Prevented recently relegated side from the lowest playable league from entering a loop of hiring and firing managers on a daily basis
INTERACTION
- Fixed backroom advice not appearing for some clients online
- Fixed Youth Setup Category not upgrading despite request being accepted
- Fixed player wanting to discuss failure to qualify for Champions Cup despite having qualified
- Fixed irrational response to player being congratulated on first international cap
- Fixed a few issues of strange/contradictory responses in team meetings
MEDIA & NEWS
- Fixed transfer records being incorrectly broken with lower fee when using South Korean Won
- Fixed manager to go odds displaying already sacked manager
- Fixed backroom advice link allowing user to repeat private chat
- Fixed remove Offer from Backroom Advice not functioning correctly
- Fixed Champions League top goalscorer record broken shows previous record as -1
- Fixed code displayed in news item when international team changes national captain without a current manager
- Fixed incorrect calculation for number of players signed in transfer window press conference question
- Fixed sextuple news item not generating
- Fixed press conference question considering league to be a close run contest incorrectly
- Fixed press Conference question incorrectly referring to non-striker as striker
- Fixed missing headline on AWOL news item
- Fixed duplicated information in player debut news
- Fixed league specific question being asked in post-match press conference
USER INTERFACE
- Fixed user's ability to select different player roles on the Player Coach Report screen
- Prevented Nations duplicating when user changes Match Detail on Detail Level screen
- Fixed sorting of club scouting assignments
- Fixed filters resetting on the Team Selection Overview screen
- Fixed Opposition Instructions clearing when user uses the Set Piece Wizard in Match
- Fixed Match widgets staying faded out after highlight has played out
- Fixed Home and Away Team stats switching in Match Overview
- Fixed Assistant Manager Advice automatically updating in Match Overview
- Fixed Important Attributes panel in Player Tactics not updating
- Fixed Scout Report Training Development & Happiness displaying blank bars for player out on loan
- Fixed Cup tied players not appearing on Fixture Details panel
FMC SPECIFIC
- News Item priority improvements to Manager News Website
- Assistant Training will correctly update the training pie chart
- Stopped players learning new positions when subbed into that position for very short periods of time
- Improved player training when user changes tactics frequently
MISC
- Fixed double prize money payout in Norway
- Fixed rounding issue in Sponsorship news item
- Fixed issue with illogical stadium completion date
- Fixed issue with £0 Sponsorship
- Improved newgen creation in View-only leagues
- Fixed issue where proposed plans to improve a stadium had fallen through and weren't explained to the user
- Fixed issue where a board only increased a transfer budget from -£2k to £0
- Adjusted the creation of African and Albanian newgens created in Italy
PRE-GAME EDITOR
- Fixed a number of unique crashes when verifying files in Advanced Rules
- Restored a number of verification warnings that were previously not generating
- Fixed an issue where fixture rules were removed when adding lower divisions to existing structures and converting to Advanced Riles
- Fixed an issue where certain leagues' default rules appeared with no dates or promotion/relegation information
- Improved the functionality of average points tables in custom nation rules
- Fixed a rare issue where a player would be given a positional rating of 20 and it would not extract into the game properly
IN-GAME EDITOR
- Fixed an issue where a player's unhappiness was removed, only for it to return the next day
- Enabled the editing of nations
MATCH ENGINE v1454
- Increased dribbling speed at higher end
- Improved pass and shot accuracy slightly at higher end
- Improved goalkeeper save AI
- Fixed keeper trying to pick up ball at feet but not being able to hold it
- Fixed some instances of unrealistically dreadful poor touch
- Fixed some full backs going forward too quickly off the ball
- Increased likelihood of certain attacking roles dropping deeper to look for ball
- Improved destination height of headed clearances
- Fixed up "Mark six yard area" at corners to mean zonal marking of the edge of the six yard box
- Fixed headed clearance trajectory bug
- Slight reduction in overhit passes
- Fixed potential own goal bug when player tries to stand still with ball near own goal line
- Prevented midfield players going too deep when defending own area
- Increased speed defenders will push up out of box when ball won back or cleared in deep areas
- Reduced instances of defenders turning back on ball and retreating too quickly when team is generally well positioned defensively
- Fixed error causing defenders to mark opponents and drop too deep into own area
- Tweaked pace and target point of some short passes to feet when receiving player is under pressure
- Slightly encouraged some more passes in behind opposition d-line
- Reduced some further instances of overly long first touches
- Reduced premature pot shots from distance when placed to take ball closer to opposition goal
- Encouraged taking on of opponents by players likely to run with ball more
- Some small dribbling AI tweaks
- Encouraged ball forward to target man a bit more
- Tweaked pass AI slightly
- Tweaked cross AI slightly
- Increased fouls slightly at lower levels
- Reduced mentality choice slightly for low directness AI teams
- Increased use of direct play strategy for smaller teams
- Potential fix for odd throw ins
- Fixed an issue when the subbed player doesn't drop the ball
- Tweaked pass choice AI
- Tweaked run with ball AI
- Tweaked when to cross AI
- Tweaked when to shoot long AI
- Tweaked shot choice AI for top players
- Tweaked header accuracy slightly
- Tweaked when to clear ball AI
- Fixed error causing many corners to go too close to goal line
- Tweaked off ball movement around ball player
- Fixes and tweaks to passing AI
- Fixed some issues causing poor dribbling and first touch decisions
- Some tweaks re when to shoot or not
- Increased urgency of off ball movement in some situations
- Fixed offsides being called after player has moved back onside before pass
- Fixed bug where dive by attacker could result in penalty regardless of where it occurred
- Improved keeper reactions in some situations
- Made keepers sweep up balls more aggressively when needed
- Improved keeper positioning when narrowing angle
- Fixed a pass being reported as 550 yards in distance
- Fixed unrealistic examples of keepers holding shots
- Fixed keeper making unnecessary save attempt when already letting ball run out
- Fixed keepers making buggy attempts to save ball when they have it under control already
- Improved goalkeeper distribution
- Fixed buggy offsides being given when player fouled
- Fixed some instances of players continuing with pointless attempts to intercept balls that are destined for opponent
- Made players quicker to move to slow moving ball when under pressure
- Fixed some instances of buggy poor first touches
- Less risky passes around own danger area
- Some minor general passing AI tweaks
- Tweaked long shot AI slightly
- Reduced instances of silly passes when player in goalscoring opportunity
- Made players less gung ho about drifting offside
- Fixed buggy kick offs where the 2 players get in each other's' way
- Fixed some keeper clearances being given insufficient elevation
- Fix for some crosses not being attempted
- Reduction in dangerous and long back passes
- Reduced DFK conversion slightly
- Further fixes for keeper handling and judgement of ball issues
- Removed illogical zonal marking on free kicks around corner of penalty area
- Reduced unnaturally looped kicks from ground
- More minor tweaks to on ball decision making AI
- Fixed rare occurrence of player "teleporting" randomly on ball
- Reduced unrealistic instances of long shots
- Fixed bug causing some shot velocities to be reduced
- Fine-tuned shot and pass accuracy
- Fine-tuned player ratings
- Fixed underhit long kicks
- Fix occasional penalty awards when offence nowhere near area
- Fixed rare occurrence of match not kicking off after goal