The
FM 2019 Editor
also known as the
FM19 pre-game data editor
is a powerful editing tool that allows the user to modify the
Football Manager 2019 database
.
It is
available for free
as a separate download for anyone who has bought FM19 through Steam library under tools.
How to find it in a glance
:
Open Steam -> Library -> Tools -> Football Manager 2019 Editor
Step by Step Instructions
Step 1:
To find and download the pre-game editor for Football Manager 2019, you'll need to log into the Steam desktop app first.
Step 2:
On the top-left menu (Store/Library/Community/User), go on Library.
Step 3:
Select "Tools", the second to last option on this sub menu.
Step 4:
You will now see a number of titles, just scroll down to Football Manager 2019 Editor, right click on it and finally select install.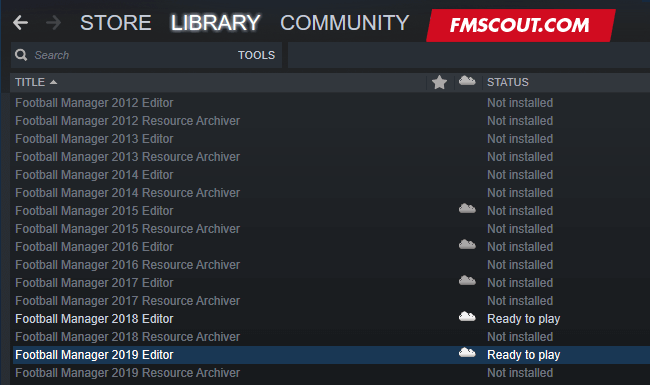 The download will now proceed, and you'll be able to use it.
The initial run may require to install direct X files.
For optimal performance it is recommended that you use the FM 2019 Editor on a high-end machine with at least 2GB RAM or more.
Due to massive amount of data stored in the Football Manager 2019 database you may experience poor or slow performance on low-end systems.
FM19 Editor VS FM18 Editor
Starting with the Advanced Rules section, you'll notice that there are more options available than in previous years. This is the result of much work standardising the code that is used across all of the editable competitions. The new advanced rules options include making edits involving national service, more money options and expanded fixture scheduling rules.
Also added in additional help for those editing competitions. This is displayed in the form of tooltips, which are present to show when additional (and very specific) functionality exists for a competition that can't otherwise be replicated by the rest of the advanced rules.
Video Assistant Referees (VAR) and goal-line technology, now present in the main game, can be set for certain competitions via database editing. With advanced rules you're also able to set if VAR should be used only for particular types of matches or stages within a competition.
Awards have also had a rejig, with proper validation occurring to make sure that you're only able to create awards that are workable in the game. In prior years you could pair together many different options for awards in the database, regardless of whether they would function in-game. This year certain options will be unselectable if another field has been set which contrasts with those options.