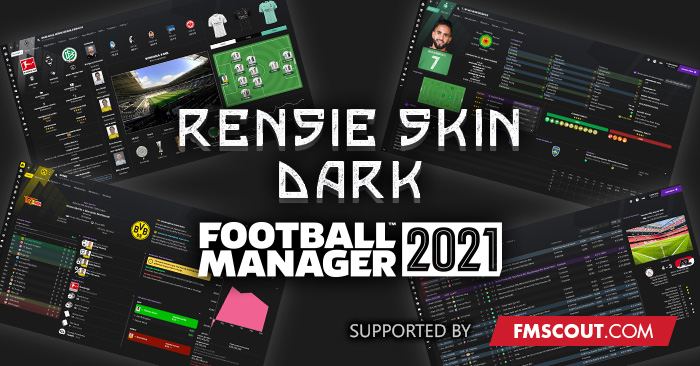 The main idea, the same as in the previous years, was to create simple skin based on default skin but with some small changes.
The original post of the version 1 is at fmrensie.net. The post about the version 2 is here
.
Same as in the previous years, this is mainly my own skin and I'm happy with how it works right now. There will be no adjustments and edits just because of feature requests. Save your time and energy before you will want to edit something.
Rensie FM21 Dark Skin Preview
What was edited?
What was edited in v2?
Please note this skin is provided as is. It has nothing to do with Sports Interactive or SEGA and won't be supported by them.
How to install Rensie Dark FM21 skin
If you're in the game just quit eliminating crashes or issue with the game.
Download the .zip archive and unzip it.
Move the extracted folder "FM21 Rensie skin Dark" to your skins folder:
Documents/Sports Interactive/Football Manager 2021/skins
Run Football Manager 2020 and go to Preferences and you can select "FM21 Rensie skin Dark" on Overview screen.
or
How to install FM21 Rensie Dark v2 skins:
If you're in the game just quit the game to eliminate crashes or issues with the game.
Download the .zip archive and unzip it.
Move the extracted folder "FM21 Rensie Dark Skin v2" to your skins folder: Documents/Sports Interactive/Football Manager 2021/skins
Run Football Manager 2021, go to Preferences and select "FM21 Rensie Dark Skin v2" on the Overview screen.
The most common issues
Same as in any other area, there are always things what people always do, ask and moan about. One of them is when their widgets within selectors are constantly changing.
Try to use/have only one skin in the skins folder in the documents. The more skins you will have here, there is a bigger chance they will conflict with each other and some parts will reset or they won't work properly.

Untick the option "Automatically override custom panels?" in Preferences/Interface.

You can edit player overview panel and player overview big selector panel and delete all widgets you don't want to have here or set some of yours as default by the code.

Using other skins or just having the Dark and Purple in the same folder is the most common issue.
Mini stadiums in the Club Overview – please remember that you have to download the custom mini-stadium pack (the same graphic addon as faces, logos etc.) to make them work and appear in the club overview. They are not included in the skin, that would mean the skin would be very big.
I'm using
THIS ONE
. And you can always add your own picture and edit the config file to have 1) different picture or 2) picture of your new stadium.
Remember I'm making this skin with the 1920×1080 resolution.
That means that it won't work exactly as in the pictures with lower but also with bigger resolution. There will always be something that will be aligned differently due to sizes of widgets and containers.
Be sure to exit the game, move the old skin(s) from the Sports Interactive/Football Manager/skins folder out before you will extract the new one. Clear cache – ideally not only in the game but also in your App data folder. How to do it?
Follow this link!
Not everything is a mistake or issue of the custom skins. Sometimes it's enough to revert to default skin to check if it works or not.
If you would like to remove the sidebar logo, just:
Open the skin folder/panels/generic and sidebar menu table.xml

Scroll down and delete the <!– Primary Logo –> widget (lines 136-148)

Save the file, clear cache and reload skin. Or just restart the game.
Skin Credits
michaeltmurrayuk
for the option to use his base skins, also with the background support option. IF you want to know how to change the opacity, just visit his website or the SI Forum.
Gaz / FMwkdsoul
for his idea of the selector in the player overview screen as I saw it in screens from his skins on Twitter and decided to make it by myself.
FMEnhanced
as I took the Instant Result option from his v2.0 version.

Wozzie
for the help with the player bottom bar and the "i" icon.
PequenoGenio/Marco Morais
for his tips and hints during creating skin for himself and help with some graphics.