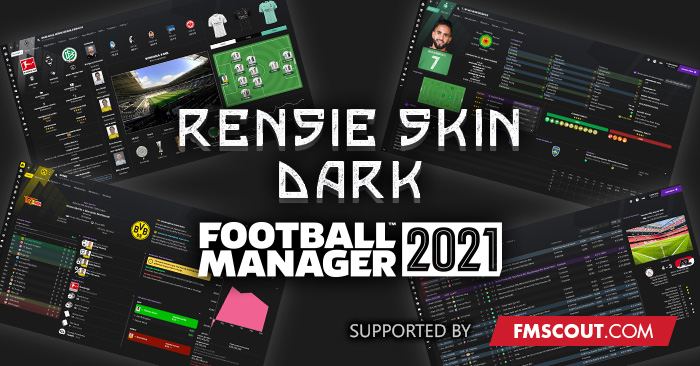 The main idea, same as in the previous years, was to create simple skin based on default skin but with some small changes.
The original post of this skin is at fmrensie.net
.
Same as in the previous years, this is mainly my own skin and I'm happy with how it works right now. There will be no adjustments and edits just because of feature requests. Save your time and energy before you will want to edit something.
Rensie FM21 Dark Skin Preview
What was edited?
Player Overview

Player Attributes

Player Popup – it was slightly edited for the new version including the kit with the name and number. I know the long/longer names will not fit precisely. Mainly within players who are using the first and second name at the back. You can set the nickname to the player for example.

Player comparison – edited to have bigger player pictures as in the past.

Club Profile – vertical & horizontal dividers added to this screen, the club details panel on the left side was edited (improved) by sorting widgets + icons were added.

Stadium profile

Home screen with more widgets – same system as in the player profile as you can select your own widgets here.

Human (your manager) profile

Non-player profile + popup – edited the height of the staff profile picture to ensure it fits the details panel

Team/Squad Depth screen made horizontal instead of vertical

Schedule screen without the white background + fixture details on the right side is wider with the more info

Past meetings screen improved – the right side width increased, the info is the same as in the schedule screen

Player pictures in the tactics screen

Instant result

Team of the Week pitch in the mailbox size increased

The kits widget size in the national team General/Overview screen increased

Please note this skin is provided as is. It has nothing to do with Sports Interactive or SEGA and won't be supported by them.
How to install Rensie Dark FM21 skin
If you're in the game just quit eliminating crashes or issue with the game.
Download the .zip archive and unzip it.
Move the extracted folder "FM21 Rensie skin Dark" to your skins folder:
Documents/Sports Interactive/Football Manager 2021/skins
Run Football Manager 2020 and go to Preferences and you can select "FM21 Rensie skin Dark" on Overview screen.
Skin Credits
michaeltmurrayuk
for the option to use his base skins, also with the background support option. IF you want to know how to change the opacity, just visit his website or the SI Forum.
Gaz / FMwkdsoul
for his idea of the selector in the player overview screen as I saw it in screens from his skins on Twitter and decided to make it by myself.
FMEnhanced
as I took the Instant Result option from his v2.0 version.