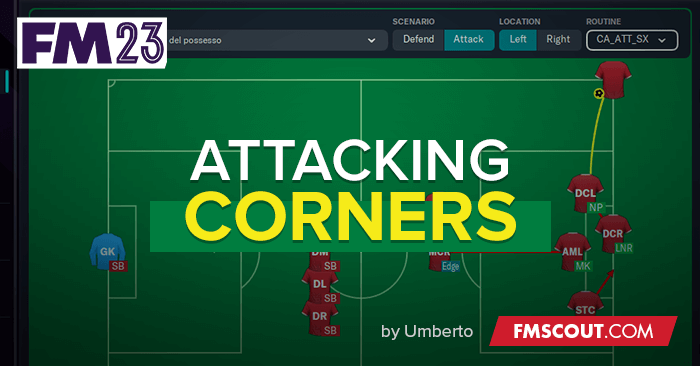 You need 2 DCs high in heading and jumping reach (13 is the minimum allowed to let this training work) and 2 players high in long shots and finishing (could be DM, M or AM).
Corner taker:
high value in corner kicks (of course)
Player instructions:
near post
on near post there will be 2 DCs
Striker will attack far post (in case of 2 DCs will miss the ball)
AML or AMR will mark the keeper (no special values for this)
The AM or M or DM higher in finishing will attack the ball from edge area, while the best AM, DM or M high in long shots will lurk outside of area.
4 players will stay back so that you will be safe in case of counter attack.
With this setup I did win Bunsegliga and DFB Pokal with Bayer Leverkusen (season 2025-2026). DCs were Tapsoba and Hincapie.
Then moved to Man Utd, in 2026-2027. They fired Bielsa who ended 10th previous season and hired me. I won the EPL with 97 points, 4 more than Man City. DCs were Gvardiol, Tapsoba (on loan from City) and Casemiro (aged 34) until december. Cuenca from Bayern Munich. I started 2027 by using Gvardiol-Cuenca (during the African cup) and ended using Gvardiol-Tapsoba. Gvardiol did score 5 times, Cuenca 1, Tapsoba 1.
Hope you enjoy it!
Rate this training, your feedback is appreciated
Att Corner Kick Right: CA_ATT_DX
Att Corner Kick Left: CA_ATT_SX