The national teams of Germany and Japan have
fake players in Football Manager 2023
due to licensing issues that Sports Interactive and SEGA have been unable to resolve through the years.
As a result there are certain files within the FM23 installation folders that prevent you from managing the aforementioned national teams and also exclude real players showing up in their rosters.
Fixing this problem is as simple as deleting these files, but
you will have to start a new save-game
for the fix to take effect.
Instructions
Go to:
Windows
Program Files (x86) \ Steam \ steamapps \ common \ football manager 2023 \ data \ db \ 2340 \ lnc \ all
Mac
[username] > library > Application Support > Steam > steamapps > common > football manager 2023 > data > db > 2340 > lnc > all
Here you will find 12 files:
carpi.lnc
chinese comps.lnc
chinese team names.lnc
euro and vanarama names.lnc
fake.lnc
greek name change.lnc
greek team names.lnc
korean name change.lnc
lic_dan_swe_fra.lnc
nleague.lnc
roma.lnc
stage names.lnc
It's safe to delete all of them, but particularly the 4 in bold.
Once you're done deleting the license files, start a new save game.
List of Corrections
Here is the complete list of what gets unlocked:
National teams of Germany and Japan become playable.
Enable player pics for national teams of The Netherlands and France.
Fix real name of Oliver Kahn (he's with nickname Jens Mustermann).
Fix names for various Danish, Swedish and French competitions.
Restore real players for the team Albirex Niigata (Singapore).
Fix colors and names for various clubs, stadiums, cities in Asian countries.
Fix real name of AS Roma (renamed to Capitoline after the 23.3 patch).
Enjoy

Tip: You might need to apply the same process for the 2300 and 2330 folders.
---
Recommended Download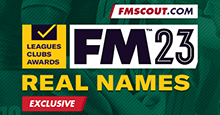 You might be interested in our exclusive
FM23 Real Names Fix
, that will update competitions, clubs and awards with their real names.