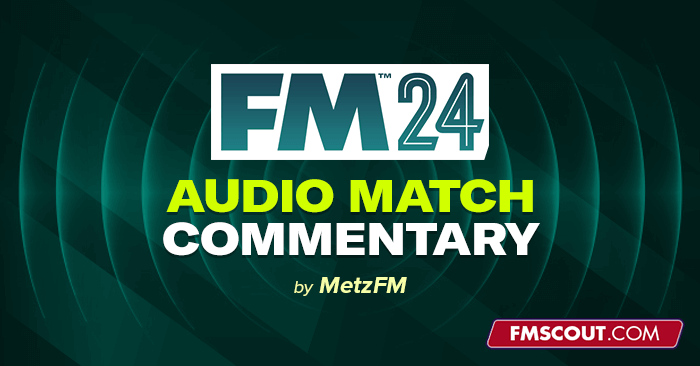 There are 2 versions of this mod available.
Free Version with Commentary: While it offers a taste of my innovation, please note that his pack comes with only 1400 sound triggers approximately, it's just a glimpse of the complete version to give you an idea of how this mod works. Available for download on Windows platforms. .
Complete Version With Commentary - Experience the Ultimate Edition and Immerse Yourself in The World Of Football Manager with Live Updates, Featuring a Constant Streams of Fresh Sounds and Triggers, Enhanced Timing for Commentary, Enriched with Crowds, Stadium Effects, and Beyond - Dive into a Treasure Trove of Over 5000 Sound Triggers (Exclusively on My Personal Blog ( PURCHASE BASED )- Available for Windows).
We invite you to explore the Free Version to acquaint yourself with the mod's functionality. Yet, the Full Version stands in a league of its own, boasting an impressive 5000+ additional sounds, a sweeping overhaul in trigger timing, and the elimination of overlapping elements. Trust us when we say, it's a game-changer. But don't just take our word for it — check out the reviews below and witness the transformation for yourself.
Improvements from FM23 to FM24
Removal of more dead sound triggers that don't activate any sounds

European competition music still in

More sounds added for each triggered movement of a player

Massive overhaul of balancing the amount and how often triggers activate

Additional sound triggers added for new situations

Additional sounds added to existing triggers for more variation of commentary

More relevant crowd reaction sounds added to situations

Crowd chanting and singing added for better crowd atmosphere

Added stadium sounds ( announcers, substitution, added time )

VAR action

New Goal Variations - Hattrick - Comeback - Equalizer etc

Added pitch sounds

More Balancing of all sounds

And Many more.
Each year that passes by this pack becomes more and more improved.
Installation Instructions for all versions
I've created a video of the installation process for clear and precise help. It's pretty straight forward to be fair!
Installation Video
Windows Installation
Program files(x86) -> Steam -> steamapps -> common -> Football Manager 2024 -> data
All versions are extremely simple to install. Just download the version you want, extract the x2 .fmf files (winzip or winrar) then place the 2 extracted files in the correct above directory.
Done !
IMPORTANT INFO
When SI update the game it puts your game files back to default and also creates a new version of the game. I then release a new version of the mod Simply just paste your downloaded files back in the data file and your new pack will overwrite the default sounds again. DO NOT PASTE AN OLD VERSION AS IT WILL CRASH YOUR GAME.
Please refrain from posting comments about the mod causing your game to crash. If you follow the installation instructions correctly, you shouldn't encounter any issues with your game. In case you mistakenly install it in the wrong directory and require assistance, feel free to send me a private message, and I'll do my best to assist you.
For the
PURCHASE BASED VERSION
please check out
MY FM SOUND PACKS PAGE
British Crowd and Stadium Sounds ( no commentary ) now available
Spanish Crowd and Stadium Sounds ( no commentary ) now available
FOR ANY OF YOUR UPDATES, PLEASE GO TO THE UPDATE PAGE ON MY SITE.
NEW UPDATE ADDED ON 13/11/2023 FOR ALL PACKS
Installation is simple but if you need help please visit:
HELP PAGE