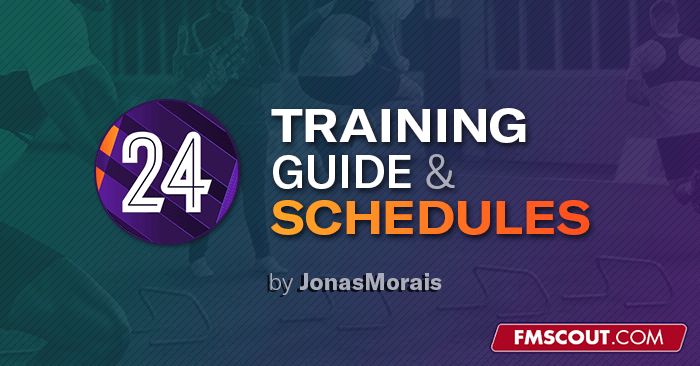 I have been doing extensive research and testing, reading and watching hours and hours of content about Training and Development and I will try to condense as much information as possible in this article.
These are my assessments and they are not to be taken as gospel.
Even if you have read the
Youth Development Guide
that I have posted here on the site and/or read and downloaded my
Beta Training Schedules
you will still find a lot of important and new information.
Through this article you will hopefully
understand training better
and
create your own schedules with more confidence
and I will leave you a new set of Training Schedules developed to be used together and for adaptation to your own team's needs over the course of the season.
For the sake of this article we will use a Top Team as our example.
So let's start with the new article and there is nowhere else to start but with COACHES.
That's right, Coaches are important for various reasons and will help you get better results with both training and development.
COACHES
One of the first things you will want to do as quickly as possible is get the best possible coaches in and use all of the coaching and medical staff spots available to you.
Ideally you will want one coach per category, one excellent Sports Science, this can be your Head SC, and the best Physios possible.
This has been tried and tested by people and myself in the past and we can definitely see the results.
Coaches
- will provide you with better quality specific training
Sport Science
- helps with condition and preventing injuries
Physios
- will help your players recover faster and give you more accurate injury reports
You'll want to keep a close eye on the workload for each individual category throughout the season and adjust as needed, in particular during your pre-season, for reasons that I will talk about when we get to that section of the article.
Ideally you want the workload to be "Light" or at least "Average", the higher the workload the least impact you will see because of the quality of training sessions.
If you are in a club that allows for it your Coach Responsibilities page should look like this:
SORTING YOUR TEAMS OUT
Next you will want to sort your teams out. For the sake of this post we will use 1st Team, Reserve/U23 and U19/18.
This is obviously up to every person's discretion but there are some things that will help you get better results with development.
Bear in mind that the Reputation of the league also has an impact on the development of players and you should always look to send your players out on loan to a high reputation league, with good training facilities, and make sure your youth and reserve teams are playing at the highest level they can play.
For your first team you should aim at 25 players tops: two for each position and three for mentoring purposes, these should be one from defence, one from midfield and one from the attacking positions.
Depending on the amount of micromanagement of youth and reserve teams you are prepared to do there is a number of players you should have in each team.
Minimal Management: both teams should not exceed 15 to 18 players to make sure they all get enough playing time, especially your reserve team if you follow what will be said below.
Micromanagement: you can have between 20 and 22 players, two per position, make sure that you are in charge of the team's selection for each match, balance your selections and rotate the team: 11 on one match, 11 on the next match.
The game is made so these parameters are met:
Players 15-18
- Develop more with Training and don't need matches or ratings to do so
Players 18+
- Develop more with match experience and match ratings.
This doesn't mean that you need to give a player you're developing in the first team the whole 90 minutes, all you need to do to ensure a match rating is play him for 15 minutes.
I always substitute players that I am developing at around the 60th to 70th minute.
With this in mind I usually set up my Benfica teams like this:
U18/19 - Ages 15-17
Reserve/U23 - Ages 18-21
that are close to first team football (I usually keep players at Benfica B because they play in the championship, Level 2 in Portugal)
1st Team
- Any player between the age of 17-21 is only promoted if they will have enough playing time, meaning they can be in the starting 11 or I will sub them in and not make them available to play for any other team.
You don't want young players training with the 1st Team, but playing for the other teams, because they will lose more than a month's worth of training during the season as they miss at least one training session a week (they will not train when your 1st team is playing), then miss another day when they have a match for the other team.
TAKE CONTROL OF TRAINING
Your next step, and still on day one, is to take full control of training for all teams.
Once you have done that there are a few steps you need to take before we start thinking about training schedules.
Step 1 -
To prevent your team from being more prone to injury during training, and specially to use the training schedules in the article, you need to set your training intensity like this in: Training > Rest
Step 2 -
You want to make sure that all players' Intensity Level are set to Automatic
Step 3 -
Make sure every player is assigned a specific Position/Role/Duty and not playing position. This also has been tested in the past and has shown better results when selected because players focused more on specific role attributes, and trained better.
Step 4 -
Training Intensity should
NEVER
go above Medium. To avoid this check Additional Focus, Weaker Foot Training and Traits and disable them as needed to bring the intensity back down to Medium, especially during Pre-Season.
Because we touched the subject of Traits it's worth mentioning that this deviates the focus of development from Potential Ability to Current Ability, so they should only be used if a player is really in need of a massive improvement on some important traits.
While we are on training it is also worth mentioning that you can influence a player's commitment in training sessions by Praising or Criticising the quality of their training that week. I usually only do this once a month.
I usually Praise players with a rating of 7.5 or above.
And criticise players with a rating of 6.5 or below.
THE TRAINING SCHEDULES
Before I give you the training schedules it is important to understand that if the steps above were not followed you will not get the desired results and most likely you will incur a lot of injuries.
When creating schedules you want to focus on a few things. During pre-season you need to make sure your players are ready physically and are match sharp.
During the season you want to continue with conditioning training and you will want to use some match boosters to make sure your players arrive at each match in the best possible form.
Match boosters are training sessions that will work on different attributes specifically, for example: set piece routines, attack direct, defending from the front, team bonding, chance creation, etc.
Starting in Pre-season there are a few things you want to do to be able to use these schedules effectively.
First you will want to take control of arranging friendly matches and cancel all pre-arranged ones.

Secondly you will want to schedule one match per week on a Saturday for the 4 to 6 weeks of pre-season.

During this time you will use your first 11 for the first 45 minutes and the second 11 for the other 45 minutes, this will ensure that all your players will be match sharp when the start of the season arrives. If you have 6 weeks you can also start using your first 11 for 60 minutes in the last two games.

Pre-Season
To be used by all Teams during Pre-Season
The Pre-Season schedule is focused on your players' physical condition and it will help them to be able to cope with the rest of the schedules during the season and be ready for the season ahead.
Because it is heavily focused on Fitness you will need to keep a closer look at your fitness coaches workload and send a few of the other coaches over to help out.
1st Team 1 Match Week
IMPORTANT:
If you don't use the pre-season schedule above and as indicated your team will not cope with the intensity of this schedule and you can have a lot of injuries.
The schedule is designed to help improve your team's cohesion, give you some match boosters for the upcoming match and keep fitness, and should be read as follows:
Sun-Day1
- Mon-Day2 -
Tues-Day3
- Wed-Day4 -
Thu-Day5
- Fri-Day6 -
Sat-Day7(match day)
If you would like to make any changes for a different match day bear that in mind.
During the season make sure to rotate the Wednesday Attacking Patient with Att Wings and Att Direct and the Friday Defending from the Front with Def Engaged, Def Disengaged and Def Wide.
1st Team 2 Match Week
If you have used your 22 players in both matches use the Rest spot on Sunday for an extra Recovery session.
During the season make sure to rotate the Monday Attacking Patient with Att Wings and Att Direct and the Thursday Defending from the Front with Def Engaged, Def Disengaged and Def Wide.
U18/U19
This schedule was created focusing solely on Attribute growth because match experience and rating is not important at this age for development. Every day is themed to a specific category.
Reserve/U23
This schedule was created focusing on Attribute growth for development and match boosters for the matches. The week is a mixture of themed days and a sprinkle of boost sessions.
Download the Training Schedules
The 10 Commandments of Training
Good Coaches make a difference
Always Train a Specific Position
Pre-season specific schedules are important
Each Player Training Intensity Level no Higher than Medium
Training intensity should peak two days after a match and then slowly decrease. On two-match weeks you don't want it to peak.
Physical attributes grow fastest, Mental attributes slowest and Technical attributes are in the middle
Right players in the right teams
Only have players in your 1st team if they actually play
Only have a starter and a backup for each position
Use these schedules :)
If you would like to buy me a coffee and support me to be able to make more content like this it's appreciated: