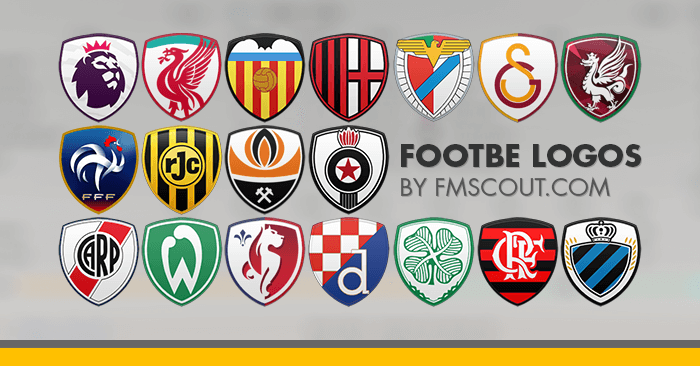 I created the first logos of this pack for the footbe project, which is a
football predictions
service that Eugene (GS author) initiated 3 years ago. I wanted to make them available for Football Manager since then, but I kept postponing until I had more logos made.
The concept behind them is 3-fold:
use the same shape for all
simplify the original version
keep it recognizable when small
We wanted uniform logos that would look great inside our app. FM is an app, so that pretty much applies to it as well.
After a LOT of requests from fmscout members who had seen my work there, the time has finally come to release my logopack for everyone to enjoy.
Released
: 19 June 2015 - v1.0
Updated
: 6 September 2018 - v2.8
Redistribution Policy
Want to share this logopack on other sites? Please point the download link to this very page.
You cannot host any files yourself.
Logos included in v2.8
33 leagues are fully covered, including clubs that used to be in those leagues since 2011.
Nations League 2018 /

NEW in v2.8

World Cup 2018 (final stage only) /

v2.6

Euro 2016 (final stage only) /

v2.2

Champions League (group stage only)
Europa League (group stage only) /

v2.1

English Premier League
Spanish La Liga
Italian Serie A
German Bundesliga
Brasileiro Série A /

v1.2

French Ligue 1
Dutch Eredivisie
Portuguese Primeira Liga
Russian Premier League
Belgian Pro League /

v1.4

Ukrainian Premier League
Argentine Primera /

v1.3

Turkish Super Lig
Greek Superleague
Mexican Liga MX /

v2.3

- Half the logos by abdi7451
Danish Superliga /

v1.6

Swiss Super League /

v2.1

American MLS /

v1.5

- Half the logos by Patres10
English Championship
Scottish Premiership /

v1.1

Serbian SuperLiga /

v1.5

Croatian First Football League /

v1.7

Norwegian Tippeligaen /

v1.8

Slovak Super Liga /

v1.5

- Logos by Patres10
Slovak 2. Liga /

v1.5

- Logos by Patres10
Polish Ekstraklasa /

v1.9

Swedish Allsvenskan /

v1.9

English League One /

v2.0

Australian A-League /

v2.4

French Ligue 2 /

v2.4
Plus some random club logos I created for the needs of my player report cards on our (super awesome)
FM Scouting Platform
.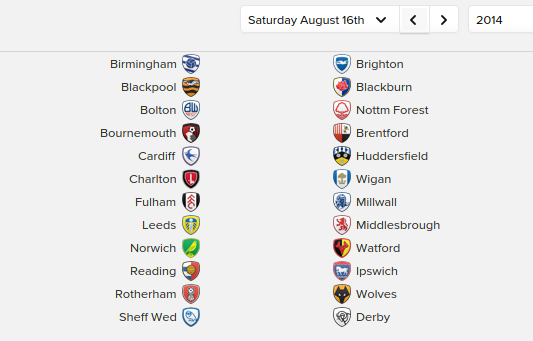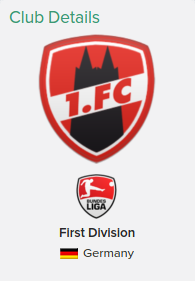 To-Do Leagues
Chinese Super League
Italian Serie B
English League Two
Peruvian Primera
How to add footbe logos on Football Manager 2018


Download the .zip archive and use a tool such as 7-zip for Windows or The Unarchiver for MacOSX to extract its contents.


Move the extracted contents to your graphics folder:
\Documents\Sports Interactive\Football Manager 2018\graphics\logos\
Create folders "graphics" and "logos" if they don't exist already.
If you're installing an updated version, simply overwrite everything.


Run Football Manager 2019 and go to Preferences > Interface:
Hit the [Clear Cache] button
Enable Reload Skin when confirming changes in preferences
Hit the [Reload Skin] button


FAQ
Can I request new logos?
Sure. Post a comment below with your requests, but please understand it might take a while until I release a new version.
What if I don't like a logo?
Feel free to express your opinion about my work. I'll try to use your feedback to improve my logos.
Is there a template I can use to make my own logos in this style?
Actually there isn't. I create all logos from scratch. There's just a white shape I begin with.
I want to help make more logos for this pack.
Thanks, but no thanks. This is a pack I don't want any help with. You can give it a shot if you insist, but it's highly unlikely I'll accept your creations for inclusion in my pack.
This pack is small. When will you make a megapack with thousands of logos?
I'll keep making new logos and releasing new versions from time to time, but don't expect to see thousands of logos here. It's not easy to create the logos in this style, which makes the process rather slow.