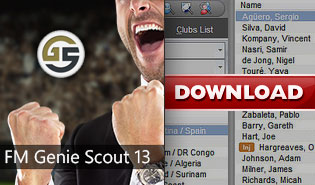 I'm glad to inform you that the final version of FM Genie Scout 13 is available.
I'd like to thank to all people who helped me during last months in the longest beta-testing phase for the entire FM Genie Scout history. When I realized that this year save game files are encrypted, I was completely devastated. I didn't believe it will be possible to redevelop loading data mechanism from scratch, since I didn't have any experience in reading data directly from the memory. But after months of development scout still the same and even got additional features thanks to ability of reading data from the memory.
Unfortunately, Sale Value issue wasn't resolved, since it's impossible to get an exact value this year. Hopefully, it will be easier to implement it next year.
But a lot of other changes have been made in the final version instead.
1.
Player role ratings system implemented.
New role ratings based on the most important attributes for a particular role. It helps to understand which role instructions are the most suitable for the player. 69 new ratings have been implemented in total. It's available in player profile screen in new menu item 'Role Rating'.
2.
Player positions rating coefficients have been adjusted.
The latest tendencies in Football Manager were taking into account and renewed ratings better reflect player skill in Football Manager 2013.
3.
History auto tracking implemented.
The feature can be enabled in history options dialog and will create history points with the chosen periodicity.
It will help to understand whether player progress as expected or not.
4.
Attribute values colours were changed
to the ones used in Football Manager 2013. But still you are able to use previous colour set by enabling 'Highlighted Attributes' in the scout options.
5. Previously used the only Goalkeeping Training Rating was replaced by
2 GK training ratings implemented
in Football Manager 2013: Goalkeeping Handling Training Rating and Goalkeeping Shot Stopping Training Rating which depends on Coaching Technique and Coaching Tactical skills.
6. Staff job roles added.
Roles show few possible appointments can be held by personnel.
'Not Set' job issue for unemployed staff has been resolved as well.
And few other minor fixes have been made:
Fixed preferred moves
Regens common names issue resolved
'Check for update' problem resolved
Loading data errors have been fixed
Head over to the official GS13 download page to grab the new version.
DOWNLOAD GENIE SCOUT 13 FINAL
Thank you for your support!
Best Regards,
Eugene Tarabanovsky