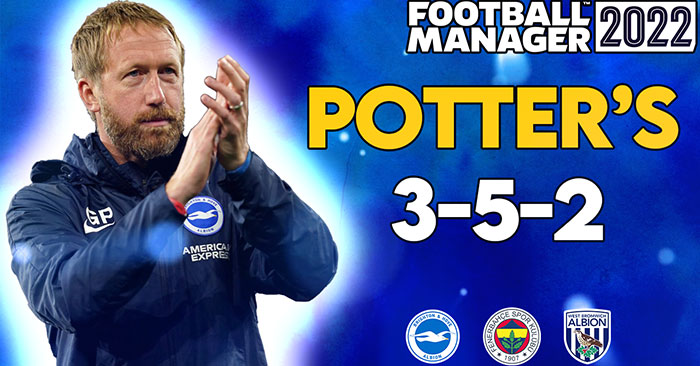 Graham Potter is one of my favourite managers, so I am surprised it's taken me this long to recreate his amazing 3-5-2 tactic!
He plays a variety of 3 at the back tactics that can switch in game instantly. Sometimes reverting and changing to a 3241 or the 343. His teams ability to change system mid game so easily makes them a very difficult side to play.
With this tactic you will see some top tier football put on display, short sweet passes linking up the defence to midfield. There is a touch of pressing with this system but not to the extent of for example a Klopp side.
I like to say this is perfect for those who are looking for a balanced system that is capable of doing both scoring and defending to a fairly high grade.
We tested with 3 sides, and the results where great.
Test 1- West Brom
Test 2- Brighton
Test 3- Fenerbahçe
I have also left a screenshot below of the tactic but please do watch the video at the start of this page for a more in depth breakdown of this tactic.
*PLEASE CHECK OUT THE ABOVE VIDEO FOR A MORE IN DEPTH BREAKDOWN OF HOW THIS TACTIC WORKS INGAME, AS WE GO OVER IN GAME 2D ANALYSIS AND TACTIC BREAKDOWN!