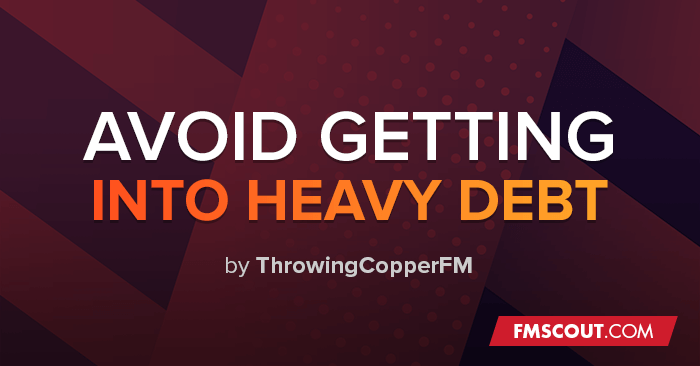 This was originally posted as a Twitter thread by
@fm_throwing
and is published here with his kind permission. Make sure to check out
View from the Touchline
where he blogs occasionally.
If you get into heavy debt in FM24 the board will step in and resolve the issue themselves. How? By selling your best players!
Nightmare!
Here are 7 quick tips to stop this from happening in the first place.
Tip 1: Squad balance!
How many Important/Key players do you have in your squad? These cost more in wages.
Do you really need more than 3 or 4? No, you don't!
Squad balance is important as it also increases squad harmony.
Tip 2: Wage Budgets
See your total weekly wage budget? Let's turn it into a wage cap.
Here's how. Get your calculator out:
Wage budget – 30%
They figure given is then how much each group of players can earn combined. The rest goes on youth and reserves:
Here's an example
Tip 3: Think about Squad size
Squad harmony, again. You really don't need more than 4 star players. Or more than 7 or 8 Regular Starters.
If you aren't playing in Europe you only really need a 1st team squad of 20-22 players.
Resist the urge to hoard players.
Tip 4 - Control Salary Commitments
Speaking of wages, have a check in the following screen:
Finances > Wages > Salary Commitments.
This will show you what all your players are due to earn for the new few seasons.
Any that look out of control probably need re-negotiating or selling on.
Tip 5 - Instalments!
It's extremely tempting to keep paying for playing in installments and backloading the payments.
But all you're doing it adding to the debt next year and the following season.
Resist the urge to overpay.
Tip 6 - Incentivise contract to lower weekly wage
May be common sense but be careful what incentives you pay out on.
If you have a 20+ goal striker, don't add too much onto goal bonuses... or you could end up paying more.
Tip 7 - Sell Players when you get a good offer!
If someone bids over the asking price for one of your players, sell them!
It's money in the bank and OBVIOUSLY you've ensured you have a short list of replacement players... right?
---
There we go - hopefully these can help stay out of financial issues and having a save ruined because of Board interventions!