Hi guys,
Welcome to my new tactic emulation.
This time, we jump 10 years back thanks to the great 2012-13 database (you can find it on FM SCOUT). All my thanks to user
arussell2701
for his amazing work.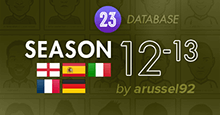 2012-13 Season Throwback Database
You can play FM2023 as if you're starting in the 2012-13 season. 5 playable leagues in 5 nations.
I wanted to emulate Jupp Heynckes's Bayern treble winning 4-2-3-1 and obviously I tested it in my save with Bayern Munich.
So in the database we have exactly that great XI who won the treble in that season: Neuer, Lahm, Boateng, Dante, Alaba, Javi Martinez, Schweinsteiger, Thomas Muller, Kroos, Ribery, M. Gomez with Mandzukic, Pizarro, Robben and many others as replaces.
This was the start XI used by Heynckes at the beginning of the season until Toni Kroos got injured, and this is what I tried to emulate with my tactic number 1.
Muller was a perfect Raumdeuter on the right, Kroos was the trequartista behind Gomez/Mandzukic and Ribery was an inverted winger on the left side. Gomez was an advanced forward.
For the other roles, Neuer was (and still is) a sweeper keeper (defend), the two side backs Lahm and Alaba set as wing-back (support), the right center-back Boateng as a ball playing defender (defend) and the left center-back as a simple central defender (defend).
The two midflielder, Javi Martinez as a volante (support), while Schweinsteiger was a deep lying playmaker (support).
The team mentality is balanced, I suggest you use this mentality at the beginning of the game and then you can change it to positive if you see that your team is playing and dominating the opponent but still can't score.
Moreover, if the opponent scored a goal and you are losing, you can set the mentality to attacking and when doing so, adjust also the attacking width to large or very large to exploit all the space in the field.
As for the 3 different phases, when my team is in possession, the team instructions are as follows: shorter passing, higher tempo, play out of defense, focus on left and right side, overlap left and right (yes these two instructions can be used together even if many believe not), pass into spaces, work the ball into the box, lower crosses.
In the transition phase, the instructions are as follows: counter-press, counter-attack, distribute to left back and right back, take short kicks.
Finally, in the out of possession phase: higher pressing line, standard defensive line to avoid the opponent scores goals just by playing long balls from the keeper or defense to their forwards who are alone against our goalie.
The trigger pressing is standard at the beginning but you can change it into higher during the game according to the situation. Prevent short gk distribution and trap outside are the only other 2 instructions.
You can find player instructions, corners and free kicks instructions already set, you can check them they worked very well.
As I mentioned above, Heynckes was forced to change his tactic after Kroos got injured, and he had a great winning idea, replace Kroos in the trequartista role with Thomas Muller and replace Muller with Robben (as inside forward-attack), that gave free rein to Robben and he became devastating for the opponent defenses.
The second version of my tactic is a emulation of this change. The third version has some other minor changes you can see in the video.
I mostly used the first version and achieved great results as you can see, I scored 109 goals and conceded only 21 in Bundesliga, won the treble, won many games scoring many goals, like the DFB Pokal final, or the champions league game against Barcelona, after losing 2-0 at Camp Nou, I won 5-0 at Allianz Arena, then I won 4-1 against Chelsea too.
It's a great tactic and I hope it works for you too.
See you all for the next tactic! Hugs