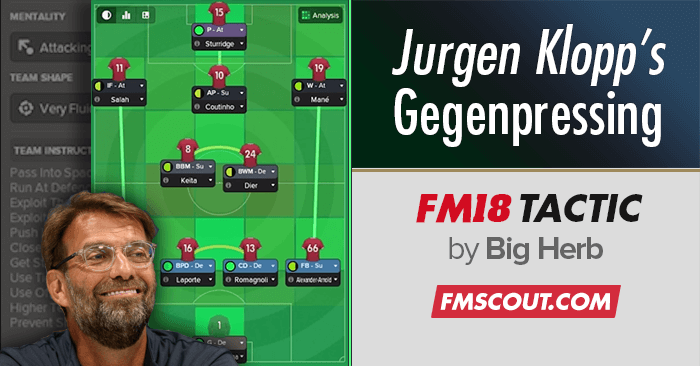 Today we are looking at the
gegenpressing tactic
inspired by Jurgen Klopp. This is a tactic that I have recreated in one of my FM 2018 saves with Liverpool.
First off let's bring up the features of the tactic. Gegenpressing is a style of play in which you look to win back the ball as soon as you lose it, and you try to win it back as high up the pitch as possible; that means you're closing down a lot to put pressure on the player that's just won the ball back.
The idea is that the player who just won the ball will be vulnerable and won't have time to think about his first pass. You just close him down to win the ball back quickly as high up the pitch as possible, and then you initiate a counter attack. You're likely already half way there and ready to go past into space and score a goal.
You can also use this tactic to target specific weak players, if you have noticed a weakness in a certain team. Maybe central defenders or full backs aren't comfortable on the ball, and you can look to press and close down certain individuals to try and make the most out of this game pressing style.
I have played this tactic for two seasons with Liverpool. We lined up with a 4-2-3-1. Originally, we played a 4-3-3 and had more defensive players, but then found that with this style it's all about winning the ball back as high up as possible, and the best way is to have more players in the final third of the pitch. Having a defensive midfielder and regular wingers makes it difficult to close down the opposition players effectively.
Attacking mentality means the players will always try to get forward and find holes in the opposition defense. Very fluid shape means that everybody can contribute in every stage; therefore, the striker and rest of our attacking players will try to tackle. Slightly higher defensive line means that the guys are pushing up but remain compact in our half. I had to use the offside trap which is good if you're playing against fast strikers (like Jamie Vardy).
For more details, please watch the video below.
I've tested gegenpressing with Liverpool for two seasons and it's bloody effective, so give it a try and let us know in the comments which teams you tried it with and what results you got.
Enjoy!