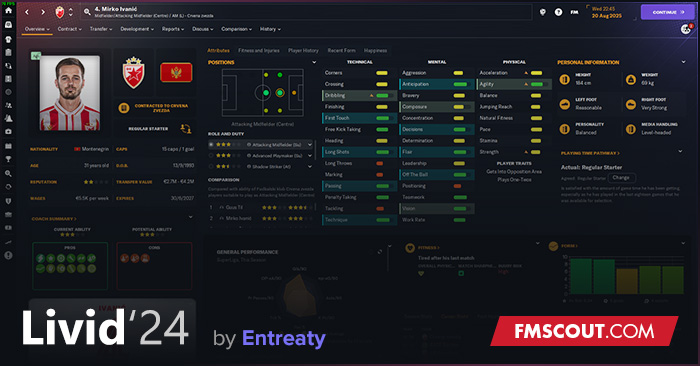 After not releasing a skin last year, I'm back again this year, with
Livid for FM 2024
.
- Credits to Wozzie (Tato Skin), FMEnhanced, TCS, Ben (Statman skin), and others, for inspiration, as well as various bits and pieces of code that I probably have included in some way in my skin. Big thanks to michaelmurrayuk as well, for all the help over the years, and the match panel mod.
Livid'24 Skin Features:
Redesigned Home page
Redesigned Club page
Redesigned Player page
Redesigned Non-player page
Redesigned Match panels
Redesigned Tactics screen
Instant Result button
And some other bits and pieces...
Please note that this skin was designed for a 1920x1080 resolution, at regular zoom settings.
Livid'24 Skin Preview
​
Attribute Bars / Numbers
At this moment, I'm using attribute bars for player screens, I might change it to regular attribute numbers at some point, when I have the time to do so.
For anyone who doesn't want to wait for the update, and wants to use attribute numbers instead:
How to install Livid 24 on FM24
1. Download the .zip archive and extract its contents.
2. Move the extracted folder "Livid 24 v1.0" to:
\Documents\Sports Interactive\Football Manager 2024\skins
Create folder "skins" if it doesn't exist already.
3. Start the game and go to Preferences screen, and then to the Interface tab.
You should see "Livid 24 v1.0" as option in the skin drop down of the Overview box.
Use the Clear Cache button, then hit the Confirm button.
Enjoy!